OSU student awarded Fulbright for research in Estonia
Friday, April 28, 2017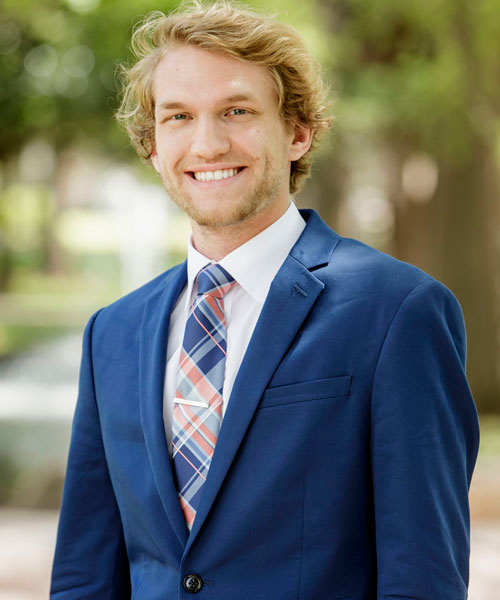 Jaryd Hinch, a geography major at Oklahoma State University, has been awarded a Fulbright U.S. Student Award to conduct research in Estonia during the 2017-2018 academic year.
The Fulbright program places U.S. students in countries around the world where they act as an ambassador for the United States, work with research advisers, and learn about the country's people and culture.
Hinch, a graduate of Ponca City High School, expects to graduate with a degree in geography and minors in art history and microbiology in May and is currently on track to finish college with a perfect 4.0 grade point average. He is the son of Neil and Lisa Hinch of Ponca City.
"I chose Estonia because the duality of their culture is astounding. On one hand, they are a society deeply connected with their traditional roots in nature, on the other hand, they are the world's most digital and technologically-advanced country," said Hinch. "Upon returning to the U.S., I expect to share what I've learned about this synergy of technology and nature in hopes of bringing these apparent polar-opposite concepts together in my own society."
Hinch was recently honored as Outstanding Senior in the geography department at OSU. He is president of the Geography Club and currently serves as a remote sensing research assistant for Drs. Amy Frazier and Peter Kedron. Hinch also tutors at OSU's Writing Center, teaches violin lessons, and is the principal violinist for the Ponca City String Quartet.
"In my spare time, I enjoy seeking new knowledge, whether it be independent art history research (chiefly 19th Century European art), perfecting new violin solos, or hiking and seeing new corners of Oklahoma's physical landscape," said Hinch.
The Fulbright U.S. Student Program is the country's largest student exchange program, offering opportunities to students and young professionals for graduate study, advanced research, university teaching, and primary and secondary school teaching worldwide.
Funded by an annual congressional appropriation to the U.S. Department of State's Bureau of Educational and Cultural Affairs, the program was initiated by Senator J. William Fulbright in 1946 for the promotion of international goodwill through the exchange of students in the fields of education, culture and science.
Story by Jim Mitchell
PHOTO: https://www.flickr.com/photos/ostatenews/albums/72157679887076084