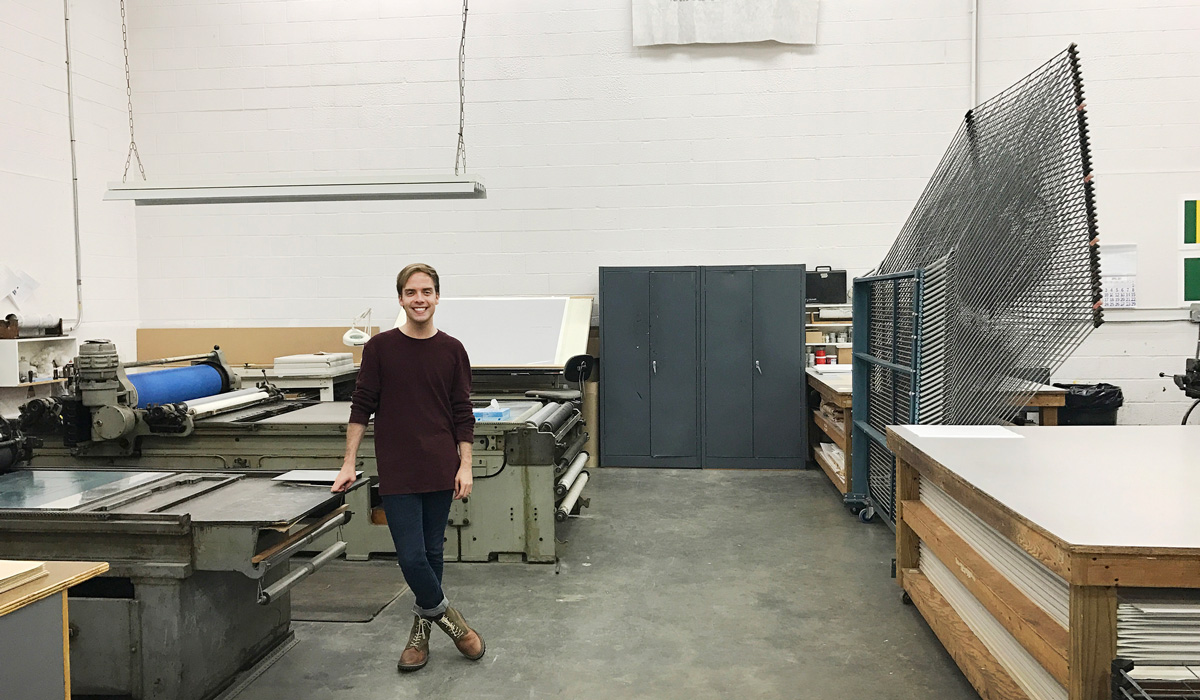 Making the move from Stillwater to a big city can be daunting, but one Oklahoma State University student decided to make the leap this semester.
Jordan Richards, a graphic design senior from Flower Mound, Texas, has spent the spring semester interning with Universal Limited Art Editions (ULAE) outside New York City. ULAE is a fine art print publisher, and Richards spends his days learning the processes of printmaking and helping out around the ULAE studio.
ULAE offers a unique internship opportunity to three OSU art students each year for the spring, fall, and summer. The program was developed by Bill Goldston, president of ULAE and an OSU alumnus. Goldston focuses on creating a well-rounded experience for interns.
"The internship is what they want it to be," Goldston said. "I want my interns to be able to tell other students what they learned in New York and the experiences they had. I want them to be able to share the experience – not just go back and graduate."
Richards, although intrigued by the internship, didn't initially plan to accept the offer.
"I was so scared at first I actually wasn't going to go," Richards said. "But I thought if I'm scared, then that should be the reason I go for it. I needed to get out of my comfort zone and take a leap of faith. I'm so happy I did because the opportunities ULAE has given me in my time here have taught me so much."
Richards' experience has allowed him to learn from ULAE printers as they work with notable artists and produce prints. He has also learned how to make paper from scratch. He recently utilized his graphic design skills to design a website for the ULAE gallery.
More important than a new skill set, Richards has gained a new sense of confidence through his time in New York.
"ULAE has given me the opportunity to explore New York City every weekend, and I have learned so much from it," Richards said. "It has definitely taught me to be more confident in myself, my designs and in the dreams I want to chase. Someone once told me that I need to be unapologetic of who I am and the dreams I want, and I think that this experience has instilled that in me."
Richards said being thrown into a foreign environment pushed him to grow in ways he wouldn't have in the comfort of Stillwater. He encourages other students to push themselves in similar ways.
"I know it might sound cliché, but life is too short to remain comfortable," Richards said. "You must chase after the things you want because if you didn't, you'll look back at missed opportunities with regret. I know I've learned so much through this experience, and I will carry it with me for the rest of my life and into any new opportunity."
Story by Catherine Wilson
PHOTOS: https://flic.kr/s/aHskUYb8Rq