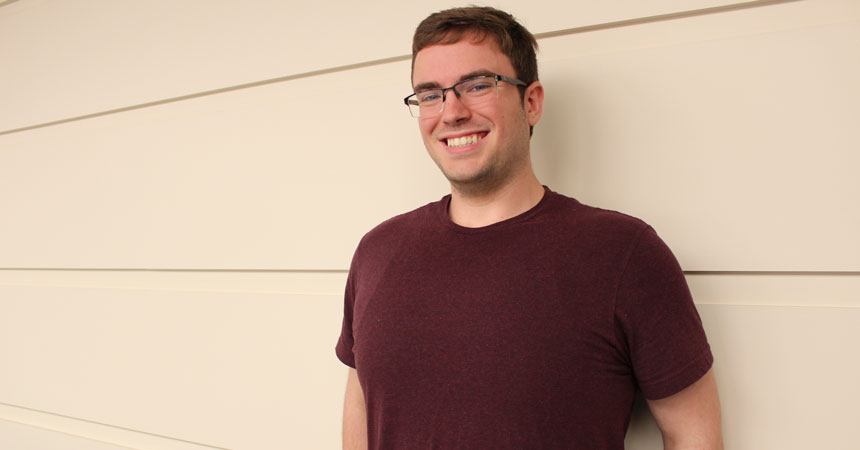 The added responsibilities that come with college life can cause enough stress to take a toll on your health, but as Kyle Mcareavy can tell you, the help of a workout friend in a welcoming atmosphere can make all the difference.
Mcareavy, a 22-year-old sports media multimedia journalism major, came to OSU from Kirkland, Washington with another friend from high school. Over the course of his freshman and sophomore years, Mcareavy gained about 40 pounds due to stress.
The weight he gained not only affected his physical health but hurt his self-confidence. He avoided going out in public and rarely attended class.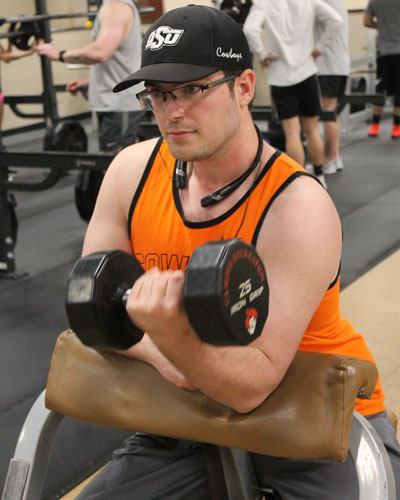 "Before I started working out, I was pretty much just ashamed to leave my house and didn't want people looking at me and that made me a pretty bad student," Mcareavy said. "I wasn't confident in anything, and honestly, just kind of hated myself."
Mcareavy first got involved with the Department of Wellness at Oklahoma State University by participating in intramural sports with his friend, Max Gross. The two signed up for a random intramural flag football team and met a group of friends to play intramural sports. Although playing intramural sports helped Mcareavy with his social life, it didn't drastically change his overall health.
One of his friends and intramural teammates, Matt McGann, asked Kyle to accompany him to the Colvin Center gym at OSU. Because of his insecurities, Mcareavy almost always declined such invitations but in October 2015, he was ready to make a change. Kyle made it a goal to lose 50 pounds before spring break.
"I told him the first month is going to be the hardest. You're establishing new habits and doing things your body has never done before. When you lift weights, confidence is key," McGann said.
Every day they would do some form of weight lifting, chest and triceps one day, back and biceps the next, and shoulders and legs after that. They would do this rotation six times a week. After each workout, they would dedicate 5-10 minutes to their core and finish with cardio.
"Watching him put in that work every day was inspiring," McGann said. "When we started, he would struggle to push the bar up, but the longer we did it, the more weight we could do. The best was watching him progressively lift more than he ever could before."
In addition to working out and lifting weight regularly, McGann also encouraged Mcareavy to drink plenty of water and change his diet to include more healthy food choices. After months of dieting and working out regularly, Mcareavy was able to lose 52 pounds by March 2016. He met his spring break goal and after he came back to school, he made a new goal to lose 100 pounds within the year.
"When people first start working out—and it was the same for me—there's a lot of fear that you're going to be judged or people are going to watch you as you fail at something they can do… but I've never felt that way at the Colvin," Mcareavy said. "People were always very encouraging."
Mcareavy had the support of his college friends and family through this whole process. People in his hometown were amazed when they learned of his dedication to losing weight and living a healthier lifestyle.
"When we go back home over breaks, the biggest thing that feeds his confidence is to see the looks on our friend's faces... it's crazy," Gross said. "I think it feeds his confidence so much more and that confidence is carried throughout in so many other areas."
As of this year, Mcareavy has lost 90 pounds and plans to continue working out regularly in the future to maintain his weight loss. In addition to improving his physical health, Mcareavy also improved his mental health and self-confidence.
"With the help of my friend, Matt McGann, and the encouragement from my friends and family I lost about 90 pounds and now, I don't hate myself and I go to class more," Mcareavy said. "I can't say that would have happened without the Colvin or if I was at a different school. The Colvin, honestly, played a huge role in saving my life."
By: Cassidy Williams
PHOTOS: https://www.flickr.com/photos/ostatenews/albums/72157679207812394