OSU student team receives more than $90,000 at Rice Business Plan Competition
Tuesday, April 11, 2017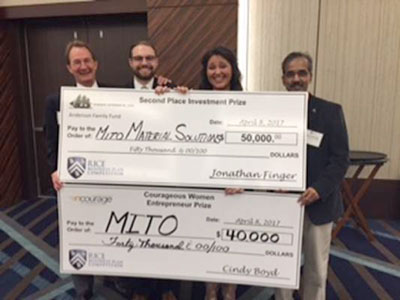 Oklahoma State University student startup team MITO Material Solutions has once again proved itself by placing second at the prestigious Rice Business Plan Competition, an annual collegiate pitch competition hosted by Rice University.
MITO is composed of MBA student Haley Kurtz, chief executive officer, and mechanical engineering technology student Kevin Keith, chief operating officer, and are coached by assistant professor of Entrepreneurship Richard Gajan in the Spears School of Business. MITO's product is an adhesive epoxy additive which allow manufacturers to double the durability or significantly decreases the weight of composite materials utilized in the aerospace, recreation and automotive industries.
MITO received $50,000 in investment prizing for placing second, provided by the Rice Alliance for Technology and Entrepreneurship and sponsored by Finger Interest and the Anderson Family Fund at the Greater Houston Community Foundation. Keith placed fifth in the Mercury Fund Elevator Pitch Competition and received $500 in cash. Kurtz received a total of $40,000 in investment prizing for winning the Courageous Women Entrepreneur award, provided by nCourage Entrepreneurs Investment Group.
"The Rice Business Plan Competition is the richest and largest business plan competition in the nation," Kurtz said. "It was an honor to compete with more than 40 teams from five continents and place second in the competition. We were kind of the underdog in this competition, as the Rice Business Plan Competition hosts a lot of more technology-focused startup teams, but we had the upper hand of being able to clearly present an executable plan on how to take our product to market.
"We have learned so much throughout this competition, and we are grateful for the support from our advisor, Richard Gajan, and the OSU entrepreneurial ecosystem."
Previously, MITO placed second in the Baylor Business New Venture Competition in February and took home $35,000 in investment prizing. The team also placed first in the 2016 Donald W. Reynolds Governor's Cup, hosted by i2E in Oklahoma City, in the High Growth Graduate Division and was awarded $20,000.
MITO Material Solutions is a part of accelerateOSU, the institute for new venture creation in the School of Entrepreneurship at OSU's Spears School of Business. The program provides entrepreneurial startups a platform that allows exploration of business ideas and resources. Gajan is the director of the program.
"accelerateOSU has replaced the Student Startup Central that we used to have and has moved to a location in downtown Stillwater," Gajan said. "It will serve as a platform for startups in all stages of development and offers resources and guidance. The institute will also be open to the community as well as OSU students, as we hope to cultivate an entrepreneurial spirit in the city of Stillwater."
To learn more about MITO Material Solutions, visit http://www.mitomaterials.com/.
To learn more about accelerateOSU, visit https://riata.okstate.edu/startup/.
For more information about the Rice Business Plan Competition, visit http://www.ricebusinessplancompetition.com/.
By: Ariel West
PHOTO: https://www.flickr.com/photos/ostatenews/albums/72157679146926464
CUTLINE: From left, Richard Gajan, Haley Kurtz, Kevin Keith and Range Vaidyanathan at the Rice Business Plan Competition.