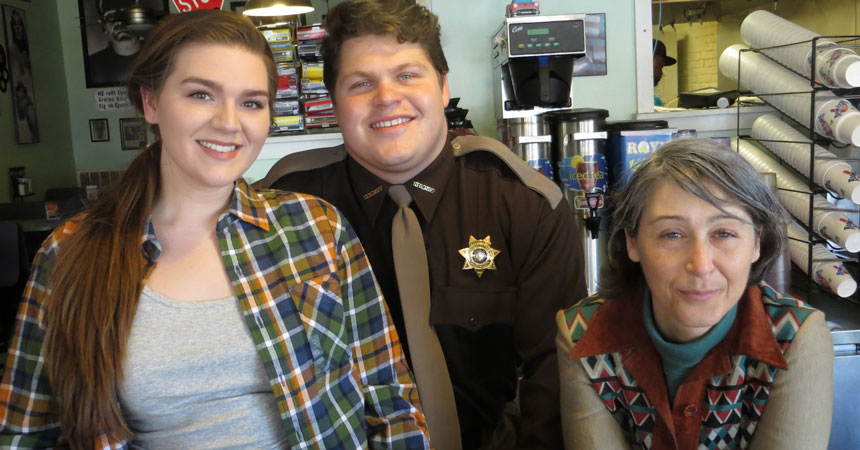 Tickets are now on sale for OSU Department of Theatre's fourth and final Main Stage production of the academic year, James Valcq and Fred Alley's "The Spitfire Grill." The musical runs April 27-29 at 7:30 p.m. and April 30 at 2:30 p.m. in the Vivia Locke Theatre in the Seretean Center for the Performing Arts.
"The Spitfire Grill" tells the heartwarming story of redemption and fresh starts in the heart of America. After being released from prison, Percy Talbott runs from her troubled past and chooses the small, picturesque, but dying town of Gilead, Wisconsin to start over. The local sheriff and her parole officer, Joe Sutter, serves as her guide and finds her a job at Hannah Ferguson's Spitfire Grill. Percy discovers that Hannah is about to give up on the only remaining restaurant in the struggling town and put it up for sale. Motivated by her past and attempting to secure a new future for everybody, Percy persuades Hannah to auction off the restaurant. As the raffle entries arrive by the wheelbarrow, changes start happening, deep secrets get unearthed and lives are forever changed. But can Percy escape her past and find redemption in Gilead? Find out for yourself at the show!
"The Spitfire Grill" began as a motion picture in 1996 starring Ellen Burstyn as Hannah and Marcia Gay Harden in the supporting role of Shelby. Valcq and Alley created the musical version in 2001, and it had a successful run Off-Broadway in New York City's Duke Theatre. Audiences and critics found the production's themes and authentic music quite comforting, especially during the trauma surrounding the events of 9/11. The musical's been successfully produced at regional and college theatres since its initial run, and this production will be Stillwater's premier. "The Spitfire Grill" is directed by B. Peter Westerhoff, professor of performance. Westerhoff has directed and choreographed more than 80 productions during his time at Oklahoma State University.
"Stillwater audiences are going to love the story and especially the music," Westerhoff said. "Valcq and Alley bring genuine American music – bluegrass and country – into the distinctly American art of musical theatre. They've accomplished something quite unique and quite moving."
Freshman Emily Frerich plays the fiery, spirited Percy. She was last seen on stage in the November production of "The Importance of Being Earnest" as one of the main characters, Gwendolen Fairfax. Frerich is particularly drawn to the music and the stories of all the characters in the musical.
"I love Percy's strength and resilience after her very difficult upbringing to find redemption and a place where she truly belongs," Frerich said.
Frerich is joined onstage by Chris Allen, Ellie Collier, Cody Finger, Charissa Lee, Peyton Meacham and Trent Taber. Longtime favorite of the OSU and Town and Gown stages, Lee plays the hardened Hannah with a very deep secret.
"Hannah suffers a disappointment in life that many can relate to," Lee said. "But instead of working to resolve her dilemma, she closes up. This production does a wonderful job of communicating how people can start over and move on."
On the production team are junior stage manager Lucas Hart, scenic and lighting designer Heidi Hoffer and costume designer Jeremy Bernardoni. The cast and crew are joined by community and university musicians to help bring the music and story to life.
Guest artist and Edmond resident Megan Barth serves as music director for the production, and in that role acts as accompanist, vocal coach, and orchestra director. She'll also be playing keyboards for all performances. Megan has provided music direction for more than 15 musical theatre and opera productions in the region. Barth currently works at Oklahoma City University as a collaborative pianist and vocal coach.
Music faculty member Mark Perry makes his OSU Theatre stage debut playing guitar while music students Thomas Neely on violin and Samantha Kerns on cello offer their talents.
Tickets for the show can be purchased online at theatre.okstate.edu or by visiting the Theatre Office in 121 Seretean Center for the Performing Arts. General admission tickets are $12, and senior (65+) and student tickets are $10. Group discounts are offered for groups of ten or more patrons. You can visit the theatre website or call the department at (405) 744-6094 for more information.
PHOTO: https://www.flickr.com/photos/ostatenews/albums/72157680527228971
CUTLINE: Emily Frerich, Trent Taber and Charissa Lee pose as their characters in "The Spitfire Grill"