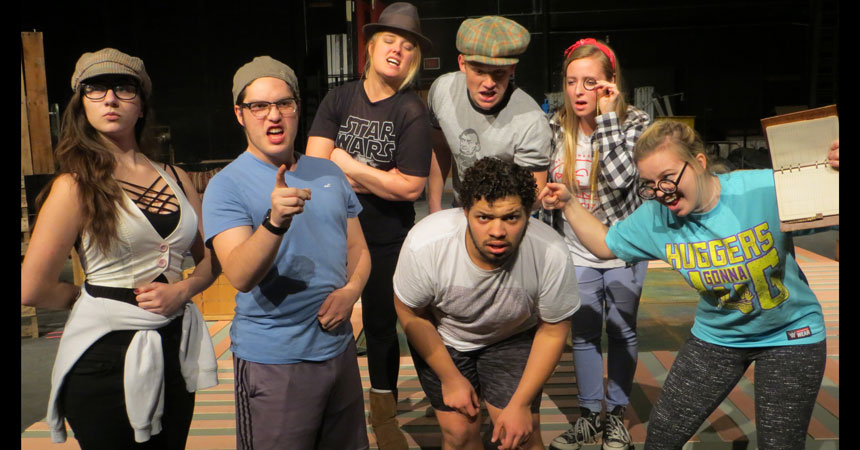 Tickets are now on sale for OSU Department of Theatre's third Main Stage production, Donald Margulies' "Shipwrecked!" The show runs Feb. 23-25 at 7:30 p.m. and Feb. 26 at 2:30 p.m. in the Vivia Locke Theatre in the Seretean Center for the Performing Arts. All first responders in Payne County, Noble County and Pawnee County receive two free tickets!
"Shipwrecked!" is based on the true story of Louis de Rougemont, a 19th-century British explorer who became a cultural phenomenon. Rougemont invites audience members to experience his story of adventure and survival as he spends decades shipwrecked in the South Pacific. Exotic islanders, flying wombats, giant sea turtles and a monstrous man-eating octopus are several of the many different characters who populate his tale, and all are played by a small cast of seven very acrobatic actors. The play raises the question of whether Rougemont, in his effort to leave a mark on the world, blurs the line between fact and fiction. See the show and decide for yourself!
"Shipwrecked!" is directed by Associate Professor of Performance Lloyd Caldwell. Over his 30-year career, Caldwell has choreographed stage combat and other physical comedy routines for more than 100 professional productions and 120 university productions in the United States, Canada and Europe. Breaking from traditional theatre productions, Rougemont narrates "Shipwrecked!" while participating in acted scenes that are incorporated into the story.
"It is a story, told by an adventurer, that spans a lifetime and covers so much geography," Caldwell said. "We call our chorus of actors 'mates'—like 'shipmates'—but besides a ship's crew, they play dozens of roles in places all around the world, from England to the South Pacific, to the Australian outback and then back to London. The show is very fast-paced, so everyone cast had to have gymnastic skills and great timing, and of course, a sense of humor."
Junior Kelton Neals plays Louis de Rougemont. He was last seen on stage in the September production of "The Call" as the African character Alemu, and before that he was in the musical, "The 25th Annual Putnam County Spelling Bee," playing William Barfee. Neals describes his current role as being similar to his role as Alemu because both men were storytellers who transported their listeners to another world. Neals is joined onstage by Breanna Ault, Allyson Blackshare, Charli Granato, J.D. Miller, Tyler Pietruszewski, Jacquelyn Wieden and Hayden Yoder.
"I'm looking forward to amazing the audience and taking them to a different world," Neals said. "I hope to make them forget that they are sitting in a theatre. But quite honestly, this is an ensemble production; it's not a one-man show. All the actors playing the mates are really high energy and very entertaining."
On the production team are senior stage manager Hannah Mans, costume designer Jeremy Bernardoni and lighting designer Heidi Hoffer. Joining the team, as a special guest artist, is scenic and properties designer Rich Larsen. Larsen teaches at the University of Scranton and has been able to spend time in Stillwater this spring semester while on sabbatical. Larsen is a veteran of many New York productions and has visited OSU's Department of Theatre a few times before.
"The theatre faculty at OSU and their students are a real joy to be around," Larsen said. "They approach the shows with a lot of enthusiasm and creativity. This project in particular has been a delightful challenge. The set has a lot of movable parts and, most fun, the audience should expect a few imaginative sea creatures to come to life."
Head of Department Andrew Kimbrough promises a family-friendly production that is sure to entertain and delight audience members of all ages.
"Everybody from grandparents to little kids will get a kick out of this show," Kimbrough said. "It's a great example of live theatre!"
The OSU Department of Theatre is offering two free tickets to all first responders in Payne, Pawnee and Noble Counties. For those interested in receiving the free tickets—police, sheriffs, fire departments, Life Net, etc.—please bring a form of identification from your area of service when attending the show.
Tickets for the show can be purchased online at theatre.okstate.edu or by visiting the Theatre Office in 121 Seretean Center for the Performing Arts. General admission tickets are $12, senior tickets (65+) are $8 and student tickets are $7.
PHOTOS: https://www.flickr.com/photos/ostatenews/albums/72157679777085476