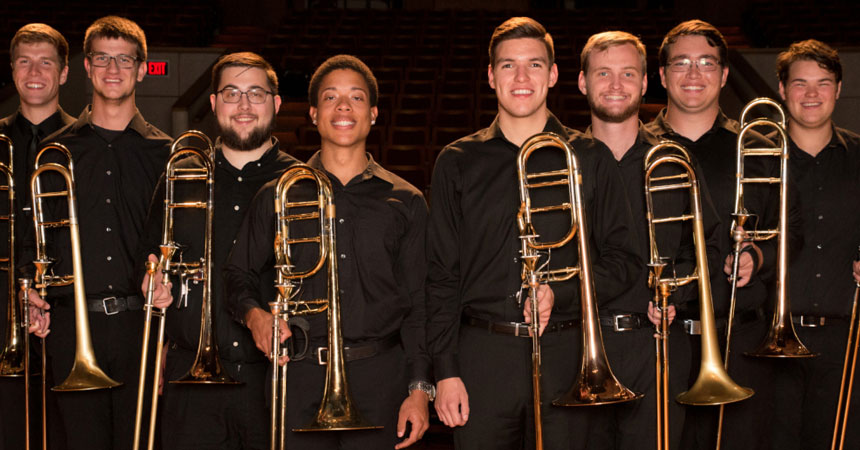 A student trombonist at Oklahoma State University recently performed as a soloist on the steps of the U.S. Capitol, accompanied by an elite military band, thanks to his win in national competition.
Dorien J. Tate, a senior bass trombone performance major from Garland, Texas, took home first place honors in the 2017 United States Army Band, "Pershing's Own," National Collegiate Instrumental Solo Competition last March, becoming the first bass trombonist to ever win the competition. The honor earned Tate a place on the west steps of the U.S. Capitol Building, where he performed as a soloist with the U.S. Army Concert Band on June 8 and 9.
"Performing with the United States Army Concert Band was unreal. The entire experience was unforgettable," said Tate.
Tate also won first prize in the 2017 Texas State Trombone Symposium Bass Trombone Solo Competition held at Texas State University in San Marcos, Texas on February 19.
Several more OSU trombonists turned in wins at other competitions this year, including Noah Roper, a freshman bass trombone performance major from Aledo, Texas, who joined Tate in winning first place at the National Finals of the 2017 Music Teachers National Association Senior Brass Solo Competition and Young Artist Brass Solo Competition, March 18-21 in Baltimore, Maryland. Roper won in the 15-18 age group, while Tate won in the 19-25 age division. The students earned a spot in the as finalists in the national competition by going undefeated through the state, division and national rounds of competition.
Roper also won first prize in the 2017 National Classical Bass Trombone Solo Competition at the American Trombone Workshop in Fort Myer, Virginia, last March, where he won division 1 for bass trombonists ages 18 and under. He placed second in the 2017 Glenn Miller Birthplace Society Instrumental Scholarship Competition, held in Clarinda, Iowa, June 8-11. This was the 41st annual competition and the finalists involved were from all over the United States and Canada.
Additionally, OSU trombone students won both prizes in the 2017 Chamber Music Tulsa Robert Heckman Memorial Instrumental Solo Competition on March 4. Nicholas Losos, sophomore trombone performance major from Aledo, Texas, won the first prize, and John Parker, senior trombone performance major from Duncanville, Texas, won second prize. OSU trombone students have won every prize in this competition since 2012.
OSU trombone students won the first four prizes in the 2017 Ladies Music Club of Oklahoma City Brass Solo Competition on March 12. Kyle Hunt, sophomore trombone performance major from Wylie, Texas, won first prize; Paul Bussert, junior music education major from Bixby won second prize; Jacob Eyler, junior music business major from Saginaw, Texas, won third prize, and Noah Roper won fourth.
Roper also placed fifth in the International Trombone Association George Roberts Bass Trombone Solo Competition in February. This was an international competition open to all bass trombonists ages 20 and under.
"Over the last ten years OSU trombone students have placed first in state, regional, national and international competitions more than 40 times, but spring 2017 was one of the best semesters yet. I am incredibly proud of these dedicated students," said Dr. Paul Compton, OSU associate professor of trombone.