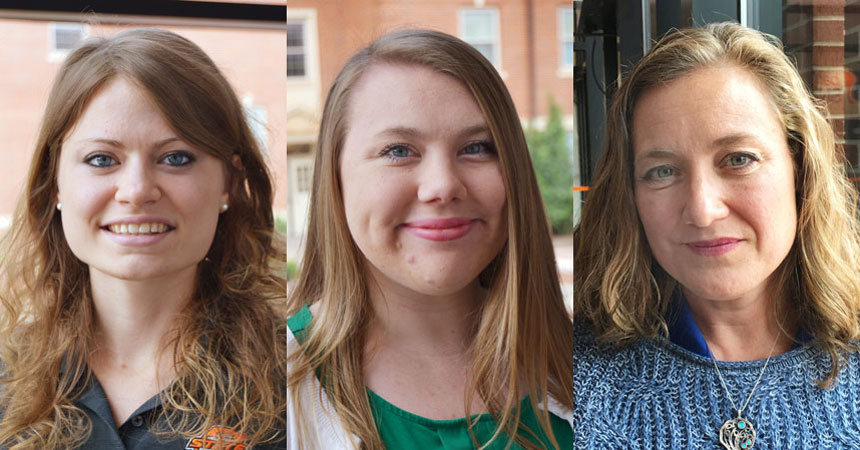 The National Science Foundation has awarded three Oklahoma State University students Graduate Research Fellowships in a program that drew proposals from 13,000 students from across the U.S. this year. The highly-competitive annual NSF program offers significant financially support by choosing 2,000 student scientists, engineers and others who have "potential for significant research achievement."
OSU recipients include:
Christian Ley, from Broken Arrow, received a fellowship with her first proposal, a rare achievement for undergraduate applicants. She graduates this spring from OSU with a B.S. in biosystems and agricultural engineering and is entering an environmental science doctoral program at Purdue University. She will examine the safety of municipal water systems and work to develop bio-sensors for water-borne pathogens.
Ann Money is the curator of education and research at the Oklahoma Aquarium in Jenks. She returned to school to earn a doctorate in integrative biology at OSU where she is conducting research into the health of coral systems and possible explanations for the hardiness and survival of certain coral species affected by worldwide coral bleaching. Money is from Alexandria, Virginia.
Ashley Rankin, from Belton, Texas, earned a bachelor's degree in psychology from North Texas University. She joined an OSU doctoral psychology program and is researching the psycho-biology of close friendships and how hormone levels affect friendship quality.
Honorable mention:
Scott Goeppner, from Bridgewater, Mass., was recognized with an honorable mention for his integrative biology doctoral research at OSU.
"I'm very honored. Out of thousands of overqualified applicants, the NSF saw value in me personally as a researcher and in my research," Rankin said. "I think my research is extremely important but for an organization like the NSF to agree – I just feel very proud that my research can shine through."
"The goal of NSF Graduate Research Fellowships is 'recruiting and supporting outstanding students with high potential in science, technology, engineering and mathematics very early in their graduate training,'" said Jim Lewis, NSF acting assistant director for Education and Human Resources.
Recipients receive a $34,000 annual stipend while the graduate institution receives a $12,000 cost-of-education allowance. The NSF funds each fellowship for three years, which can be used over a five-year period.
"The financial support from the NSF fellowship is definitely going to make my doctoral venture less stressful," Ley said.
PHOTOS: https://www.flickr.com/photos/ostatenews/albums/72157683529084286