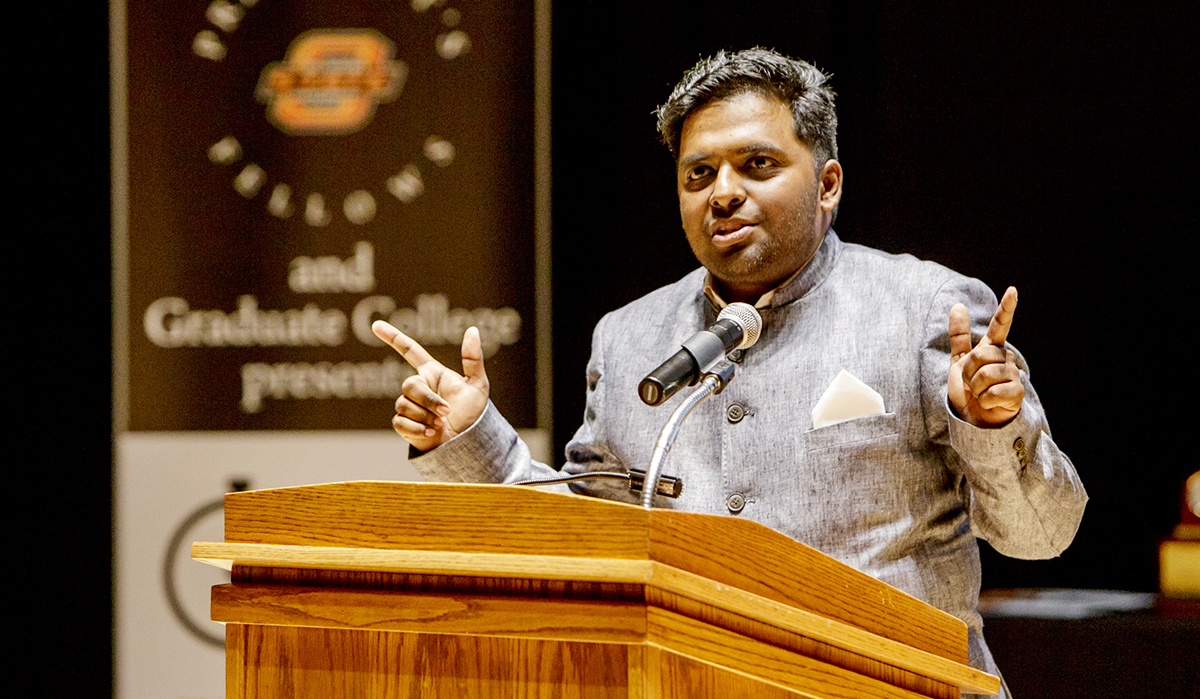 Siddharth Suresh, a master's student in telecommunications management, won first place and $2,000 for his presentation, "Forget Your Password?" at the Oklahoma State University President's Fellows Grand Three Minute Challenge (3MC) April 13 in the Student Union Theater. The 3MC places the top five finishers in OSU's Three Minute Thesis® and Three Minute Presentation against one another.
The 3MC is sponsored by the OSU President's Fellows, a unique society made up of passionate and loyal OSU alumni and supporters. This group supports the larger priorities of the university through the leadership of President Burns Hargis and provides resources that allow projects and initiatives related to the ongoing transformation of the OSU campuses.
Other winners included, Grant Lapke, master's student in International Agriculture, who won second place and $1,500 for his presentation, "The J-1 Visa: Impacting International Agriculture." Jennifer Rudd, doctoral student in Veterinary Biomedical Sciences, won third place and $1,000 for her presentation, "Battling Superinfections: A Body at War."
The audience selected Varsha Akkaloori, a master's student in Business Analytics, as their People's Choice winner and recipient of $2,000.
"I have past experience in giving presentations on technical topics in India, but this was a unique experience in many ways. I feel extremely proud of myself for getting a chance to compete in the 3MC," Akkaloori said.
The President's Fellows Grand 3MC College Participation Traveling Trophy recognizes the college with the highest percentage of their students participating in the OSU 3MT® and 3MP competitions. This year the Traveling Trophy was awarded to the Center for Veterinary Health Sciences.
Graduate College Dean Dr. Sheryl Tucker introduced the panel of judges, which included a mixture of President's Fellows and community members.
They included, Mike Hessong, chief financial officer of Bioworld Merchandising, OSU Foundation Board of Governors and President's Fellow; Ann Hessong, President's Fellow; Quinton Sanders, equity and diversity specialist at CareerTech; Gary Shutt, director of OSU Communications; Lyndall Stout, TV host at OSU SunUP; and Julie Toben, chief financial officer at the Masonic Charity Foundation of Oklahoma.
The goal of the Graduate College is for every graduate student to acquire the skill of explaining what they do as practitioners of their graduate education and its relevance to furthering the public good by participating in a 3MT® or 3MP competition during their graduate studies at OSU concluding with the Presidential Fellows' Three Minute Competition. The 3MC was the final three minute competition of the 2016-2017 school year.