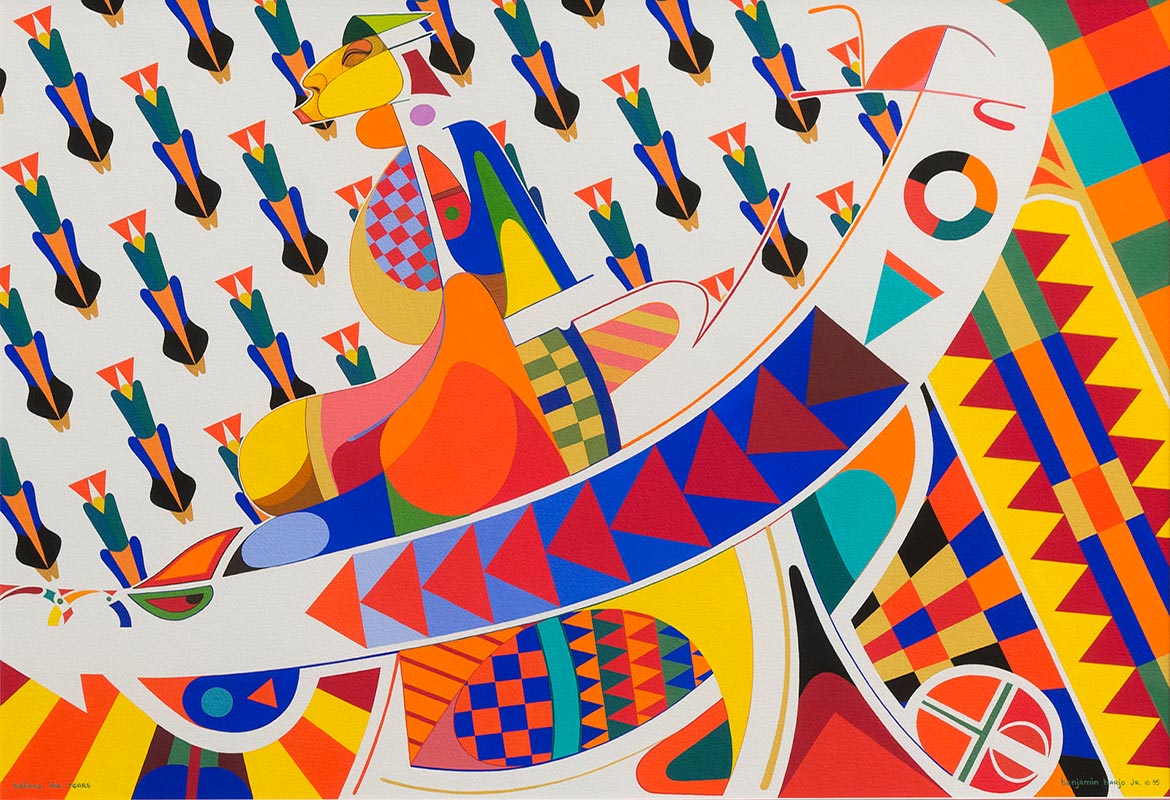 Benjamin Harjo Jr.: We Are a Landscape of All We Know on view at the OSU Museum of Art
Tuesday, June 26, 2018
Through a connection to his own heritage and to the wider American and international aboriginal communities, Harjo generates an individual perspective that is rooted in the past, informed by the present, and looking to the future.
Before graduating with a Bachelor of Fine Arts from Oklahoma State University, Harjo was both self-trained and educated at the Institute of American Indian Arts (IAIA). With a career now spanning more than 30 years, Harjo's artwork has been showcased in public collections and galleries across the nation. While a number of those exhibitions have celebrated his use of color, humor, and patterning, this exhibition examines the artist's multifaceted abstract and figurative work that engages memory, place, and family. Harjo's own brand of visual sovereignty evokes sacred connections that speak to the relationship between land, body, mind, and spirit, affirming the changing nature of culture, identity, tradition, and self-determination.
The exhibition amplifies several questions that Harjo explores in his work: How does one develop a sense of belonging? How is belonging experienced? What significance do ancestral lands, kinship systems, and creation stories hold for Harjo as a contemporary Native American? It is with these inquiries in mind that we can begin to explore how Harjo generates his place in the world through his work while providing an opportunity for us to reflect on our own.
Benjamin Harjo Jr.: We Are a Landscape of All We Know is curated by Cassidy Petrazzi and is on view at the OSU Museum of Art from July 10 – Dec. 8, 2018. A public reception to celebrate the exhibition is scheduled for Thursday, Oct. 4, from 5 to 7 pm. Learn more at museum.okstate.edu/harjo.
About the OSU Museum of Art
For more information about the OSU Museum of Art, visit museum.okstate.edu or call 405-744-2780. The museum is located at 720 S. Husband Street in downtown Stillwater. Hours: Tuesday through Saturday from 11 am to 4 pm. Admission is free, thanks to generous support from the OSU Museum of Art Advocates.
PHOTOS: https://flic.kr/s/aHsmjLNyNB