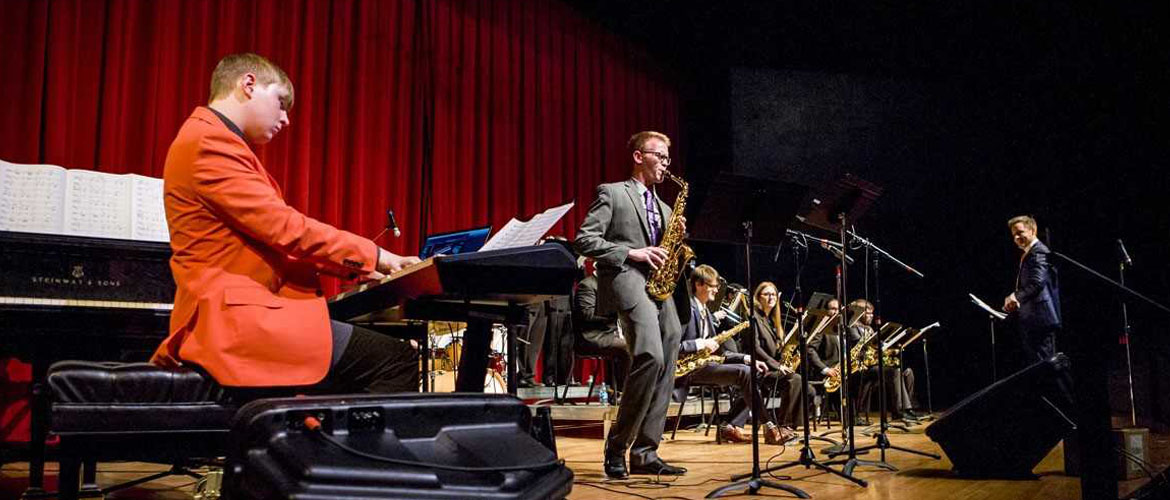 Daversa and OSU Jazz Orchestra to offer fusion concert
Thursday, March 29, 2018
The critically-acclaimed Oklahoma State University Jazz Orchestra will join Grammy-nominated composer/trumpeter John Daversa for a "jazz fusion meets big band" concert on Monday, April 2, at 7:30 p.m. in the Seretean Center Concert Hall.
The OSU Jazz Orchestra will open the show with Lester Young's jazz classic, "Tickle Toe," before introducing Daversa to perform his own unique compositions in the jazz-rock fusion style that came to prominence in the 1970s with musicians like Chick Corea and Herbie Hancock.
"Daversa's style can best be described as fusion meets big band," said Dr. Tommy Poole, OSU director of jazz studies. "He's a brilliantly creative and spontaneous musician who will keep the OSU Jazz Orchestra on its toes. The music is definitely challenging and fun."
Daversa, a three-time Grammy-nominated trumpeter and composer, was also a finalist in the Thelonious Monk International Jazz Competition. He leads the John Daversa Progressive Big Band, which is one of the leading forces in modern jazz today. The group's "Junk Wagon: The Big Band Album (2011)" won best in show and awards for excellence in creativity/originality and production at the Global Music Awards.
Tickets can be purchased at the door, $10 general admission, $7 for students and seniors, or in advance by visiting jazz.okstate.edu and clicking on "Buy Tickets." Tickets are available online until 4 p.m. the afternoon of the concert. They will go on sale in the Seretean Center's box office one hour before the performance. Tickets are also available, weekdays, at the Music Department office, room 132, in the Seretean Center.