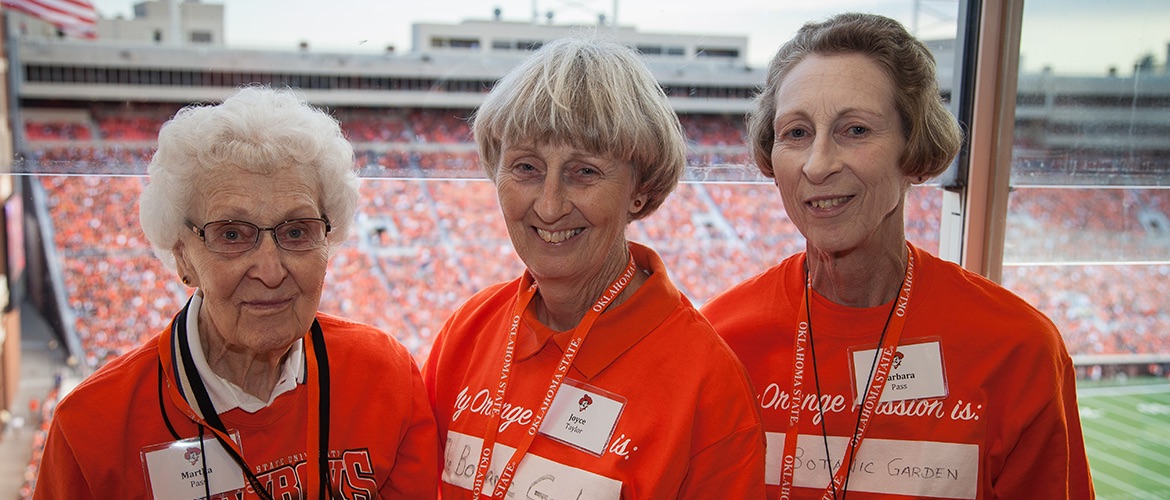 Late alumna impacts OSU Botanic Garden with legacy gift
Thursday, June 7, 2018
Some call The Botanic Garden at Oklahoma State University the best-kept secret in Stillwater. Those who run the garden are hopeful a significant gift by a longtime volunteer and subsequent enhancements to the property will change that.
Barbara Pass, a two-time OSU alumna, passed away in January 2018, but her legacy within the university and The Botanic Garden at OSU will live on. Through her estate, Pass has created the Barbara K. Pass Endowment for The Botanic Garden at OSU. Her generous gift is a game-changer, being the first endowment to ever support this program. Annually, the endowment will generate around $40,000 to support projects, infrastructure and programs.
The Botanic Garden at OSU is part of the Division of Agricultural Sciences and Natural Resources. DASNR is dedicated to making available science-based information relevant to improving the quality of life for people in Oklahoma. The garden not only provides a place for faculty and staff to conduct research and teach, it also is home to the popular OETA program "Oklahoma Gardening."
Pass was an active volunteer and Ambassador of The Botanic Garden at OSU. "She and her sister, Joyce Taylor, worked at the garden every Tuesday and spent countless hours as volunteers," said Lou Anella, director of The Botanic Garden at OSU and horticulture professor. She especially loved working in the Rock Garden, as well as the Cactus and Succulent Patio Garden.
This endowment will supply resources to the garden for the long-term. In discussing her decision to create a named endowment, Pass stated she assumed her legacy to the garden would be 25 years of volunteerism, but due to her health, she made the decision to direct financial resources in her estate to endow a legacy fund to provide sustainable support to the garden.
"Barbara has started something that will continue to be built upon and wanted the staff and volunteers to have resources to advance the garden's features and programming," said Heidi Griswold, who helped Pass establish the endowment through the OSU Foundation.
"Knowing we not only have financial sustainability for years to come, but that someone has confidence in us to provide this support is transformational," Anella said. "Barbara's gift will help us make some real infrastructure improvements for the gardens and programming. This gift is by far the largest contribution we've ever received."
Pass grew up in Stillwater, raised by parents who both had ties to OSU. Her mom, Martha, worked in the Bursar Office and her dad, Hartwill, spent his career with the OSU Agronomy Department. Pass was an athlete and musician while a student at OSU. Upon graduation, she became a CPA and accepted a job at the Oklahoma State Board of Regents as an accountant. Her career transitioned after receiving her master's degree in Computer Science as she became a software engineer. After a successful career at Sandia National Labs in Albuquerque, New Mexico, she returned to Stillwater in 2010 to enjoy retirement.
Pass will be missed greatly by her family, friends and fellow garden ambassadors, but her legacy and commitment will continue in perpetuity thanks to her generosity and foresight, Anella said.
"We appreciate this gift so much," Anella said. "Along with financial support, it provides credibility, confidence and moral support. It is having a real, almost emotional, impact on us. There is such a sense of pride that Barbara so greatly appreciated what we do."
For more information, visit botanicgarden.okstate.edu or call 405.744.5404.
If you are interested in supporting the garden, contact Griswold of the OSU Foundation at 405.385.5656 or hgriswold@OSUgiving.com.