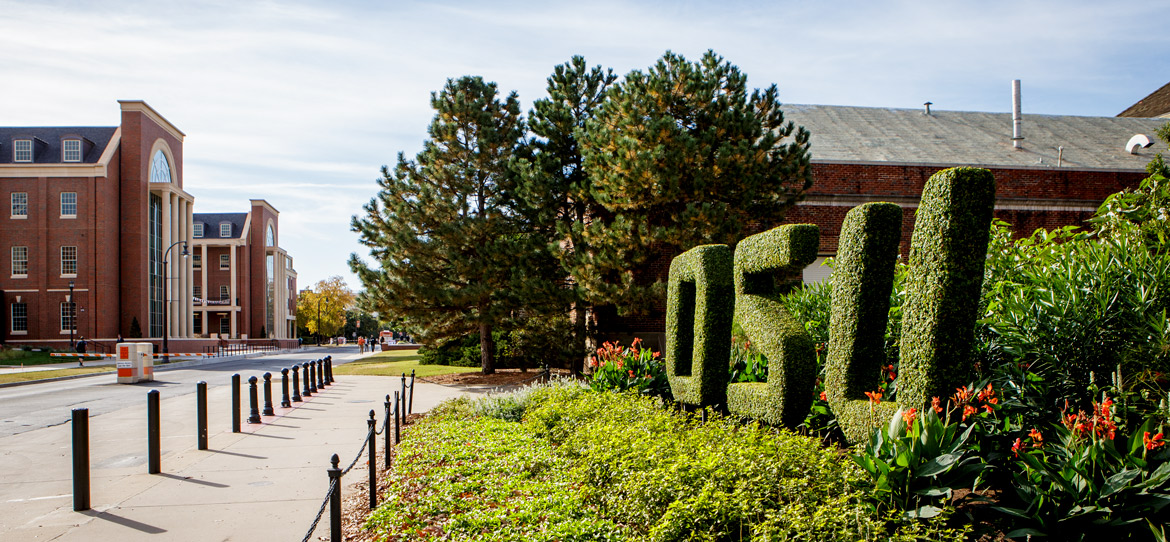 President's Cup honors variety of inclusive projects
Thursday, December 6, 2018
A project involving Oklahoma State University and 50 Mandela Fellows from 29 sub-Saharan countries, another developing a robot to care for aging adults and a third promoting exercise and inclusivity for the disabled have taken top honors in OSU's 2018 President's Cup.
First place went to Mandela Washington Fellowship Institutes: Business and Entrepreneurship. The project created two learning institutes where the 50 Mandela Fellows, entrepreneurs from 29 African countries, traveled to OSU for six weeks of professional development in 2017 and 2018 as part of the Mandela Washington Fellowship Institute. In addition to cross-cultural understanding, the project's goals ranged from training entrepreneurial skills and attitudes to creating relationships with U.S. mentors and collaborators to support future networking.
OSU's Department of Agricultural Education, Communications and Leadership and the Riata Center for Entrepreneurship inside the Spears School of Business partnered on the two institutes. M. Craig Edwards, professor in the Department of Agricultural Education, Communications & Leadership, and Craig E. Watters, director of the Institute for Global Social Entrepreneurship, chair of International Entrepreneurship in the School of Entrepreneurship and associate professor led the project.
Second place honored the partnership involving four associate or assistant professors from three colleges. Well-being Assessment Using a Social Robot for Elder Care focuses on developing and testing a smart companion robot that can conduct geriatric well-being assessments for adults aging alone. The project has resulted in a prototype of a companion robot that is able to assess well-being through conversation. Tests with local seniors have produced promising results. The research was motivated by a need to bridge the gap between the growing demand for health care for older adults living alone and the shortage of qualified professionals across the country.
Putting together the project were Weihua Sheng, associate professor, Electrical and Computer Engineering, College of Engineering Architecture and Technology; Alex Bishop, associate professor, Human Development and Family Science, College of Human Sciences; Celinda Reese-Melancon, associate professor, Department of Psychology, College of Arts and Sciences; and Yanmin Gong, assistant professor, Electrical and Computer Engineering, College of Engineering Architecture and Technology.
Let's Take a Walk!, the third-place winner, saw positive outcomes for both OSU students and Stillwater community members who spent 45 minutes twice a week for 12 weeks exploring campus with individuals with intellectual or developmental disabilities. The project measured physical and mental health, stress levels and attitudes toward disability and inclusion. Community walkers reported significant decreases in depression and anxiety symptoms while student walkers expressed positive changes in attitudes toward disability and inclusion. The project was easy to implement and brought about positive changes for all groups, including the potential for long-term health enhancement. Let's Take a Walk! was the project of Jennifer Jones, assistant professor, and Kami Gallus, associate professor, both of the Department of Human Development and Family Science, and Sam Emerson, assistant professor, Department of Nutritional Sciences. All are from the College of Human Sciences.
President's Cup projects are required to combine the information, ideas and approaches of two or more fields in imaginative, unexpected ways for instruction, research or service. The projects must involve two academic departments or schools within a college and could involve two or more colleges. The projects could be ongoing, or had to have been completed within the most recent calendar year. Each project team had to include at least two OSU faculty members. First, second and third place won $5,000, $3,000 and $2,000, respectively, for professional development. They were chosen by a committee chaired by the vice provost and dean of the Graduate College. Twenty proposals were reviewed with more than 100 OSU faculty, staff, students and partners participating.