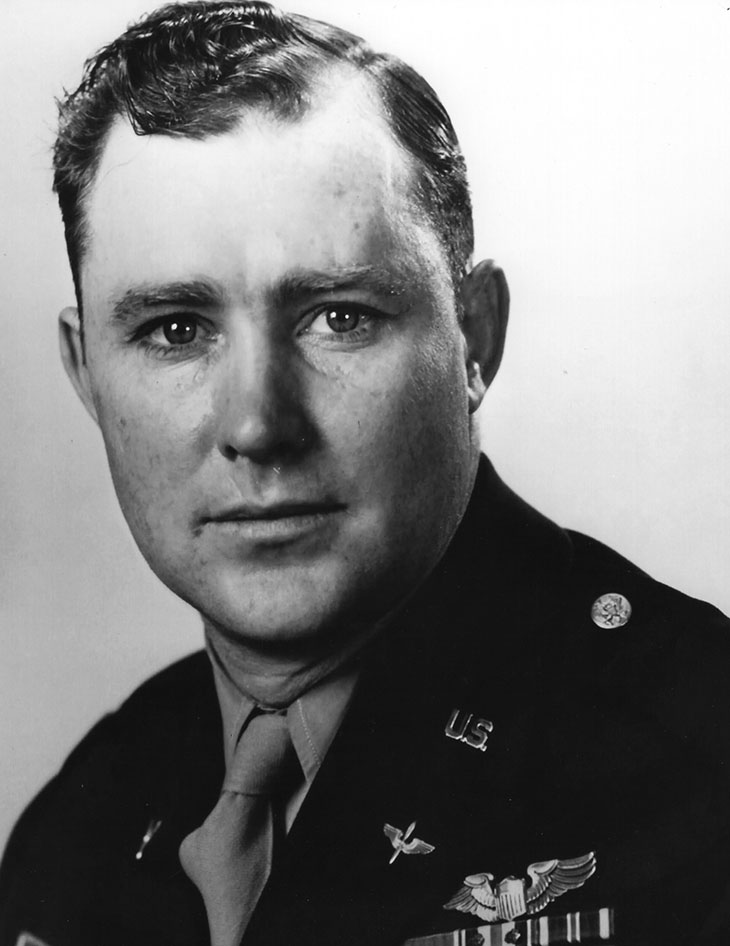 Oklahoma Military Hall of Fame inducts OSU alumnus
Friday, December 6, 2019
In October, a special ceremony in Norman, Oklahoma, posthumously honored Johnson, who was among 11 veterans inducted into the Oklahoma Military Hall of Fame.
The ceremony also memorialized the 419 sailors who died aboard the U.S.S. Oklahoma during the attack on Pearl Harbor.
A native of Roff, Oklahoma, Johnson earned three Silver Stars during World War II and the Korean War. The Rev. Mike Finley, a former pastor at Roff's First Baptist Church, nominated Johnson for the honor.
"I was his pastor for the last eight years of his life," Finley said. "I grew close to him and his wife. He was a good and compassionate man. I didn't want his memory or legacy to be forgotten; I wanted to hand those down to the next generation."
Johnson's military journey started on the now-Oklahoma State campus through the ROTC program and continued when he joined the Air Force after graduating with a bachelor's degree. He earned his first Silver Star in May 1944 and was promoted to lieutenant colonel the next month.
The first Silver Star was awarded for helping rescue bomber crewmen stranded on a raft under enemy fire. In his aircraft, Johnson fearlessly circled the raft, engaging in a firefight with the enemy until a seaplane could rescue the men.
He earned his second Silver Star less than half a year later for another rescue mission. Under a dark sky, fighting inclement weather and lacking a gunner, Johnson located two crew members from a plane that had crashed in the water and led a rescue plane to them.
Three months later, he earned his third Silver Star on a mission over the Philippine Islands. While leading a 72-plane formation against a Japanese airfield, his gun failed to fire. Despite flying defenseless, Johnson continued to lead the attack.
Johnson was also awarded three Distinguished Flying Crosses, the Legion of Merit and a Purple Heart. He flew over 107 combat missions during World War II
He returned home, never forgetting those years of his life.
"He told humorous stories of the war — and also the serious business of the war," Finley said.
Johnson returned to active duty in the Korean War, flying 55 missions. He retired in 1961 and died July 18, 2003, in Ada, Oklahoma.
Finley said Johnson won't be forgotten, and his recognition in the Oklahoma Military Hall of Fame is well warranted.
The pastor accepted the induction, accompanied by Lt. Col. Ryan D. Cox, OSU Air Force ROTC Detachment 670 commander.
"I thought the ceremony was a grand thing," Finley said. "I'm kind of speechless thinking about it. I think the way we honored those military folks was awesome — really great."
STORY BY: Kylee Sutherland | Brand Management Intern
MEDIA CONTACT: Harrison Hill | Communication Specialist | 405-744-5827 | harrison.c.hill@okstate.edu