OSU remembers T. Boone Pickens, 1928-2019
Wednesday, September 25, 2019
Cowboy family unites to celebrate legendary oilman and OSU benefactor
Thousands of Cowboy faithful flooded Gallagher-Iba Arena Wednesday to celebrate the life of Oklahoma State University legend T. Boone Pickens.
The celebration honoring Pickens included heartfelt speeches from OSU President Burns Hargis, Oklahoma Gov. Kevin Stitt, OSU head football coach Mike Gundy, philanthropist Anne Greenwood and athletic director Mike Holder.
Pickens, who passed away Sept. 11 at the age of 91, was a captain of industry and a record-setting philanthropist whose success in the energy field led to a transformative impact on his alma mater. The 1951 graduate of OSU's School of Geology, now the Boone Pickens School of Geology, gave a combined $652 million to the university during his lifetime, split virtually evenly between athletics and academics.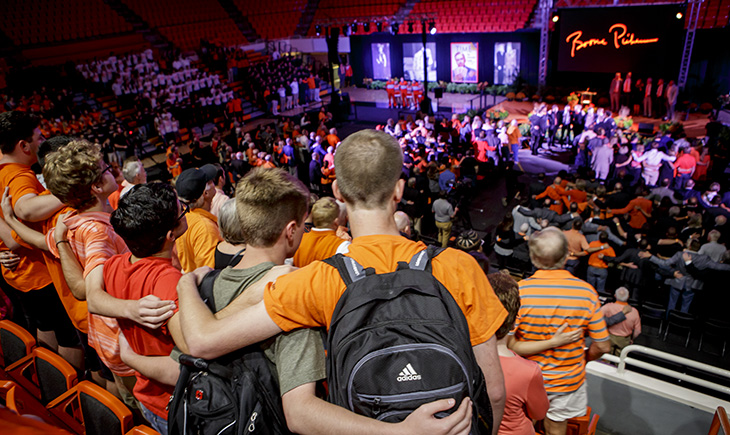 "I like making money. I like giving it away … not as much as I like making it, but it's a close second," he often said.
Pickens' $165 million donation to OSU athletics in 2005 was the single largest gift for athletics in NCAA history. He followed that with a $100 million gift to OSU in 2008 to endow major faculty chairs and professorships, and when OSU launched its Branding Success campaign in 2010, Pickens again led the charge with a $120 million gift.
Though Wednesday's speakers expressed sadness at Pickens' passing, they praised him for his philanthropy and his generous spirit, noting that the impact of his big heart and bigger gifts continues to shape OSU and inspire others.
OSU President Burns Hargis told the crowd: "Maybe his biggest gift … was the inspiration he provided to the university and to our donors. … Clearly Boone's impact, his inspiration has gone way beyond his own gifts. He really has inspired our university forever. He got the ball rolling, and it's our job to honor his legacy by keeping it going."
After Hargis introduced him, Stitt continued to praise the late oilman.
"T. Boone's passion for people and particularly the next generation of Americans was evident in all that he did," Stitt said. "Because of his love for Oklahoma's next generation, he also ensured that they have access to every opportunity for a bright future. … We can be confident that his legacy will live on with each Cowboy or Cowgirl and with each future leader that crosses the stage with a diploma in hand."
OSU athletic director Mike Holder began his speech musing on how he would remember his best friend, a man he described as "like a father" to him: "He was really a giant among men who acted like a common man.
"I learned this from Boone: First off, what you dream about, what you think about, what you work for will happen. If you're a student here at Oklahoma State, dream big. Take a big swing. You never know, you might change the world."
Philanthropist Anne Greenwood offered a personal, emotionally charged remembrance, crediting Pickens with inspiring her and her husband to donate to the university sooner rather than later.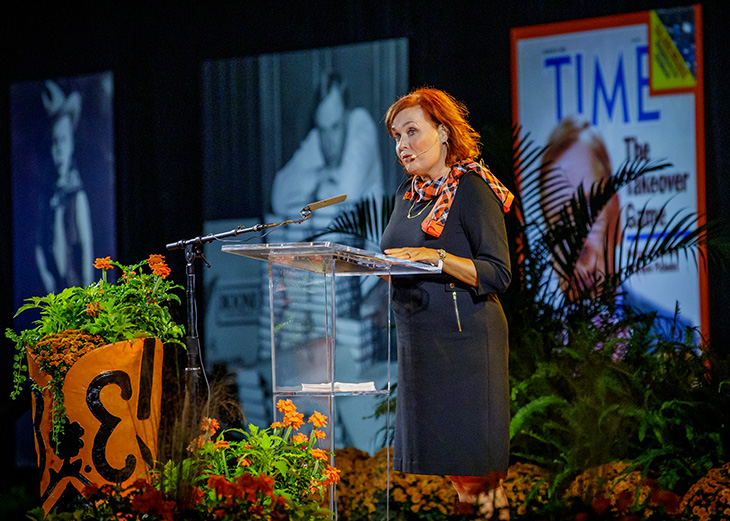 "Mr. Pickens always gave with the hope that his gifts would inspire others to join him. And they absolutely did," Greenwood said. "His vision and inspiration have forever changed our lives for the better. He taught us to dream big and to never stop trying to make a difference. Thank you, Mr. Pickens, for being our guiding light and for showing us all how to live orange."
OSU football coach Mike Gundy remembered the grand opening of the newly renovated Boone Pickens Stadium at OSU in 2009, counting it among his favorite memories of the benefactor.
"For me, that day that we opened the stadium, when he was able to cut that ribbon, … I could see it in his face, I could see it in his eyes, … he was bursting with pride. It was pride in his university, in the place that he loved.
"Mr. Pickens generated all of this and we just followed through," Gundy added. "He never forgot where he came from in Holdenville, he never forgot Oklahoma, and he never forgot Stillwater."
Hargis cemented Pickens' place in history: "He really transformed America in many ways, and he sure transformed Oklahoma State. He really made Oklahoma State a household name. … He really did dream big."
MEDIA CONTACT: Monica Roberts | Director of Media Relations | 405-744-4800 | monica.roberts@okstate.edu