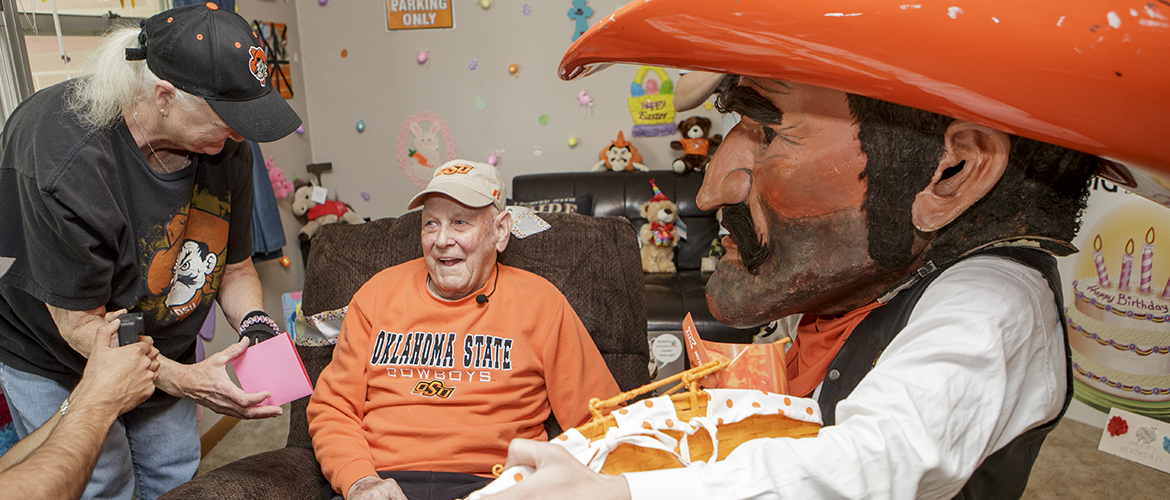 OSU honors WWII vet on his birthday
Monday, April 22, 2019
At a well-kept home on the edges of Marlow, Oklahoma, the world is sending its love to Oklahoma State University fan Recil Troxel, one piece of mail at a time. The flood of correspondence has renewed the faith of his daughter Liz Anderson in the general goodness of people and left the family awestruck at the power of a single Facebook request for cards for a World War II veteran.
For OSU, the recognition of Troxel culminated on his 93rd birthday. At 11:30 a.m. on April 17, the beloved Cowboy mascot, Pistol Pete, paid a visit to the home along with Jamie Payne, senior associate vice president of Development Services for the OSU Foundation; and Blaire Atkinson, president of the Oklahoma State University Alumni Association. Bearing a gift basket and 93 greeting cards from OSU students, athletes and administrators — including one signed by President Burns Hargis — they commemorated Troxel's birthday with an orange celebration for a life well lived.
Payne said the visit was "an absolute honor."
"You should have seen his eyes light up when Pistol Pete walked through his front door to wish him a happy birthday and thank him for his service to our country," Payne said. "Recil was wearing his orange with pride and grinning from ear to ear when reading the cards from the OSU family. When he opened the card from President Hargis, Recil said it was so special that he would frame it. This is pretty amazing considering he has received over 100,000 cards from all over the world in the past few months."
Atkinson agreed.
"It was an honor to visit Recil on his birthday and be a part of his celebration," she said. "He really represents what it means to be a loyal and true Cowboy and we are proud to have him in the Cowboy family."
The deluge of mail and visits started when Anderson grew tired of seeing her father disappointed when he had no mail addressed to him.
"I thought, 'My sister just retired. I'll have her put it on Facebook in Missouri, and we will get him a few cards for his birthday and he can get some mail,'" Anderson said.
Her goal was 50 to 100 cards for his 93rd birthday on April 17. Her sister made the plea for cards in February. It was shared with KSWO in Lawton who came for an interview. Then ABC affiliates aired it as well. The cause even made Southern Living magazine.
"The first day the mail came, he had four packages of cards and I thought that was great," Anderson said. "Then Monday comes, and the mail had six of those huge bags full of cards and over 100 packages. For a month, UPS came to the house once a day and FedEx came twice."
One woman mailed them maps of the United States and the world with a package of 500 straight pins to mark the origins of the letters and gifts.
"I ran out of pins," Anderson said. "I've bought 600 more. There are 1,100 pins on these, and I've run out again."
Avid OSU fans, the family has a bedroom bedecked in Cowboy bedding and curtains — and now swimming in boxes of correspondence and packages nearly shoulder-high. Gifts have come from as far away as Antarctica. Anderson has a freezer outside stuffed with chocolates. The freezer in the kitchen is packed with cookies. Blankets, cups, ball caps, handmade gifts, packages from OSU Athletics and at least one marriage proposal have rained on a man who has lived in relative obscurity in a place full of hardworking folks.
"It has been a whirlwind," Anderson said.
Troxel's life before WWII included shining shoes for a nickel a pair at the barbershop when he was 8 years old, delivering papers at 12 and working as a short-order cook at a downtown cafe when he was 13. He dropped out of school to drive a truck and help support his family before he left for war.
He spent two years and 29 days as an Army combat engineer in Guam, the Philippines and Saipan. He battled foot rot from weeks in wet terrain. He guarded prisoners, dug foxholes, served on a bomber and crawled through muck on the front lines for half a mile or more at a time. He earned a total of $262.01 for nearly 25 months of service.
Today, Troxel mainly remembers how abundant the meat product Spam was — eaten from the can without the benefit of crackers or bread. At one point, a kind nurse would sneak him a variety of foods. Bologna was a delicacy.
"You may not like (Spam), but you will like it," he said. "It's all you got. I don't really like it that way. I still don't like it."
After the war, Troxel married a waitress who caught his eye, Ida Lee. They owned a trucking company before he went to work for the Stephens County Barn-District 1 and then the State Highway Department. After he retired in the 1980s, he and Ida Lee traveled the country, selling crafts and making rounds of garage sales. Ida Lee died in 2005.
In the years since, Troxel has battled more than one round of near-fatal pancreatitis and is currently being treated for skin cancer. He was in a rehab facility before Anderson brought him to live with her. With age and illness, the breadth of his world slowly contracted to the view from the front window that overlooks State Highway 81 and a daily drive to check the mail.
Now the world comes to him in packages and in person. Veterans stopped by on a cold day in February. Troxel insisted on going into the yard and shaking everyone's hand. On April 13, his family threw a birthday celebration with family and friends — some of them new friends who have adopted Troxel as an honorary grandpa since the request for birthday cards. Through it all, Oklahoma State has been well represented for this family of Cowboy fans.
"We are so appreciative of everything OSU has done," said Tracy Nichols, Troxel's granddaughter and mother to OSU grad student Meagan Bourne. "The whole university has been amazing."
Follow the family on Recil Troxel Veteran Mail Page on Facebook.
MEDIA CONTACT: Shannon Rigsby | Public Information Officer | 405-744-9081 | shannon.rigsby@okstate.edu
Facebook Post

| Option | Value | Help |
| --- | --- | --- |
| Facebook Post URL | https://www.facebook.com/okstate/videos/362026897743458/?__xts__[0]=68.ARDv4juUkIlhFE-vwFgR9wW9lv2MPjgt66R6EFVyTatxeGH4LsGA_11M-mLduXulUloRw_dQjfIFH0wHqdsGIPMA6UkYuHV7sGAPHyBuuWsqGRYRmSytiEWY6QuQYbyywg1jkBuSRQazFRyTyVn09BjyXmrz5whp5lpZakya3wy1WNWLqkUGoGDGRq3N1UjYjL_txO-JAcwaPx3LGMfPaDxX2tosc3XoYrlYtFlYUZnjbgN6x6K1VZ3Y3tdW1d3RbOt8ICJ_6uiXQkHOC0NQdcxfiMfag13z1vFB528pxL3T84DX6yQfCXcjxNWzbczvzIWpJVG-Ld1ERegr4joI9Af6&__tn__=-R | Desired Facebook post URL |
| Width (350-750) | auto | If left on auto the post will automatically scale with the page. Minimum width is 350, maximum is 750. |