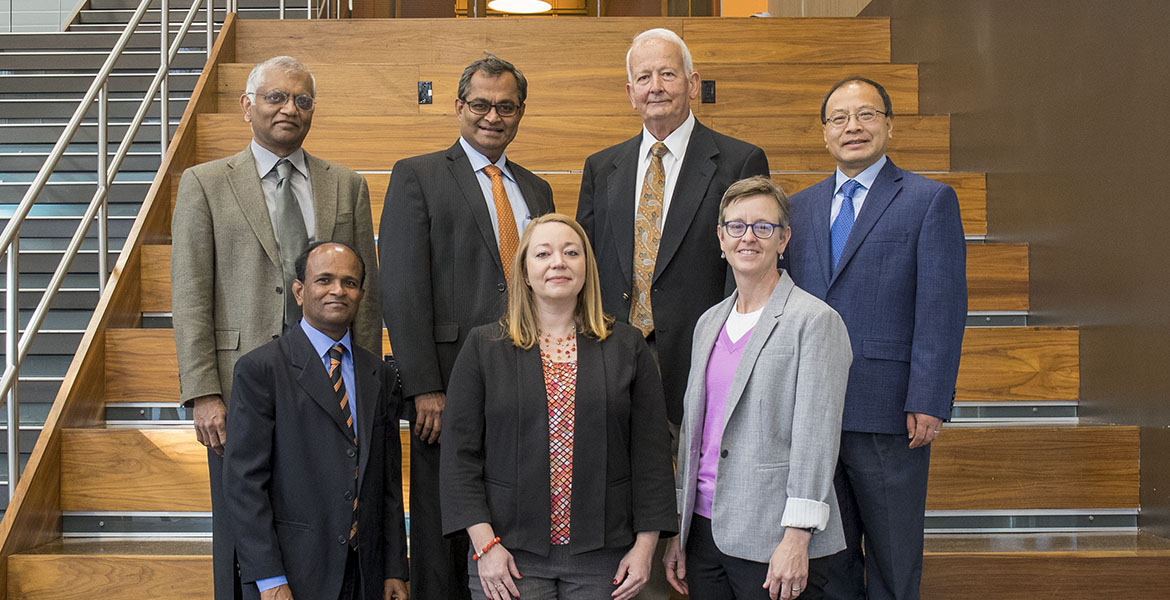 Regents Distinguished Research Award Winners Announced
Wednesday, December 11, 2019
Oklahoma State University has honored seven faculty members with the 2019 Regents Distinguished Research Award. The award recognizes research excellence. The winners must demonstrate a distinguished record of past and continuing excellence in research and be recognized nationally and internationally recognized.
"Research excellence is the hallmark of a great Land-grant university," said Kenneth Sewell, OSU's vice president for research. "These seven honorees are great examples of the amazing impact our faculty have on their disciplines and society at large, not to mention the transformative effect they have on their students here on campus."
These winners were honored at the 2019 Convocation in December:
Ramanjulu Sunkar, Ph.D., Neustadt-Sarkeys Distinguished Professor, Department of Biochemistry and Molecular Biology – College of Agricultural Sciences & Natural Resources
Dr. Sunkar joined OSU as an assistant professor in 2006, was promoted to associate professor in 2011 and full professor in 2016. His lab is working on understanding the molecular basis of stress tolerance in plants with a focus on microRNA- and epigenetic-mediated regulation of gene expression. This research can help unravel complex plant regulatory networks that control stress tolerance.
Stacy Takacs, Ph.D., Professor, Department of English – College of Arts and Sciences
As a professor of American studies and screen studies, Dr. Takacs is interested in the current relationship between U.S. television and U.S. imperial politics. Her research examines the American Forces Radio and Television Service. She plans to create a cultural history of the service, its transmission networks and its effects.
William Jaco, Ph.D., Regents Professor, Grayce B. Kerr Chair, Department of Mathematics – College of Arts and Sciences
Dr. Jaco is a distinguished researcher who is internationally recognized for his work. He is well known for his role in creating the Jaco-Shalen-Johannson decomposition theorem. His research is focused on geometry and topology, the study of geometric properties unaffected by continuous change of shape or size. Jaco studies low-dimensional manifolds, decision problems, algorithms and complexity theorem.
Lin Liu, Ph.D., CVM, Regents Professor, Lundberg-Kienlen Endowed Chair in Biomedical Research, Director, Oklahoma Center for Respiratory and Infectious Diseases – College of Veterinary Medicine
Dr. Liu researches respiratory infections, which are more widespread than other, higher profile diseases, such as AIDS. Approximately 15 people work in Liu's laboratory under his direction. Besides his own research, Liu also takes a leading role in mentoring junior investigators, building research infrastructure and fostering collaborations in respiratory infectious disease research across Oklahoma.
Karina Shreffler, Ph.D., Department of Human Development and Family Science – College of Human Sciences
Dr. Shreffler's research interests include childbearing intentions, behaviors and consequences of various reproductive experiences for individuals and couples. Shreffler is studying reproductive and contraceptive attitudes and behaviors among teens and is a principal investigator on several studies including an NIH-funded ($1.9M) study to examine prenatal exposures, birth outcomes and rapid repeat pregnancy (the HATCH Project: Holistic Assessment of Tulsa Children's Health).
Ramesh Rao, Ph.D., Paul C. Wise Chair of Finance, Department of Finance – Spears School of Business
Dr. Rao's exemplary research record includes over 75 publications in refereed journals, many in highly acclaimed journals such as Journal of Finance, Financial Management, and Journal of Banking and Finance. According to Repec (Research Papers in Economics), based on a commonly used research citation metric (h-index), Dr. Rao ranks in the top 10 percent of all authors. Rao has received the Dean's Research Excellence Award multiple times in recognition of his publications in top-tier journals
Sunderesh Heragu, Ph.D., Regents Professor, Donald and Cathey Humphreys Chair, Head of Industrial Engineering and Management – College of Engineering, Architecture and Technology
Dr. Heragu's research interest are developing real-time decision support systems for emergency preparedness, modeling and analyzing drive-through mass vaccination clinics, supply chain management, factory layouts, intelligent agent modeling of automated warehouse systems, applying RFID technology plant logistics, and integrating design and planning activities in advanced logistical systems.
MEDIA CONTACT: Harrison Hill | Research Communication Specialist | 405-744-5827 | harrison.c.hill@okstate.edu