OSU recognizes Babu, Bryans during fall 2019 University Awards Convocation
Thursday, December 12, 2019
Dr. Kaladi Babu, Regents Professor of physics in the College of Arts and Sciences, and Mary Bryans, director of Budget and Asset Management and chief budget officer, took top honors as Oklahoma State University recognized the achievements of faculty, staff and administrators at the University Awards Convocation Wednesday at the OSU ConocoPhillips Alumni Center in Stillwater.
Babu received the Eminent Faculty Award, which recognizes the highest level of scholarly achievement at OSU. His research is in theoretical high energy physics and particle physics phenomenology. He recently received the Distinguished Scholar Award from the Department of Energy and has garnered nearly $7 million in research grants.
"Dr. Babu is one of the most prolific and highly cited researchers worldwide," said Gary Sandefur, OSU provost and senior vice president. "As a teacher, Dr. Babu has the incredible ability to teach physics in a way that students can understand. As a mentor, he is one of the best. He is generous with his time and helps students obtain their fullest potential."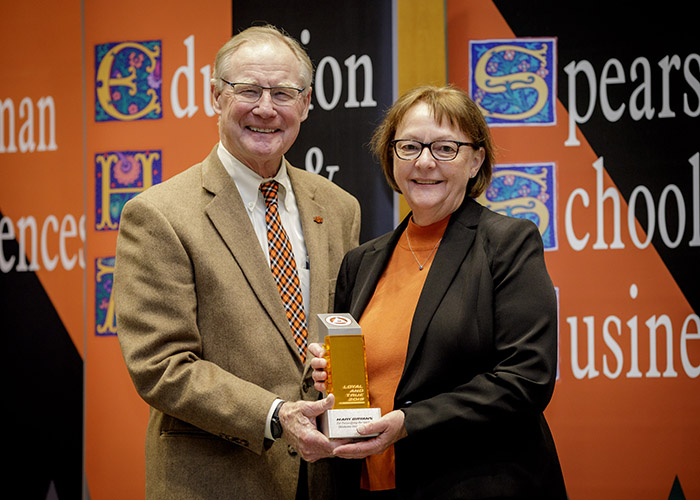 Bryans received the Loyal and True Award, which personifies the spirit of OSU through unwavering devotion, personal sacrifice and commitment of time and talents. Bryans has spent the past 15 of 24 years at OSU in her current role.
"Mary has distinguished herself as a dedicated colleague and astute fiscal manager," Sandefur said. "Mary's capacity to connect with others and her steady leadership are a rare combination of abilities."
Sandefur introducing members of the OSU/A&M Board of Regents, campus leaders such as the OSU Leadership Team and the executive group, the team of academic administrators, faculty and staff leadership groups, the faculty council and student leaders.
New awards this year included the OSU Career Champion Award, Inclusive Excellence Faculty Award and the Women's Faculty Council Outstanding Achievement and Mentorship of Women Awards.
Full list of honorees
Phoenix Award for Graduate Faculty
Balabhaskar Balasundaram, Industrial Engineering and Management, College of Engineering, Architecture and Technology
President's Cup for Creative Interdisciplinarity \
First place: Promoting Interdisciplinary Inquiry Through Scientist-Teachers and Teacher-Scientists
Andrew Doust, team leader
Second place: Integrated Framework for Quantifying Impacts of Induced Seismicity on Oklahoma Infrastructure Mohamed Soliman, team leader
Third place: Decreasing the Energy Use in Wastewater Treatment
David Lampert, team leader
Regents Distinguished Research Award
Ramanjulu Sunkar, Biochemistry and Molecular Biology, Division of Agricultural Sciences and Natural Resources
William Jaco, Mathematics, College of Arts and Sciences
Stacy Takacs, English, College of Arts and Sciences \
Ramesh Rao, Finance, Spears School of Business
Sunderesh Heragu, Industrial Engineering and Management, College of Engineering, Architecture and Technology
Karina Shreffler, Human Development and Family Science, College of Human Sciences
Lin Liu, Physiological Sciences, College of Veterinary Medicine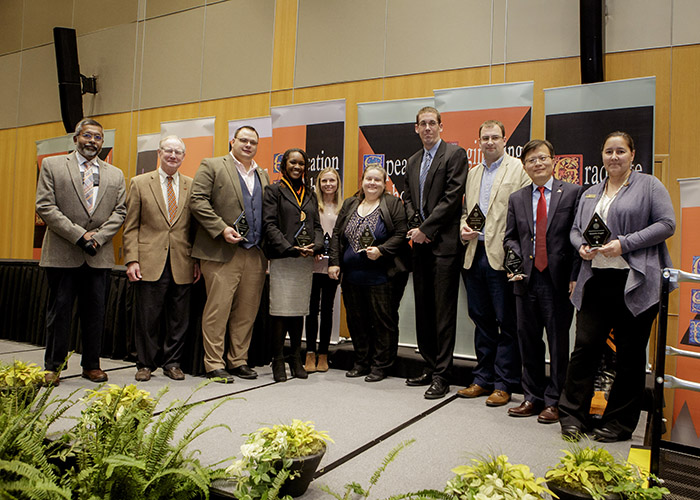 Regents Distinguished Teaching Award
Patricia Canaan, Biochemistry and Molecular Biology, Division of Agricultural Sciences and Natural Resources
Tamara Mix, Sociology, College of Arts and Sciences
Jay Schweig, Mathematics, College of Arts and Sciences
Rathindra Sarathy, Management Science and Information Systems, Spears School of Business
Stephanie Hathcock, Teaching, Learning and Educational Sciences, College of Education, Health and Aviation
John Phillips, Architecture, College of Engineering, Architecture and Technology
Edralin Lucas, Nutritional Sciences, College of Human Sciences
Mason Reichard, Pathobiology, College of Veterinary Medicine
Career Champion Award
Tyrrell Conway, Microbiology and Molecular Genetics, College of Arts and Sciences
Inclusive Excellence Faculty Award
Jennifer Jones, Human Development and Family Science, College of Human Sciences
Women's Faculty Council Outstanding Achievement and Mentorship of Women Awards
Rising Star
Dolores Vazquez Sanroman, Anatomy and Cell Biology, Center for Health Sciences
Outstanding Achievement
Ashlee Ford Versypt, Chemical Engineering, College of Engineering, Architecture and Technology
Inspiring Excellence
Stephanie Sweatt, Psychology, College of Arts and Sciences
Global Education Faculty Excellence Award
Barbara Brown, Nutritional Sciences, College of Human Sciences
Outreach Faculty Excellence Award
David Carter, Finance, Spears School of Business
Newly Appointed Chair and Professorship Holders
Division of Agricultural Sciences and Natural Resources
Brad Kard, Endowed Chair of Structural and Household Pest Control
Ranjith Ramanathan, Leo and Kathy Noltensmeyer Endowed Research Professorship
Million Tadege, Mel and Mary Jones Professorship in Agronomic Sciences
Brian Whitacre, Sarkeys Distinguished Professorship
College of Arts and Sciences
Todd Halihan, Sun Co. Clyde Wheeler Chair in Hydrogeology
Farida Jalalzai, Hannah D. Atkins Professor for Political Science and Government
Information
Glen Krutz, Puterbaugh Foundation Chair
Yingmei Liu, Noble Foundation Chair — Laser Research
Igor Pritsker, Vaughn Foundation Professorship in Number Theory
James Puckette, Geoscience Education Chair
Spears School of Business
Mehtabul Azam, Associates Professorship of Business Administration
Matt Bowler, Ralph A. and Peggy A. Brenneman Professorship
Laurie Lucas, Endowed Professorship in Applied Business Ethics
Li Miao, Charles W. Lanphere Professorship
Curtis Moore, Mike and Robbie Holder Chair in Entrepreneurship
Marc Tower, Norman C. Stevenson Chair in Entrepreneurship
Alexis Smith Washington, William S. Spears Chair in Business Administration
College of Education, Health and Aviation
Mallory Casebolt, Roger Hardesty Chair in Aviation Science
Amber Manning-Ouellette, Anderson, Farris and Halligan College Student Development Professorship
Joe Terantino, Stella V. Andersen Endowed Professorship
College of Human Sciences
Amanda Harrist, Bryan B. Close Endowed Professorship
Edmon Low Library
Juliana Nykolaiszyn, W.P. Wood Professorship for Library Service
Matthew Upson, Claud D. Kniffin Professorship of Library Service and Education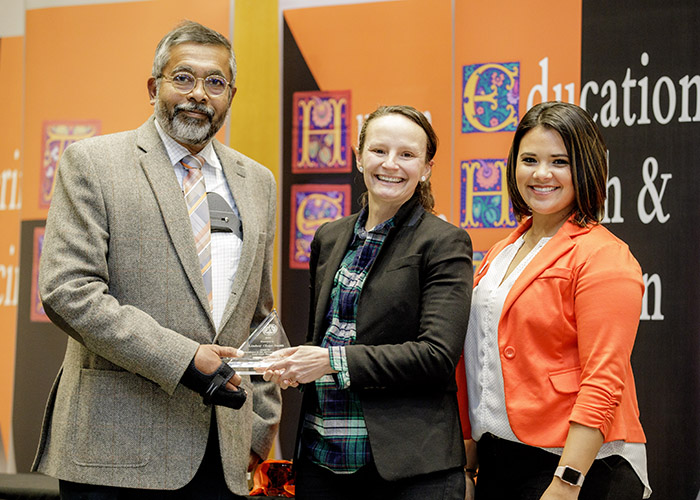 Award for Excellence in Academic Program Assessment
Niels Maness and Cherry Gray, Horticulture and Landscape Architecture, Division of Agricultural Sciences and Natural Resources
Jon Comer, Geography, College of Arts and Sciences
Angela Spencer, Accounting, Spears School of Business
Mary Malaska, Alana Cluck and Mckinzey Porter, Nursing, College of Education, Health and Aviation
Heather Yates, Construction Engineering Technology, College of Engineering, Architecture and Technology
Gregory Clare, Design, Housing and Merchandising, College of Human Sciences
Excellence in Teaching Award for Adjunct Faculty
Nancy Titus-Piersma, Finance, Spears School of Business
Merrick Foundation Teaching Award
Wenyi Shen, Economics, Spears School of Business
Advising Excellence Award
Gretchen Mafi, Animal and Food Sciences, Division of Agricultural Sciences and Natural Resources
April Golliver-Mohiuddin, Music, College of Arts and Sciences
Silvia Daggy, Psychology, College of Arts and Sciences
Cara Black, Student Success Center, Spears School of Business
Mary Mach, Student Success Center, College of Education, Health and Aviation
Kristal Soderstrom-Junkens, Student Success Center, College of Engineering, Architecture and Technology
Edralin Lucas, Nutritional Sciences, College of Human Sciences
Baylee Butler, Student Success Center, Honors College
Kendra Alcala, University College Advising, Division of Academic Affairs
Lionel Dawson, Clinical Sciences, College of Veterinary Medicine
Pamela Lovern, Veterinary Biomedical Sciences, College of Veterinary Medicine — Outstanding Graduate Coordinator
Newly Appointed Regents Professors
Robert Burnap, Microbiology and Molecular Genetics, College of Arts and Sciences
Elizabeth Grubgeld, English, College of Arts and Sciences
Jason Lavery, History, College of Arts and Sciences
Randall Stroope, Music, College of Arts and Sciences
Betty Simkins, Finance, Spears School of Business
Clinton Jones, Pathobiology, College of Veterinary Medicine
Oklahoma Higher Education Heritage Society's Hall of Fame
William Jaco, Mathematics, College of Arts and Sciences\
Gregor Morgan (posthumous), Clinical Sciences, College of Veterinary Medicine
Distinguished Early Career Faculty Award
Scott Loss, Natural Resource Ecology and Management, Division of Agricultural Sciences and Natural Resources
Erika Lutter, Microbiology and Molecular Genetics, College of Arts and Sciences
Shannon Spaulding, Philosophy, College of Arts and Sciences
Alexis Smith Washington, Management, Spears School of Business
Jason DeFreitas, Kinesiology, Applied Health and Recreation, College of Education, Health and Aviation
Brian Elbing, Mechanical and Aerospace Engineering, College of Engineering, Architecture and Technology
Dingbo "Daniel" Lin, Nutritional Sciences, College of Human Sciences
Danielle Dugat, Clinical Sciences, College of Veterinary Medicine
Land-Grant Award for Excellence
Lindsey Claire Smith, associate professor of English, College of Arts and Sciences, and director of the Oklahoma Center for Poets and Writers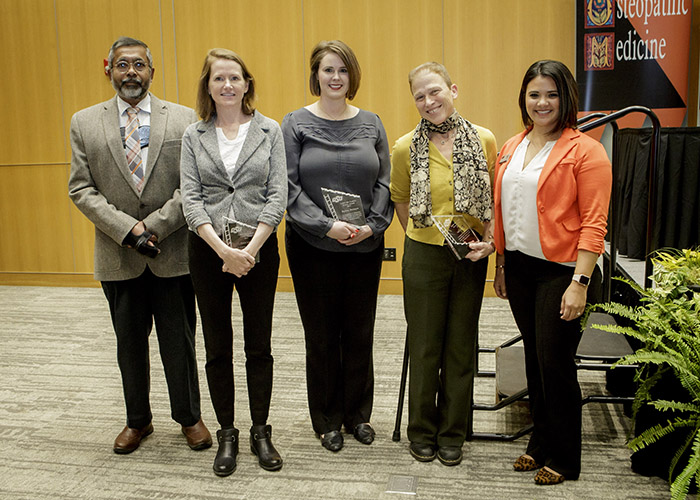 Leave the Ladder Down Award

Faculty: Susan Little, Regents Professor, Veterinary Pathobiology, College of Veterinary Medicine
Staff: Sally Schuh, director of the Visual Resource Center, Department of Art, Graphic Design and Art History, College of Arts and Sciences
Administrator: Marissa McIntyre, director of the Chesapeake Energy Business Student Success Center, Spears School of Business
University Service Award
Faculty: Jon Ramsey, associate professor, Agricultural Education, Communications and Leadership, Division of Agricultural Sciences and Natural Resources
Staff: Mary Ellen Givens, administrative support specialist in the Academic Programs office, Division of Agricultural Sciences and Natural Resources
Administrator: Bobbi Kay Lewis, associate professor and associate dean for Outreach, College of Arts and Sciences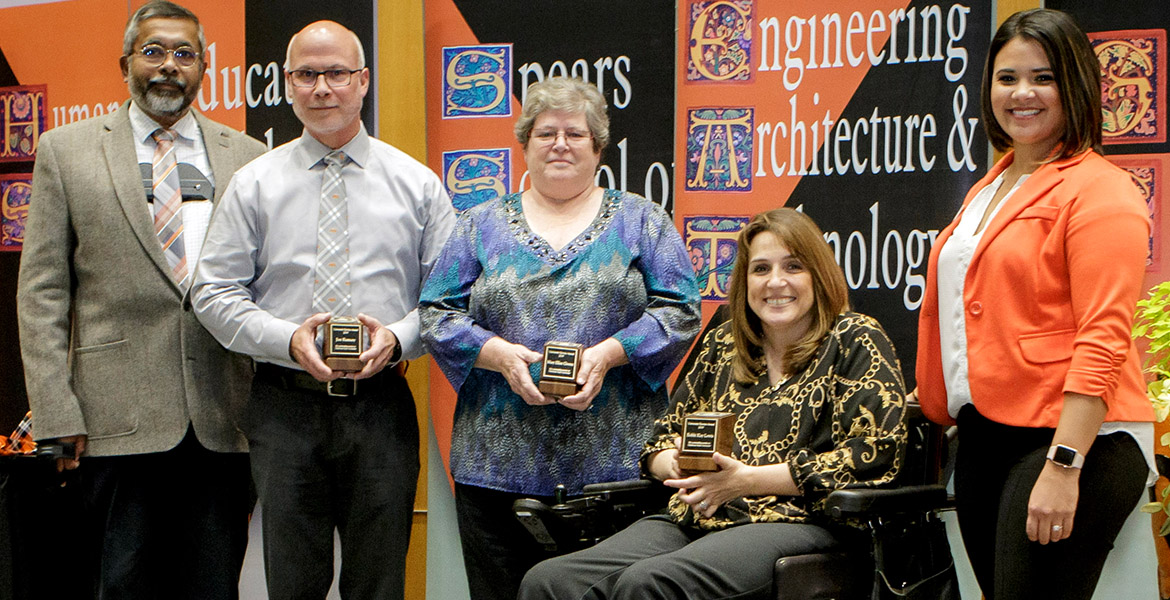 MEDIA CONTACT: Monica Roberts | Director of Media Relations | 405-744-4800 | monica.roberts@okstate.edu