Gov. Stitt encourages graduates during address
Saturday, December 14, 2019
Honorary doctorates awarded to Michael and Anne Greenwood, First Cowgirl Ann Hargis
Oklahoma State University recognized the final graduating class of the decade Saturday at Gallagher-Iba Arena during the 140th OSU commencement.
With roughly 1,300 of the 1,800 graduates in attendance during Saturday's undergraduate ceremonies, Gov. Kevin Stitt delivered his first university commencement addresses at his alma mater.
Stitt spoke following a procession led by the OSU Pipes & Drums Band and an introduction from Oklahoma Agricultural and Mechanical Colleges Board of Regents Chairman Tucker Link, who thanked Stitt for his leadership and dedication to OSU while addressing the gathering of graduates.
"As a graduate, you are a representative of America's brightest orange. Oklahoma State University has made a difference in your life. May you honor OSU through your continued academic pursuits, your career and your service. Who knows, as a graduate you may even become a [university] president, a regent, or even governor," Link said, motioning to Stitt.
Stitt, a 1996 OSU accounting alumnus, went on to found Gateway Mortgage Group, which, in 2019, merged with Farmers Exchange Bank to form Gateway First Bank, one of the 10 largest banks in the state. In 2018, Oklahoma elected Stitt governor.
Sharing high points from a list of 40 goals he made while attending OSU, Stitt had three pillars of advice for graduates to lean on: Dream big, be persistent and surround yourself with good people.
"Dream big, because you can do anything you set your mind to," he said. "The great T. Boone Pickens put it this way: What you dream about, what you think about and what you work for is going to happen."
Stitt said that list of 40 goals he penned in college set in motion a plan he did not fully understand back in 1996, but has carried it with him ever since. He said it served as a reminder during challenging times, from starting a business on a shoestring budget, to preserving that business through the Great Recession.
He encouraged graduates to challenge themselves, set high goals and push through obstacles.
"Most people quit right before success," he said. "I don't know of any business, job or marriage that doesn't face challenging times. It's what you do in those times that matter … Without persistence I would've quit [my company] and never hit goal No. 29 -- have dinner with the governor of Oklahoma."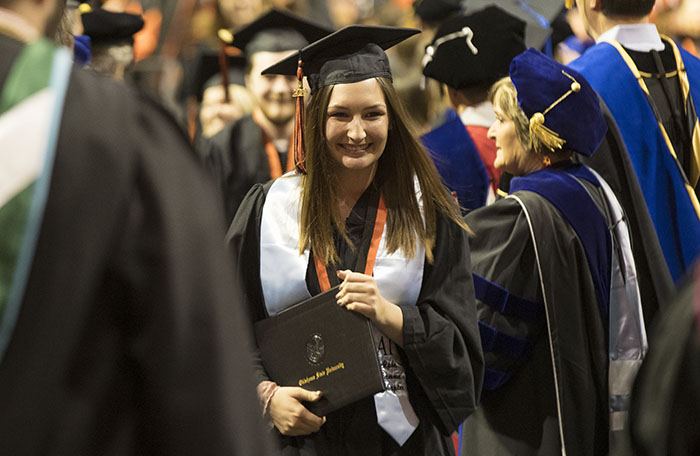 Stitt said he erased "become governor of Oklahoma" from his list, thinking it was too grand a goal at the time. Now he jokes that he gets to have breakfast, lunch and dinner with the governor.
"See, what you do matters," he said. "It matters to your children, your grandchildren. It matters to the state of Oklahoma."
OSU bestowed three honorary degrees Saturday, as well.
During the morning ceremony, the board of regents presented Michael and Anne Greenwood honorary doctorates in humane letters for their prolific philanthropic efforts, which have helped transform the OSU-Stillwater campus.
Their lead gifts to projects like The Michael and Anne Greenwood Tennis Center, The Anne Morris Greenwood Reading Room in Edmon Low Library, the new Spears School of Business building and The McKnight Center for the Performing Arts at Oklahoma State University made those projects possible.
In 2018, they pledged a lead gift to name the Michael and Anne Greenwood School of Music. They have also endowed multiple scholarships across campus and are a constant support to the OSU Marching Band and the Cowboy Strong Student Emergency Fund.
"It gives us great pleasure to bestow [these] honorary doctorates of humane letters," OSU President Burns Hargis said. "It's very rare that we get to honor a couple like Anne and Mike."
Michael Greenwood, a Spears School of Business alumnus and OSU Hall of Fame member, is the founder and managing director of Carnegie Capital, LLC, a financial advisory services firm with offices in Oklahoma and New York City. His wife, Anne, also a member of the OSU Hall of Fame, had a 30-year accounting career with Fortune 500 companies.
"She retired to focus on philanthropy and education endeavors and did she ever," Hargis said. "Anne has served her alma mater in so many areas it would be hard to name them all. There are very few areas of this university she has not impacted. She and her husband, Mike, are lifelong supporters of the arts, evidenced by multiple scholarships and financial support they have generously given."
In the afternoon ceremony, First Cowgirl Ann Hargis received an honorary doctorate of humane letters for leading impactful health and wellness initiatives, which have established OSU's reputation as "America's Healthiest Campus."
"Her presence on campus positively impacts us all, and after being married to me for 50 years she deserves a medal," President Hargis said.
Saturday's morning ceremony recognized graduates from the colleges of Human Sciences; Education, Health and Aviation; and the Spears School of Business, while the afternoon ceremony recognized graduates from the colleges of Arts and Sciences; Agricultural Sciences and Natural Resources; and Engineering, Architecture and Technology. Graduate students were recognized at a ceremony on Friday night.
Media contact: Mack Burke | Editorial Coordinator | 817.680.2176 | mack.burke_iv@okstate.edu