Bedlam Blood Battle starts Nov. 9
Thursday, November 5, 2020
The Bedlam Blood Battle is back and the Oklahoma Blood Institute is seeking life-saving donations of blood and convalescent plasma.
From Nov. 9-13 four locations on the Oklahoma State University campus will welcome donors while pitting rival universities OSU and the University of Oklahoma against one another in friendly competition to see which can produce more donations.
"The need for blood is urgent," according to the Oklahoma Blood Institute. "The recent ice storm put additional strain on Oklahoma's blood supply that was already taxed by the COVID-19 pandemic. Oklahoma Blood Institute urges all healthy donors to make time to donate at the Bedlam Blood Battle."
Although the Bedlam Blood Battle is a competition, the OSU and OU are committed to combating COVID-19 together. The state has experienced more than 127,000 positive cases and more than 1,370 deaths from the novel coronavirus, making the need for donations that much more important.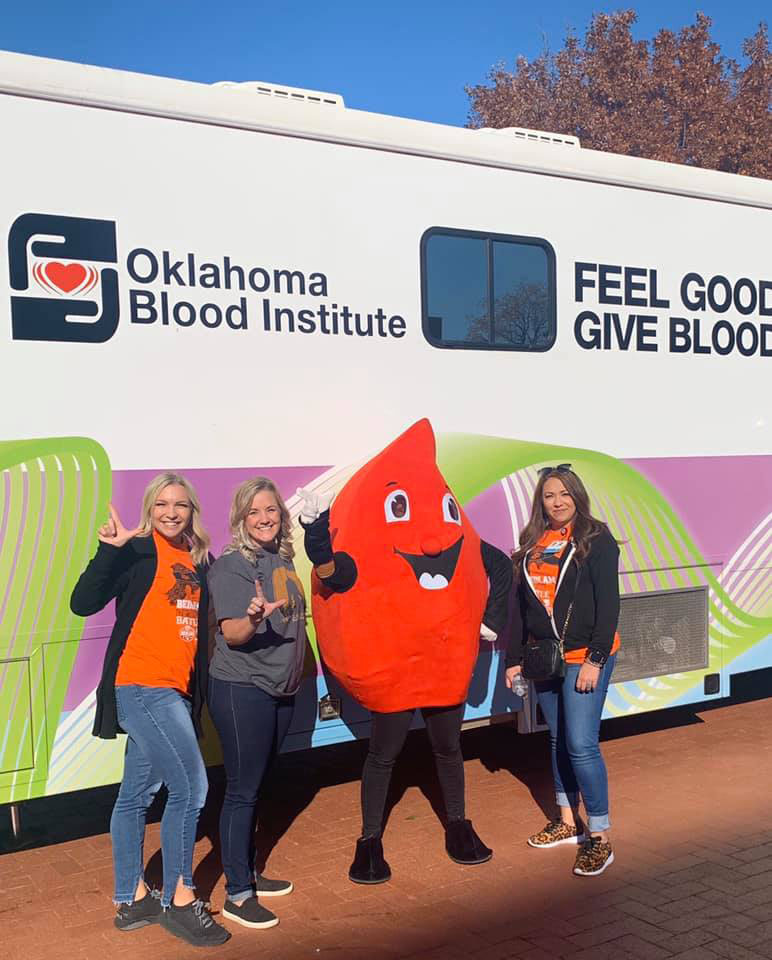 At OSU, donors can give blood Monday, Nov. 9 through Friday, Nov. 13 at the Student Union Upper Plaza or at the Student Union Campus Life Lounge from 10 a.m.-5 p.m. The bloodmobile in the Kerr Drummond Plaza will be open for donations Monday through Friday from 2-7 p.m. Individuals can also donate at Northern Oklahoma College Wednesday, Nov. 11 or Thursday, Nov. 12 from 10 a.m.-4 p.m.
Blood donation typically takes about an hour, and one donation can save up to three lives. Appointments can be made by texting OBI4OSU to 999777, at 1-877-340-8777 or obi.org.
Individuals who have recovered from COVID-19 or who have tested positive for the antibodies may donate convalescent plasma to help patients suffering from severe COVID-19 symptoms by registering at bit.ly/okstateplasma. Convalescent plasma donations will only be available Monday through Friday from 10 a.m.-4 p.m. at the Student Life Lounge. A representative will contact registered donors to set up an appointment. Questions may be directed to ccpspecialist@obi.org.
Demand for convalescent plasma is critical. It takes about 120 minutes for the entire convalescent plasma donation process and one donation could help up to four COVID-19 patients. Donating convalescent plasma will qualify donors for a chance to win a $1,000 Visa gift card drawn daily. Additionally, one $1,000 scholarship will be awarded to a randomly drawn convalescent plasma donor who gives at OSU.
To qualify to give convalescent plasma, potential donors must have:
A prior diagnosis of COVID-19, documented by a laboratory test
Be symptom-free for 14 days prior to donation
Be seven days post blood or plasma donation
Oklahoma Blood Institute is thanking generous donors with a limited edition "Give Blood, Give Life" face mask in addition to a free OSU orange Bedlam T-shirt.
Donors will also receive a coupon for a free honey butter chicken biscuit from Whataburger.
Oklahoma Blood Institute is the local, nonprofit blood supplier, supporting the inventory for patients in more than 160 hospitals, medical facilities and air ambulances statewide.  
Blood drives are managed according to CDC safety recommendations. Oklahoma Blood Institute is committed to maintaining the safest standards for blood collection, testing and transfusion.
All donations for donors 18 and older will be tested for COVID-19 antibodies to identify potential convalescent plasma donors.*
"We are truly grateful to our donors who have stepped up during these extremely difficult months, but we know the Oklahoma State family always pulls together during hard times," said Dr. John Armitage, president and CEO of Oklahoma Blood Institute. "We thank OSU for being a steadfast partner in saving lives and recognizing that children with cancer cannot wait for treatment, trauma patients cannot wait for transfusions and other patients with life-threatening conditions simply cannot wait for vital blood products."
*16-year-olds must weigh at least 125 pounds and provide signed parental permission; 17-year-olds must weigh at least 125 pounds; 18+ year olds must weigh at least 110 pounds. Photo ID required. Donors ages 16 or 17-years old need parental consent to be screened for COVID-19 antibodies and are not eligible to donate convalescent plasma. This test has not been FDA cleared or approved. It has been authorized by the FDA under an EUA (Emergency Use Authorization) for use by authorized laboratories. The test has been authorized only for the detection of the IgG antibody against SARS-CoV-2, not for any other viruses or pathogens. Blood drives will be managed according to CDC safety recommendations. Test results will be made available post-donation.
MEDIA CONTACT: Mack Burke | OSU Editorial Coordinator | 405.744.5540 | mack.burke_iv@okstate.edu