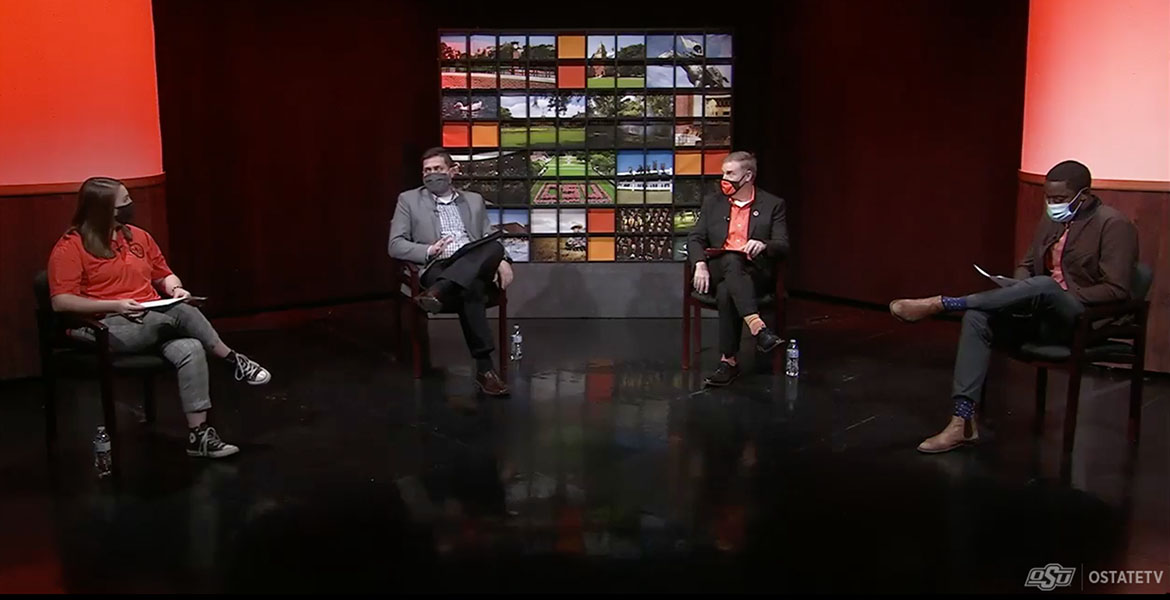 Mental Health Q&A addresses student questions, highlights resources
Tuesday, November 3, 2020
Oklahoma State University hosted a mental health question and answer session Oct. 30 in an effort to help students understand the resources available to them.
Students Jaden Kasitz, OSU Student Government Association president and Caileb Booze, OSU Interfraternity Council president addressed questions to Dr. Doug Hallenbeck, vice president for Student Affairs and Dr. Joseph Dunnigan, coordinator of the Student Counseling Center.
Below is the video, which includes the entire session, followed by some written excerpts.
What is OSU's plan to address mental health concerns among its students?
Hallenbeck:
"This is an extraordinarily important topic for us and has been even before COVID and the pandemic and we've developed plans continually to try to figure out how we try to address mental health issues.
"I was just on a call earlier today … 11 percent of high school students in the state have had serious suicidal thoughts. Those are our future students. We are working at developing a better culture of care. Working not only with the layer of services that we have … but also developing a community where we are paying attention to each other.
"One of the reasons why we're here is that this semester we've seen three students that apparently have chosen to take their own life and that is a great tragedy. It is a great tragedy for us and we feel it. I can promise that the university cares about you, cares about your success, we are here for you and we'll get through this. COVID won't last forever. Tough times won't last. As long as we pull together we can make it."
How can a person access or use the counseling services and what does that look like?
Dunnigan:
"We started the walk-in clinic about two years ago as a way to get services to students quicker. Prior to that we had a service where you'd call and do a screening but it could take a week to two weeks to get in … to see what services were needed. We've changed that so we have availability between 10 a.m.- 3 p.m. each day that we are open. Because of the pandemic we are taking extra precautions to protect students and staff so we are doing those by phone right now.
"Once an intake is done, we'll look at the needs … and assign a counselor. Or they may receive other services like a self-help program, group therapy, support groups and online counseling services.
"We figure out what's the best fit for the student and go from there. Services are based around the students needs."
How would you recommend that students deal with that isolation with the pandemic, the stressors of college and life, not being able to come together collectively as consistently as we have in the past?
Dunnigan:
"One of the conversations we were having as therapists early on was 'How do we connect through video? How do we connect through phone?' We are finding that, as therapists, we are actually being really successful connecting with the students we are working with. I also found that the students have been pretty successful."
Hallenbeck:
"If a student is in a class that is in-person but also has an online option, go to class. Leave your room or apartment and go out and engage because once you get out you have the opportunity to meet other people and I think that is important."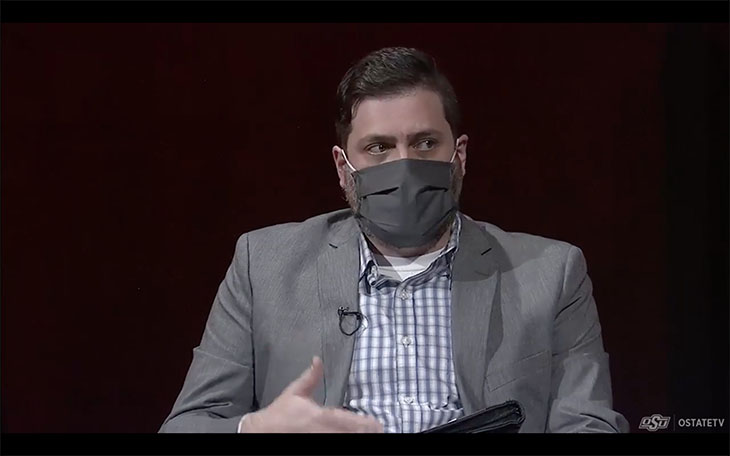 What impact do you think the pandemic has had on students that are seeking counseling services?
Dunnigan:
"It is really hard to quantify that. I think it has really impacted everybody so drastically. It has changed the very nature of our lives in fundamental ways. What I've really seen is, whatever stressors we already had, they've been amplified."
Dr. Dunnigan, how would you say the cases compare this year versus last year on Oklahoma State's campus regarding mental health?
Dunnigan:
"Some of the nature has changed but we're seeing about the same volume of students come in."
Are there any resources available on campus for mental health that allow students to remain 100 percent anonymous?
Dunnigan:
"Services are confidential. Our ethics dictate we cannot share information with anyone.
"There are (also outside services) like MD Live. If someone were to access those counseling services, we would not have any record of those services. Same thing with Call SAM (1-855-225-2726). When a student accesses Call SAM, which is our 24-hour crisis service, we don't get specific information on who accesses that."
How is the university equipping or training professors on the issue of mental health?
Hallenbeck:
"We have two training programs. One is QPR, which is Question, Persuade and Refer. That trains everybody — faculty, students and staff — on how to identify behaviors, how to ask the right questions and how to get a student to get appropriate resources. We started that about a year ago and have had about 700 or so … that have gone through that training.
"We have mental health first aid, which is a more intensive training program. It really looks at mental health in a variety of ways. It provides training on how to better respond to students who have heightened anxiety, stress, depression. We had over 500 students, faculty and staff go through that.
"We have an online platform that the state Board of Regents partners with us on called Kognito, which allows faculty or staff to go in and try out intervention models.
"We've been doing these things but we need to do more. Our goal is that we provide that training to everybody."
Dunnigan:
"Another part of those training (sessions) that's so important is helping faculty and staff know what the local resources are. Knowing where counselling services is, how to get a hold of a therapist if needed, how to access Kognito and those other services."
What did OSU do to prepare for the heightened need for mental health resources this semester due to the pandemic, political divisiveness and racial injustice issues? When were these resources made available to students?
Hallenbeck:
"We've been rolling it out this semester and a lot of it is built on what we've been doing. (There are) a couple things we've done and continue to do. One, we provide what's called a Care Report. Anybody on campus can go to the vice president's website and turn in a Care Report for a concern you might have about a fellow student. Then we have a team that's composed of people from across the university … that can reach out and support students.
"About six to eight months ago we hired a case manager — that is not a counselor — that can reach out and say 'Hey, I understand you might be struggling, how can we better help,' and connect them to the resources."
So many services have been cut around the country due to COVID-19, I'm curious if the counseling and mental health services budget was cut?
Dunnigan:
"We've been very fortunate that mental health has been a priority here. Over the last few years our budget has increased and allowed us to bring on more counseling staff as well as offer more resources."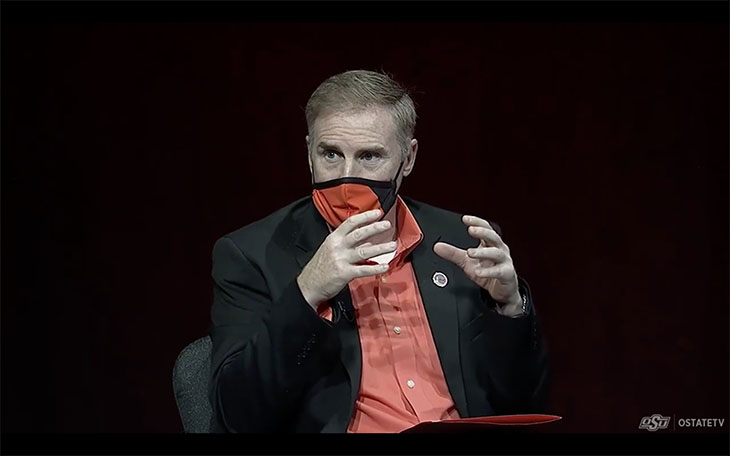 Dr. Dunnigan mentioned that there is sometimes a one-to-two-week wait, so will the university be hiring any more professionals to address mental health issues so there isn't a wait at all and can we access these services for free?
Hallenbeck:
"You're always going to have a lag or wait when determining who best to serve the student based on the intake.
"The national standards for college counseling centers is about one counselor for every 1,500 students. We are below that (fewer than 1,500 students per counselor). Right now, we aren't seeing the demand for more counselors. When that starts going up, we surely can.
"In terms of free, sometimes we do have a nominal charge. One of those charges is for missed appointments."
A student called the university mental health clinic and was told that they are not taking any new clients until next semester. Dr. Dunnigan, how would you respond to that?
Dunnigan:
"We are taking new clients. There are other clinics on campus. The student counseling center is located in 320 Student Union. Our number is 744-5458. So if you're calling that number, it reaches us."
Dr. Hallenbeck, will the university be allowing a pass/fail option this semester and if not, why would that be?
Hallenbeck:
"The straightforward answer is no. The university looked at it, the faculty council looked at it, our academic leadership looked at it and really felt like that was not the best course of action. There are repercussions to academic integrity, to your degrees and others by having pass/fail options over and over and over again. And we're just not necessarily set up to have pick-and-choose options.
"What I would say, and I think we have, is encouraging our faculty to have grace with our students, to work with them in terms of how to best proceed. I encourage our students to talk with their faculty and develop a plan if they feel like they need that."
Another hot button topic is the cancelation of Spring Break. How would you respond or what advice would you give to students knowing that once we come back in the spring we will be going the whole time with no breaks?
Hallenbeck:
"We believe that the best educational experience is to have as much in-person instruction as possible. What we didn't want to have happen is we'd go away for a week … and then come back and have COVID responses that make us shut down completely and go fully online.
"I have a committee working on 'What can we do about halfway through as a stress relief … so we can all take a breath?' It wouldn't be a Spring Break. It wouldn't be a week off. Is there something we can do? We are looking at that as an option."
MEDIA CONTACT: Mack Burke | Editorial Coordinator | 405.744.5540 | mack.burke_iv@okstate.edu