Native OSU students share culture with McAlester classes
Tuesday, December 8, 2020
Native American books read by Native American students. The idea came from an Oklahoma school teacher, and Oklahoma State University's Center for Sovereign Nations was happy to help make it a reality.
Leslie Montemayor, a Native American studies teacher of roughly 500 McAlester (Oklahoma) elementary school students, reached out to the Center for Sovereign Nations to see if the center's student leaders could helped spread cultural awareness by reading stories by Native American authors to elementary students — on video, thanks to the pandemic.
"The kids have loved it," Montemayor said.
Students sat on the floor and huddled around the projector screen in November during Native American Heritage Month. So far, Montemayor has shared three of the videos in her classroom.
Though the district's boundaries are within the Choctaw Nation, the first reading featured a book in the Chickasaw language.
"Some of the students were like, 'Hey, I know some of those words. I hear my grandma saying that word,'" Montemayor said.
Videos from four additional students have yet to be shared. Montemayor said she is grateful to OSU for partnering with the McAlester Indian Education program. She said the exchange has been enriching and inspiring for the students.
"Seeing and hearing from a college student who looks like them makes college seem like a more realistic option," she said.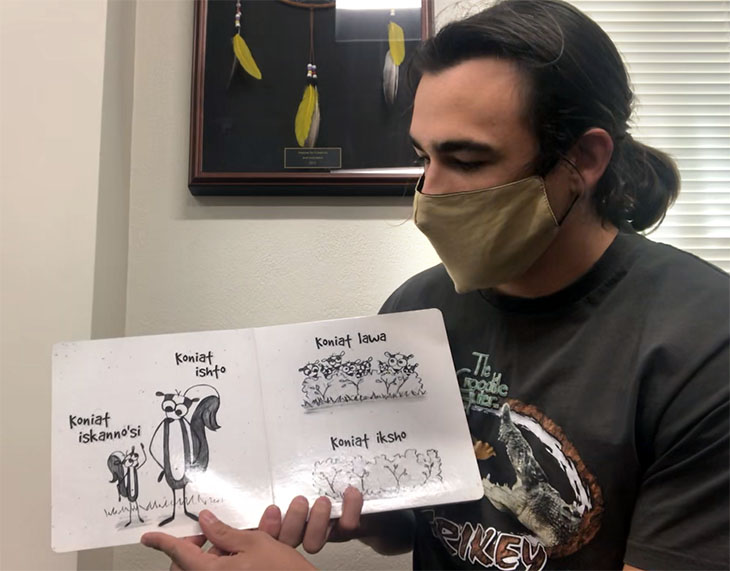 OSU sophomore and Chickasaw Nation citizen Miko Brandon, who is studying natural resource ecology and management, read the book Koni.
"I wanted to share the Chickasaw language with the children," Brandon said. "A lot of people today, young and old, have not heard the Chickasaw language spoken. The language is something I am passionate about."
Colton Parker, senior psychology major and citizen of the Cherokee Nation, plans to become a clinical psychologist and hopes to work for the Cherokee Nation or Indian Health Services.
He read My Heart Fills with Happiness.
"This was very important because it allowed young native students to see older native students who are in college and being successful academically," Parker said. "To see somebody in your culture group who is succeeding in things like leading is great. It was a really great way to give back to the community."
Kayli Nail, a Chickasaw junior, enjoyed reading for the children and hopes to give back to her community by becoming a nephrologist, a kidney specialist. She is a premedical biology major with plans for medical school and dreams of working for a tribal nation.
"I think it is very important for students to learn from a young age the history of Oklahoma and the culture that comes along with it," Nail said. "We have 39 tribal nations."
She read The Legend of the Indian Paintbrush, describing it: "A young boy who is a member of a tribal nation, instead of becoming a hunter like the men normally would do, wants to become an artist. The book kind of tells you that it's OK and that everyone has a purpose."
Nail said the OSU Center for Sovereign Nations has been great for her.
"OSU provides a great opportunity for Native American students or anyone who is interested in Native American culture or Oklahoma history to learn about the tribal communities and all the great opportunities we have," she said.
That's music to the ears of Sky Rogers, assistant director of the OSU Center for Sovereign Nations.
The center is a home base for Native students and their friends on campus. During non-pandemic times, the center enjoys welcoming students from many Native communities to campus.
"Being able to continue that in a virtual way was great," Rogers said. "We are trying to get these students excited about the importance of education, and hearing from someone interested in the same things you are, or maybe from the same tribal nation, might inspire these students."
MEDIA CONTACT: Mack Burke | OSU Editorial Coordinator | 405.744.5540 | mack.burke_iv@okstate.edu