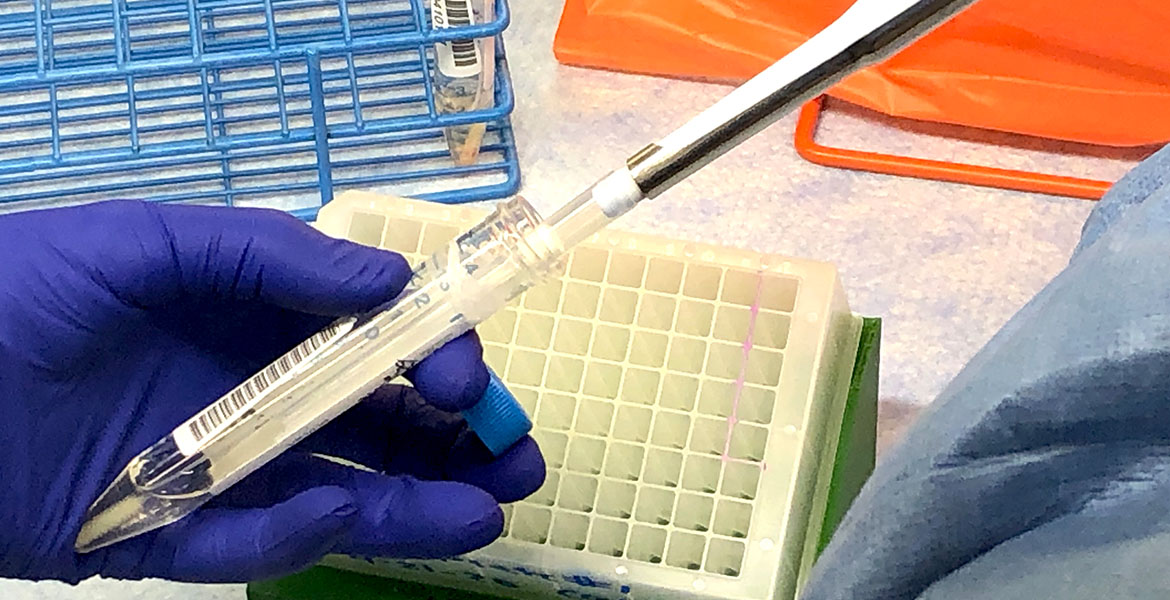 OADDL completes mission of testing human COVID-19 samples
Thursday, October 8, 2020
While the Oklahoma Animal Disease Diagnostic Lab has now stopped processing human samples for COVID-19 testing, its work from the very beginning of the pandemic in Oklahoma has been remarkable, processing a total of 111,093 samples.
It was clear early on that Oklahoma needed the capacity to test a high number of human samples. Collaborating with OSU Center for Health Sciences and the Office of the Vice President for Research, and in partnership with the Oklahoma State Department of Health, the Oklahoma Animal Disease Diagnostic Laboratory (OADDL) was certified to test human samples for COVID-19.
"OADDL is in the business of veterinary diagnostics — testing animal diagnostic samples in an effort to keep the food supply safe and animals healthy," said Dr. Jerry Saliki, an OSU College of Veterinary Medicine professor and director of OADDL. "We typically process about 400 [animal] tests per day, looking for more than 100 different infectious diseases. A test can range anywhere from analyzing a few droplets of blood to conducting an autopsy on a horse or a cow. In the big scheme of things, humans are just another animal species, so it was relatively easy for us to integrate COVID-19 testing into our animal work flow. However, because of the increased risk and the regulations involved in handling human samples, we had to make three important changes.
"First, because of the large number of samples, we had to rapidly hire and train a large number of people to help in the testing effort. Second, because of the risk of handling human samples, we had to use enhanced PPE, including wearing N-95 masks, PAPRs [powered air-purifying respirators] and whole-body suits. And finally, because of HIPPA regulations, we had to train our personnel on confidentiality and make changes to our laboratory software so that emails could be sent in an encrypted form. The biggest challenge we faced was recruiting and training enough people quickly enough to handle the increasing number of COVID-19 samples. While we recruited many volunteers from all across the OSU campus, these folks still had to be trained to be diagnosticians as opposed to researchers."
During the more than five-month span of human COVID-19 testing, OADDL maintained its full animal testing caseload, and test turnaround times were unaffected.
OADDL used PCR or polymerase chain reaction, which is a method of diagnosing a disease through the detection of its genetic material. In the case of SARS-CoV-2, the virus that causes COVID-19, the genetic material is RNA. Although there are many technical pathways of detecting the RNA, the underlying principle is the same. If the infectious agent is present, its genetic material is amplified thousands-fold, detected and reported.
"COVID-19 testing was a massive effort," Saliki said. "Our molecular diagnostics section went from running about 250 tests a day to running an additional 1,500-plus COVID-19 tests per day. It was an 'all hands on deck' approach. The employees who were not directly involved in COVID-19 testing carried the extra animal work left by those who were reassigned to COVID-19 testing. COVID-19 testing revealed to me how strong, selfless and dedicated our team is at OADDL. Many worked long hours, weekends and holidays to make this effort successful."
"The manner in which OADDL stepped up to meet the needs of our state at a very critical moment underscores OADDL's importance as part of the state's infrastructure in securing both animal and human health," Saliki said. "OADDL employees demonstrated an extraordinary sense of dedication and selflessness during this testing effort and I heartily thank all OADDL employees and volunteers for supporting our state at a moment of critical need. Over the years, OADDL has built a huge capacity to respond to epidemics in animals. The COVID-19 testing experience has proven that this animal testing capacity can be leveraged to support the state's pandemic response plans. OADDL stands ready to support the state whenever the need arises."
The lab's original building was dedicated in 1975 and opened for business in January 1976. By 1978, OADDL received accreditation from the American Association of Veterinary Laboratory Diagnosticians (AAVLD). In 2007, OADDL broke ground for a $12.5 million expansion that included a biosafety level 3 laboratory space to handle high-risk infectious agents. As the only accredited veterinary diagnostic lab in Oklahoma, the expansion was critical to OADDL's mission to serve veterinarians and animal owners in Oklahoma and surrounding states. Today, OADDL maintains its AAVLD accreditation and has also achieved the highest status as a Level 1 member of the National Animal Health Laboratory Network.
MEDIA CONTACT: Derinda Blakeney, APR | OSU College of Veterinary Medicine | 405-744-6740 | derinda@okstate.edu