Oklahoma State University President Burns Hargis announces retirement plans
Friday, October 23, 2020
Hargis sets retirement for July 1, 2021
Oklahoma State University President Burns Hargis announced today his plans to retire on July 1, 2021, to coincide with the end of the current academic year. Hargis announced his retirement plans during a regular meeting of the OSU/A&M Board of Regents held in the Performance Hall at The McKnight Center for the Performing Arts on the Stillwater campus, one of several significant new facilities built during his nearly 13-year presidency.
Hargis became OSU's 18th president on March 10, 2008. He is the second OSU graduate to serve as president of the University. His tenure has been marked by record-setting fundraising, enrollment growth, new and enhanced facilities, and a growing national reputation for academic and research advances.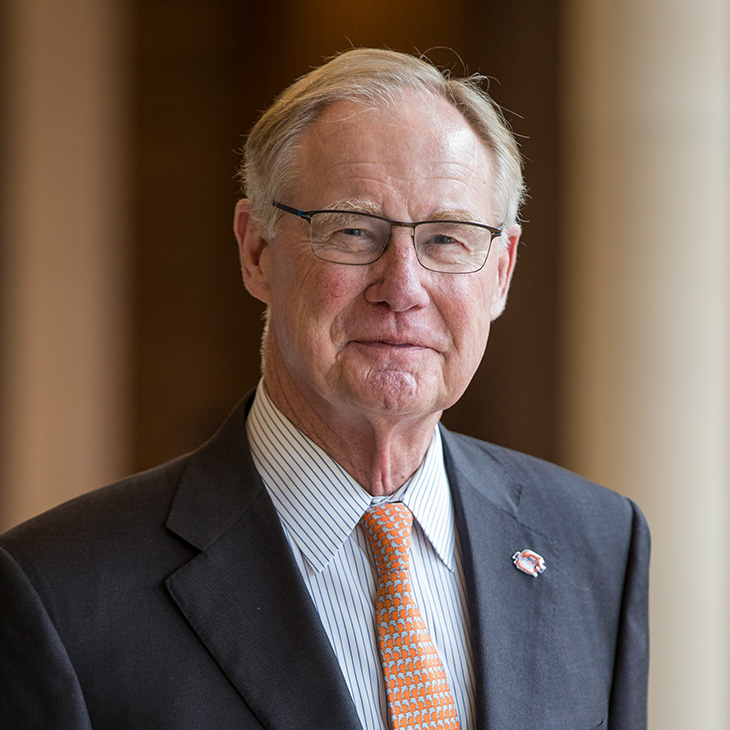 Under Hargis' leadership, OSU has flourished, including the University's first-ever billion-dollar fundraising campaign called "Branding Success," which raised over $1.3 billion. In all, OSU has raised $2.2 billion during the Hargis years. The University has developed more than 2.5 million square feet of new or enhanced facilities on its Stillwater and Tulsa campuses. Enrollment growth includes five of the largest freshman classes in OSU's history. Twenty four percent of all graduates over OSU's 130-year history have occurred during his tenure. OSU has increased Alumni Association membership by nearly 30% and added nearly 82,000 new donors. The OSU Center for Health Sciences in Tulsa has seen significant growth in enrollment, research, fundraising for capital projects, student scholarships, and medical research, garnering national attention.
"Oklahoma State University is stronger today than at any time in its 130-year history due to the historic leadership of Burns Hargis. We are grateful beyond words for the dynamic leadership and dedicated service of both Burns and Ann. It isn't easy to quantify their influence and impact. They have been immense and at the top in instilling genuine pride in our Cowboy heritage, values, culture, and land-grant mission," said Rick Davis, Chair of the OSU/A&M Board of Regents.
"Ann and I have been blessed and honored to serve Oklahoma State University the past 12-and-a-half years. The opportunity to be president of my alma mater exceeded all my expectations. OSU is a special place. It is where I found friends who became family for a young man who lived in many different places growing up. I received an excellent education, preparing me for my careers in law and banking, and culminating at OSU as president. Ann and I are grateful for the faith and trust extended to us by the Regents and the support from faculty, staff, students, and alumni. There remains much work to be done, and in that regard, I look forward to the opportunities and challenges ahead, and welcoming a new president next summer," Hargis said.
Hargis modernized the Stillwater campus with premier academic and athletic facilities, including the Henry Bellmon Research Building, the ENDEAVOR Engineering Lab, a new home for the Spears School of Business, the McKnight Center for the Performing Arts, a North Wing expansion for the Human Sciences Building, the OSU Museum of Art, and residential halls. A new facility to house the Michael and Anne Greenwood School of Music is under construction with completion next year. A new teaching and research facility for the Ferguson College of Agriculture is also under way. These improvements reflect Hargis' vision to improve the student experience with an enhanced campus infrastructure for the modern land-grant university.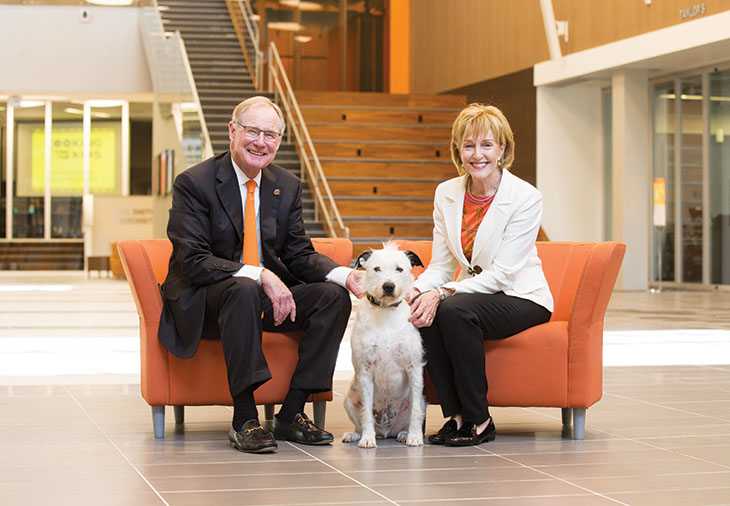 "First Cowgirl Ann Hargis is a beloved presence on the OSU campus," noted Regent Davis. "Burns and Ann are a remarkable team. Ann's focus on creating America's healthiest campus and her nationally recognized pet dog therapy program has enhanced the student experience and broadened her impact beyond the campus."
Davis continued, "Burns has worked from the beginning to make sure an OSU education was accessible and affordable regardless of a student's financial circumstances. Burns has worked tirelessly to raise money for scholarships and financial aid for students." Scholarships and student financial aid have risen each year under Hargis' leadership, from more than $204 million in 2008 to more than $379 million in 2020.
Familiar to many Oklahomans through the political perspective he provided on the award-winning television program "Flashpoint," Hargis used his on-camera experience to launch "Inside OSU with Burns Hargis," a program that spotlighted OSU programs and local, national, and global leaders.
Hargis was vice chairman of Bank of Oklahoma, N.A. Before joining the Bank of Oklahoma in 1997, Hargis practiced law in Oklahoma City for 28 years. He is a former president of the Oklahoma County Bar Association, former president of the Oklahoma Bar Foundation, and is a fellow of the American Bar Foundation. He has been active in many civic and philanthropic activities. Hargis received the state's highest honor when he was inducted into the Oklahoma Hall of Fame in 2009.
MEDIA CONTACT: Monica Roberts | Director of Media Relations | 405-744-4800 | monica.roberts@okstate.edu