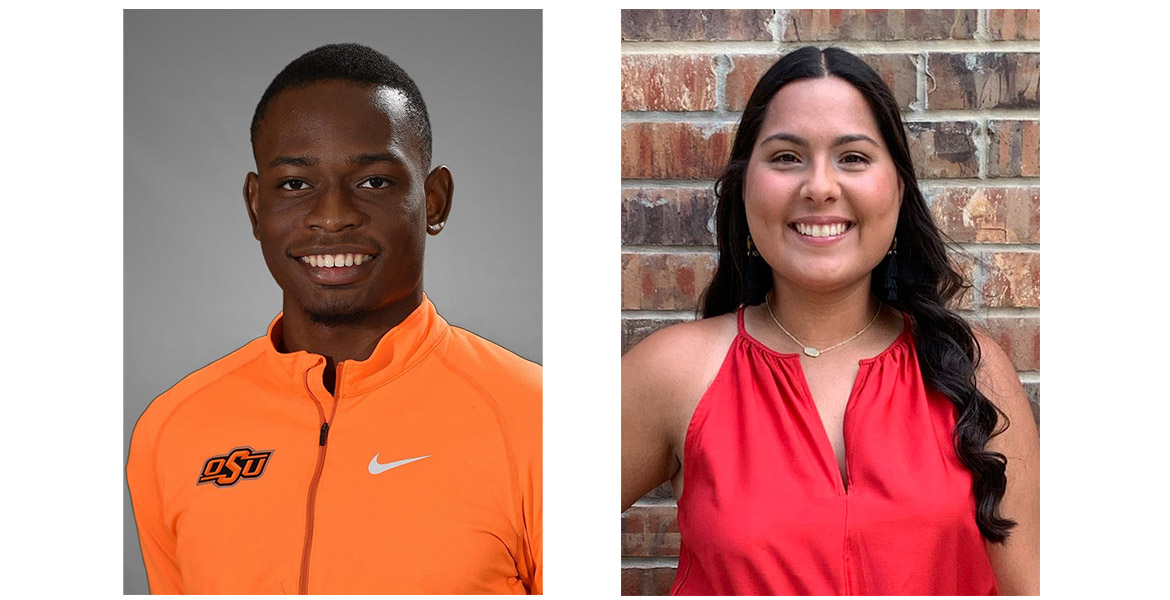 OSU juniors win Udall recognition
Tuesday, May 5, 2020
Two Oklahoma State University students have earned national recognition for their leadership and health-related accomplishments.
Josh Anadu, a junior from Katy, Texas, and Alexis Coles, a junior from Norman, Oklahoma, have been awarded honorable mentions from the Udall Foundation.
The foundation awarded 55 Udall scholarships and 55 honorable mentions.
"I am extremely thankful for the award, especially after already being honored with the Goldwater earlier this spring," Anadu said. "Being an honorable mention means that while I will not be one of the students who receive funding, I will be given access to the Udall alumni network of students and professionals working to create positive change for Native Americans and the environment. This includes politicians, scientists, industry leaders, and more."
Anadu — who is in the Honors College and a member of the OSU track team — is majoring in environmental science with a concentration in water resources and minors in chemistry and geology. He has participated in multiple projects in the Soil Microbiology Lab, the Fish Toxicology Lab and the Invertebrate Paleontology Lab. Broadening his experiences beyond the OSU campus, Anadu also has been a research intern on mosquito research in Houston and participated in a National Science Foundation project at the University of Texas focused on the potential impact of climate change on fire ants. He has also presented his research and served as president of the OSU Environmental Science Club. Anadu plans to pursue a doctorate in astrobiology or geobiology and work in nutrient-limited geobiology, biomarkers and the origins of life.
Coles is an entomology pre-med major. She is a member of the American Medical Student Association, the Society for the Advancement of Chicanos/Hispanic and Native Americans in Science, an executive member of the Native American Student Council and a student leader for the Center for Sovereign Nations. She has conducted tick research with Dr. Bruce Noden and served as a Plant Hopper Research Lab assistant with Dr. Astri Wayadande. She has shadowed at the Oklahoma Heart Hospital, and she participated in the Native Explorers program with Dr. Kent Smith and the Cambridge Scholars Program. Coles plans to become a physician and provide medical services to tribal people in rural Oklahoma.
"I am very honored to have received this award, and I want to thank everyone who has given me their endless support," she said.
The Udall Undergraduate Scholarship honors the legacies of Morris and Stewart Udall, whose careers had a significant impact on Native American self-governance, health care and the stewardship of public lands and natural resources. It is administered by the Udall Foundation, an executive branch agency established by Congress in 1992.
Scholarship applications are administered through the Henry Bellmon Office of Scholar Development and Undergraduate Research at OSU. For more information, contact Jessica Sullins at jessica.sullins@okstate.edu or phone (405) 744-7313.