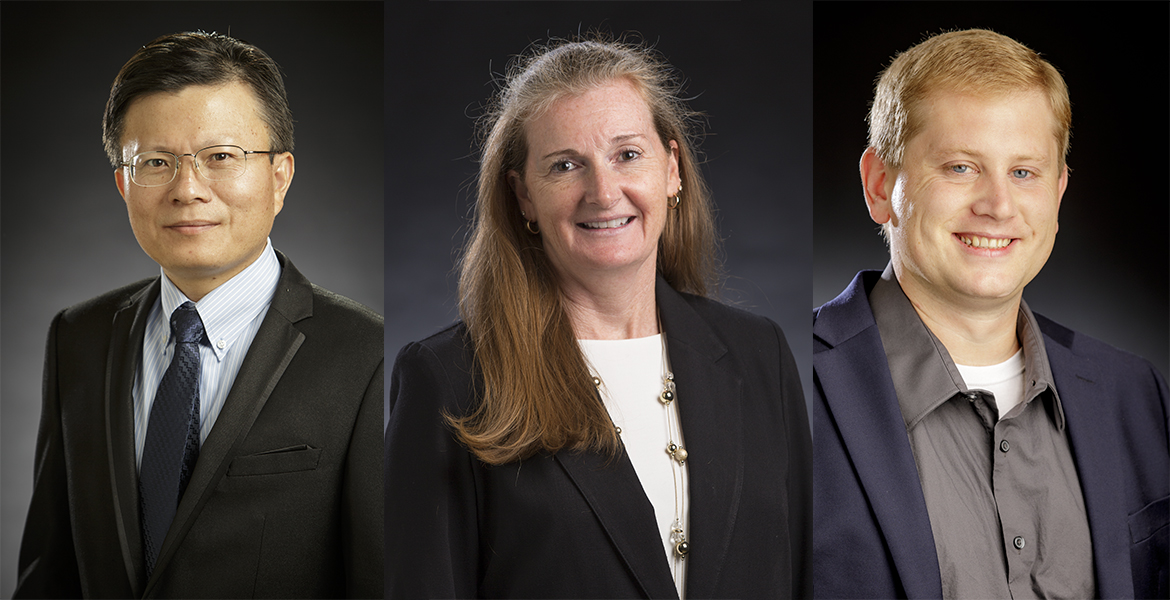 President's Fellows Faculty Research Awards Announced
Monday, February 24, 2020
Three Oklahoma State University professors were recently named 2020 President's Fellows Faculty Research Award recipients.
Julie Angle, Dingbo (Daniel) Lin and Mark Krzmarzick each received $20,000 as part of the award.
"OSU faculty experts are conducting cutting-edge research in many areas, and the results can improve people's lives in tangible ways," said Dr. Kenneth Sewell, OSU vice president for research. "We are fortunate to have the support of the President's Fellows Faculty Research Award to propel these important projects forward."
Each year, college deans nominate one faculty member per college to be awarded funding to equip them to conduct groundbreaking research.
Dr. Angle, an associate professor in the School of Teaching, Learning and Educational Sciences, is planning to study the effects placed-based learning has on students and teachers.
"As a science teacher educator, I research learning opportunities that strengthen pre-service and in-service science teachers' scientific literacy skills: science content knowledge, the methods/practices of science, and the nature of science," she said.
Angle plans to study the changes the Expedition Yellowstone (EY) program has on attitudes toward an outdoor environment. This five-day curriculum-based residential program, hosted by Yellowstone National Park, is designed for teachers and their fourth- through eighth-grade students.
"I am very excited about receiving the President's Fellow Faculty Research Award," she said. "It will allow me to collect pilot data and move the direction of my research from just teachers to teachers and students — all through the lens of Yellowstone National Park."
Lin, an associate professor in the Department of Nutritional Sciences, plans to study the prevention of leaky gut caused by Type 2 diabetes through the intake of dietary carotenoids, the colorful fat-soluble pigments found in a large variety of fruits and vegetables as well as salmon and other marine products.
"I am in the field of nutrition and chronic disease prevention," Lin said. "Particularly, I am looking into the potentials of dietary management in prevention of diabetes."
His study will ensure the collection of more preliminary data and help his team publish manuscripts to make them more competitive for external funding, he said.
Krzmarzick is an associate professor in the School of Civil and Environmental Engineering.
"My main area of research is how natural and engineered processes can improve water quality to protect human health," he said. "With this award, I have a goal of analyzing the presence of two emerging contaminants, perfluorooctanesulfonate and perfluorooctanoate, throughout Oklahoma's water systems."
"These compounds have been found to contaminate waters, especially near facilities that have produced or used these compounds heavily such as firefighting training facilities at military bases," Krzmarzick said. "These compounds have also been found in some drinking water systems and have been found in human blood and tissue samples."
In Oklahoma, relatively few waters have been analyzed for the presence and concentrations of these compounds, which have been linked to cancer, reproductive and developmental effects, and illnesses of the liver, thyroid and cardiovascular system.
"My goal in this project is to develop in my lab the analytical methods to measure these compounds at very low detection levels, and then analyze the concentrations of these chemicals throughout Oklahoma's surface, ground and drinking water systems, especially where suspected contamination has occurred," he said.
The President's Fellow Faculty Research Award program is part of the President's Fellows program created to help President Burns Hargis meet the university's most pressing needs through support towards students, faculty and campus beautification. Qualifying gifts are donations of $10,000 or more annually to the President's Fellows Priorities Fund. Since launching in December of 2013, approximately 50 donors have contributed to the President's Fellows program, raising more than $1.3 Million.
MEDIA CONTACT: Harrison Hill | Research Communication Specialist | 405-744-5827 | harrison.c.hill@okstate.ed