Still Standing Tall: OSU senior overcomes obstacles with help from Institutional Diversity
Monday, April 20, 2020
Determined.
Persistent.
Achiever.
There is no quit in Oklahoma State University senior Adam Martin.
The history (pre-law) major has been knocked down but never defeated while pursuing his long-term goals of practicing law and running for political office.
"I've got a game plan on how I want these things to go, but I also know life," Martin said.
The 2014 Wagoner (Oklahoma) High School graduate grew up in a humble household with a single mom, always surrounded by loved ones.
At some points in his life, he was living with his grandparents. But it was rarely for long, and soon he would be back with his mom.
"My mom raised me the best that she could," Martin said. "I say that when you see me you see her, because … whatever she was going through, I was willing to do. She went through so much as a child … but she has never quit. Her example really pushes me."
Other family support included his late grandfather who was a pastor, and his grandmother, the former first lady at Trinity Church of God In Christ.
Martin was always interested in law. It helps that a friend's mom is an attorney and another friend's father is a judge.
"They are all mentors," Martin said. "I can call any of them when I need advice."
Martin, who played quarterback, found positive father figures among his high school football coaches as well.
"Seeing those coaches with wives showed me what it was like to raise a family," Martin said.
Knowing that college and professional football wasn't in the cards for him but wanting to get an education, Martin registered for the Gateway Program at Northern Oklahoma College. The program helps students meet admission requirements so they can transfer to OSU.
Unfamiliar with how to budget his financial aid, the first-generation college student ran through his funds the first semester. Unable to register for courses and with no financial support available from home, Martin wasn't sure what to do.
He decided to pray.
"I was sitting in my car right behind Iba, I'll never forget it," Martin said. "I had church music playing. 'God, I don't want to go back to Wagoner. I don't want to be another statistic. God, you just show me the way and I'll do it.'"
He went to Life Church in Stillwater that evening and gave his last $20 as an offering before saying another prayer.
"'God, whatever you do, just know that I'm trusting in you to do whatever it is that you want to do in my life."
The following day, Martin's youth pastor back home called and told him that he felt led to give him $40.
Martin used $20 for gas to drive to Wagoner. He encouraged a cousin to come back with him to Stillwater to attend college.
"Let's go try to make something of ourselves," Martin said.
He wasn't quite persuasive enough and came back alone, using his last $20 for the gas. Martin lived out of his car and began working two jobs to pay off his debt.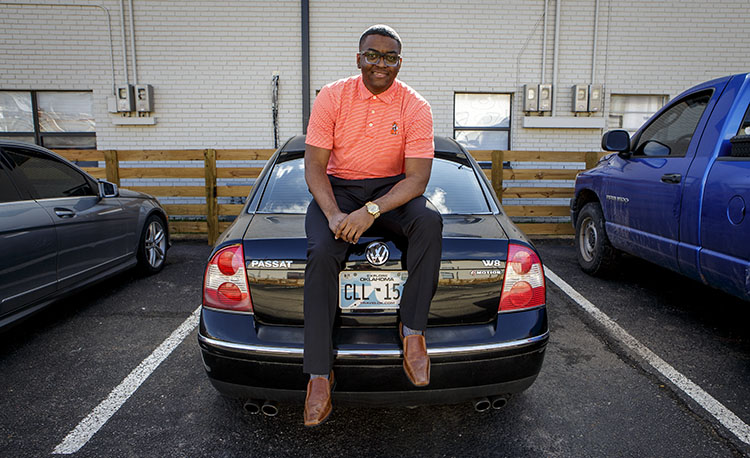 He stocked shelves at Walmart overnight and waited tables at IHOP in the mornings and early afternoons. A few hours of sleep later, he would do it all over again.
One tough day, Martin called Charles and Natalie Cox, asking if he could stop by their Stillwater home for a sandwich.
Martin had met the Coxes months earlier when he roomed with their nephew in Iba Hall.
"When my wife and I found out he was living in his car, we said, 'You aren't going to be living in your car,'" Charles Cox said.
Martin lived with them several months.
"I'll never forget it," Martin said. "They didn't know me that well and took a chance on me."
Charles Cox, who spent 34 years working with the Oklahoma Cooperative Extension Service including 18 as the state 4-H program leader before retiring from OSU, encouraged Martin to reach out to Dr. Jason Kirksey, vice president of the Division of Institutional Diversity at OSU.
After meeting with Martin several times and learning of his grit and dedication, Kirksey told Martin his office would pay off the remaining debt on his bursar account.
"I kind of teared up and said, 'Thank you, thank you,'" Martin said. "All I want is a chance to do something with my life … and I think you are only as good as what you are willing to put in."
Martin worked in the Institutional Diversity office that summer.
"Kirksey was a role model to me," Martin said. "I look at him as a dad because I never had one. He stretched out his neck for me, and not a lot of people would do that. Before I left, I'll never forget it, he told me and he meant it: 'Whenever you become great, don't forget about us.'"
Martin has spent the past few years progressing toward his undergraduate degree while living rent-free in exchange for helping out at an apartment complex.
Kirksey is happy to see Martin scaling the obstacles he has faced.
"My hope is Adam walks out of here as a person we can be immensely proud of," Kirksey said.
With his graduation set for May 2020, Martin is busy preparing for the Law School Admission Test and is hoping to attend Oklahoma City University School of Law.
He'd like to work at a law firm before running for Senate or governor.
"Oklahoma has never had an African American governor," Martin said. "I would like to be that first face … and get out there and show people that I can do this."
He credits OSU for helping prepare him for the future.
"Being here has been tremendous," Martin said. "It has been an awesome opportunity for me. It was Godsent. I was meant to be here. If I would have gone somewhere else, I don't believe it would have been this great and that I would have been this successful."
MEDIA CONTACT: Mack Burke | Editorial Coordinator | 405.744.5540 | mack.burke_iv@okstate.edu