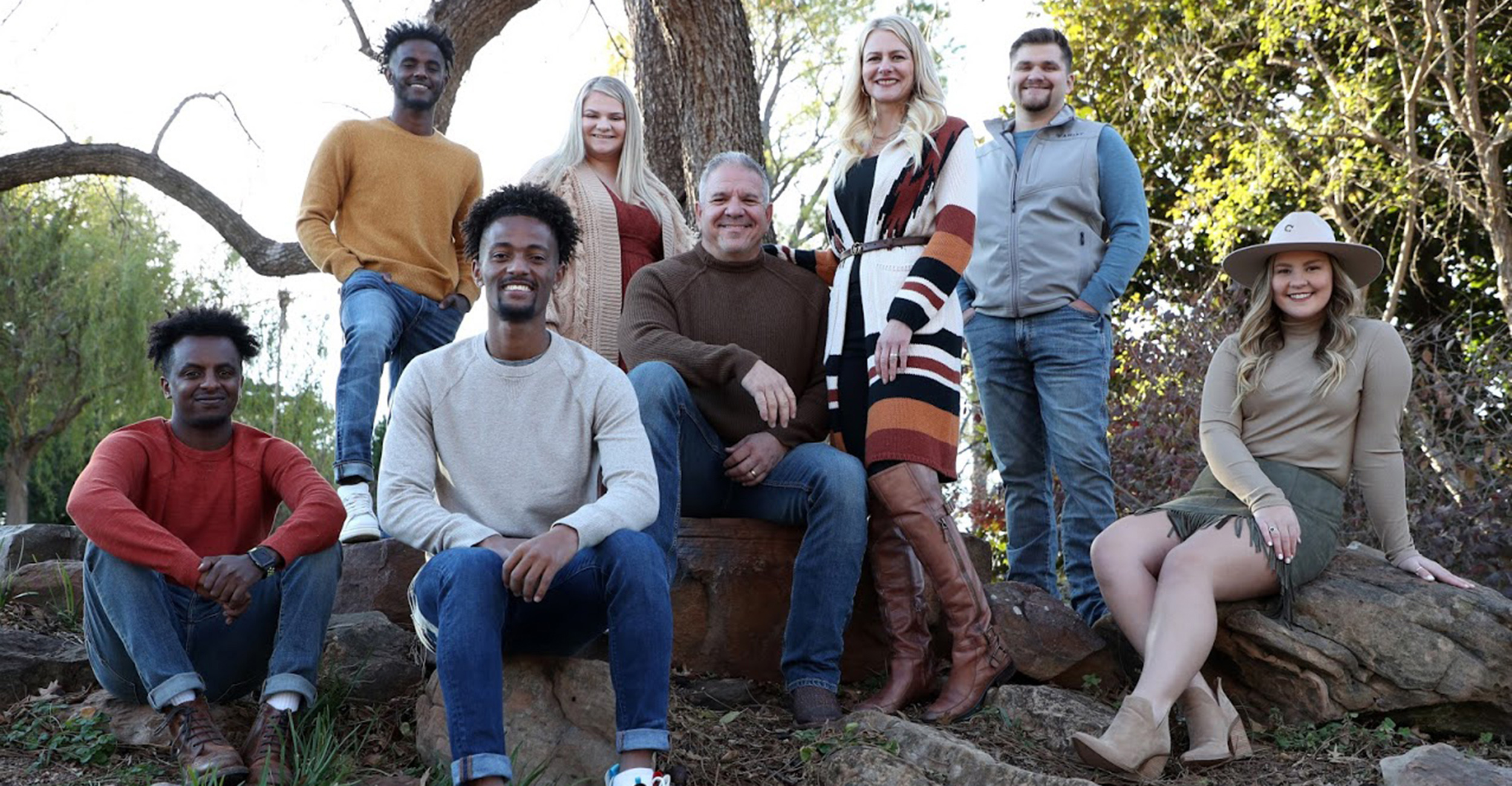 Changing Plans: 'First Cowboy' embraces challenges as father of six
Wednesday, June 16, 2021
Darren Shrum used to keep track of his entire life in an old, yellow notebook.

From work schedules to doctor's appointments and more — whatever changed during the week — the notebook would have it.

Darren Shrum, soon to be Oklahoma State University's inaugural "First Cowboy," is old school, but as the father of six, he has to keep track of the ever-changing ins and outs of his family's life.

Initially, it was easy. Darren and his wife, OSU President Dr. Kayse Shrum, were newlyweds planning out their lives. Darren had graduated from the University of Central Arkansas with a kinesiology degree while Kayse was finishing school at Connors State.

They planned on a very different life at first, with Darren looking to be a high school football coach while Kayse would get a physical therapy certification to work as the team trainer.

But when life changed, the notebook needed a new entry.

"There is a country song that says, 'We make plans and God just laughs at them,'" Darren said. "And this plan was so not ours. We could have never imagined."

Kayse started medical school after she met Darren, who was a manager at Walmart. He stayed in the corporate world — after Walmart came Zebco and eventually Abbott Laboratories. They started their family while Kayse was still in medical school. Colton was born first, then Kyndall and Karsyn.

"We just added things to the list and took them off," Darren said. "Whatever challenge came our way, it seemed to work out."

It was stressful, but the Shrums made it work. With Kayse at school or the hospital and Darren frequently traveling for work, Kayse's aunt stepped in to help.

When Kayse and Darren were home with the kids, they still found the time to be involved with their schoolwork and help them with sports.
"Both of us, we were younger and we were into our careers," Darren said. "It was one of those things where it was busy, but it wasn't a bad busy if that makes sense."

The Shrums decided to expand their family around the time Colton, Kyndall and Karsyn were in junior high and middle school. The parents had thought about adopting earlier in their marriage, so they revisited it.

Some family friends told the couple they were adopting from Ethiopia. Before making the decision to send Darren across the world, they had a family meeting.

"We are sitting there watching these videos, it was just a different moment, and one particular boy comes up on screen and it was Joseph; he is our oldest Ethiopian kid," Darren said. "So, he pops up on the screen and I almost get emotional talking about it because that is the one, right there, when you saw him. I actually had to get up and leave the room."

That was that. Darren traveled more than 8,000 miles to the Ethiopian capital, Addis Ababa. From there, he jumped into a Toyota Land Cruiser and traveled with his guides to an orphanage on the Sudan border.

Darren couldn't believe it: One of the first boys he saw out of the 160 there at the orphanage was Joseph.

"He doesn't know who I am; he has no clue. He doesn't know that I looked at his video and learned a little bit about him," Darren said, remembering that first meeting.

As he played with the children with footballs and soccer balls he brought into their red dirt recreation area, he noticed a boy following him around. Darren asked him his name, but the boy didn't speak English. He returned with an interpreter, and Darren asked again.

"He says 'Bill Clinton.' So I burst out laughing because here I am in the middle of nowhere in Ethiopia, and this kid has been named after Bill Clinton," Darren said.

The boy's mother had seen the former U.S. president on a trip to Ethiopia and decided to name her boy Kilientn after him.

When Kilientn looks back on that day nearly a decade ago, he calls it surreal.

"This is not possible, but it is crazy because the first day I saw [Darren], I didn't even know why he was there or who he was," Kilientn said. "All I cared about was getting to play football with him. I thought he was pretty cool. … I didn't have the best shoes or best clothes or anything; I was just happy with what I had, and he saw that and said, 'This is the kid I want.' Out of hundreds of kids, he saw me and thought I was the one."

Before he came back to the U.S., Darren visited one more orphanage in Addis Ababa, where he saw a boy of about 10 who was revered by all the kids. The Shrums would eventually know him as Kason.

He had lived in the orphanage almost his entire life, but Darren told him that was about to change, and Kason would be joining Joseph and Kilientn as part of the Shrum family.

It wasn't smooth sailing, though.

While filling out the mountain of adoption paperwork, the Shrums got a call about Kason.

"They say they have some bad news: They have misplaced Kason," Darren said. "I wonder how you lose a kid."

A few years later, the adoption agency called to say Kason had been found. For Kayse, it was no question that they would still adopt him and they did, completing their family.

With all six kids either in sports or FFA, the family was always on the move. Darren decided they needed a larger family vehicle. By that time, he had retired from owning and operating his own fitness company, choosing instead to open his own garage.

"So we had bought this church van that we named the adventure van," Darren said. "It held 15 people. We fully customized it in our shop, and it was really cool. Wherever we went, we all piled in the adventure van."

And even though the Shrums now had six children, they remained always there for their kids, no matter what tinkering it took with their schedules. Livestock shows, soccer games, parent/teacher conferences — all went into Darren's notebook.

Now that all of their kids are either in or have graduated from college, Darren said it has been odd to have a little free time. But he is excited for the fall, when he and Kayse will have 25,000 kids to look after.

"It is weird and incredible how things developed," Darren said. "… You look back on it and it makes you go 'Wow.'"