Cowboys for Veterans bag program surpasses goal by wide margin
Tuesday, December 14, 2021
Media Contact: Jillian McGee | Digital Communications Specialist | 405-744-6263 | jillian.mcgee@okstate.edu
When Emerson Newell partnered with Oklahoma State University on the Christmas bag program she and her family had been working on for years, she figured 800 bags was a solid number.
That number was surpassed in one day as nearly 1,000 of the more than 1,400 Christmas bags that will be sent to veterans was dropped off on Dec. 1
The program was formed a few years ago to provide those living in the veterans affairs centers across the state with anything from clothing to toiletries. Newell, a freshman from Shawnee, Oklahoma, reached out to OSU President Kayse Shrum to see if OSU wanted to partner on the project.
The Cowboys for Veterans program was officially launched Nov. 12, with a Dec. 13 deadline. People from around the state heeded the call and brought bags to drop-off locations around OSU's campus, including the big drop-off day at O'Brate Stadium at the beginning of December.
Cheryl Kleeman, director of the Office of transfer and Student Veteran Success, said 952 bags and five boxes were dropped off that day. They came from nine schools, the Edmond FFA, the Midwest Land Group and the OSU chapter of Gamma Phi Beta sorority.
Edmond's FFA chapter contributed 325 bags by itself.
The program benefited all seven VA centers across the state, as the more than 800 residents will each have a bag for Christmas.
Students from schools in the area, as well as the Cowboy baseball team, the Newell family, community volunteers, OSU students and staff met representatives from the VA centers to help load all the bags up for them.
VA centers are located in Ardmore, Claremore, Clinton, Lawton, Norman, Sulphur and Talihina.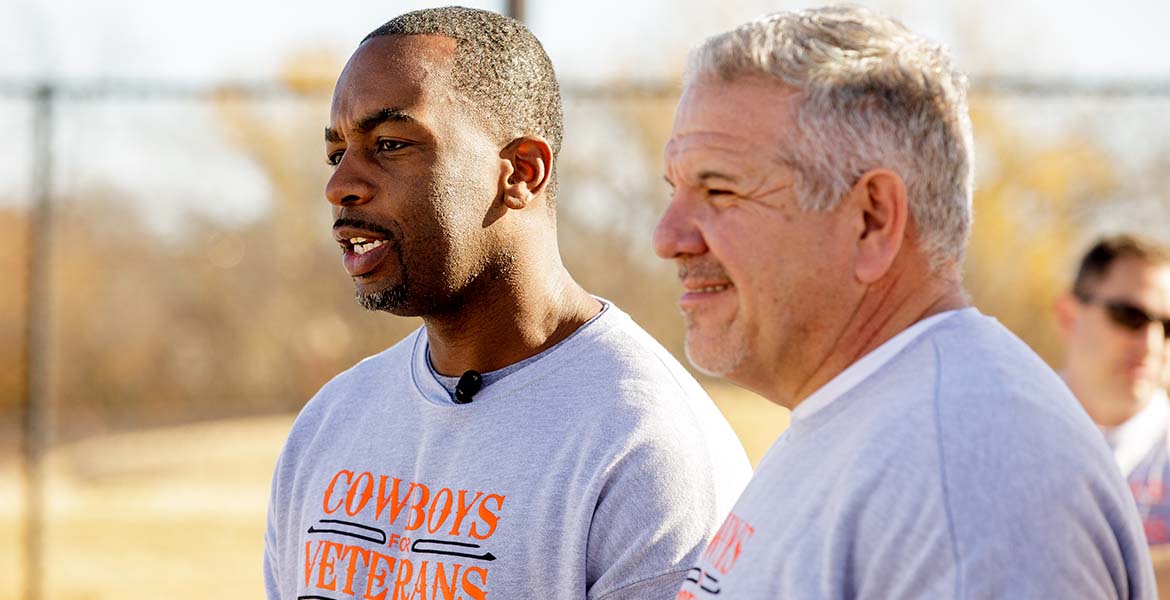 The OSU baseball team also held an auction, where they raised around $2,000 to purchase more bag supplies with. In total, more than $8,000 was raised for supplies to construct bags. Of that, $4,500 was spent buying bags and contents for the packing event that Student Affairs and Student Life held on Dec. 8. That packing effort created 100 more bags.
As there was a surplus for the VA centers, 100 bags were donated to the Homeless Military Veterans nonprofit organization in Oklahoma City, over 40 bags went to veterans in the nursing homes in surrounding areas, and another 100 bags are being distributed to rural nursing homes in northeastern Oklahoma, via the Mannford VFW.
"As a veteran myself and the child of a veteran, I cannot express how gratifying it was to see the Cowboy Family pull together to support this effort in such a short amount of time," Kleeman said. "President Shrum, the Newell family (Jessie and Emerson), OSU student Ashlyn Oliver, our K-12 schools and so many others created an opportunity to give back to our veteran community and we did it! We gave our most vulnerable veterans a much needed gift of caring and support.
"I look forward to what we can do for next year!