Cowboys gather to celebrate Burns and Ann Hargis
Friday, April 23, 2021
Media Contact: Monica Roberts | Director of Media Relations | 405-744-4800 | monica.roberts@okstate.edu
Hundreds of Cowboy faithful gathered Friday inside Gallagher-Iba Arena to honor outgoing OSU President Burns Hargis.
On hand for the celebration were Gov. Kevin Stitt, a 1996 OSU graduate; U.S. Rep. Frank Lucas, a 1982 OSU alumnus; the Cowboy Marching Band; Pistol Pete and more.
"[Burns Hargis] has changed the soul of the institution and the spirit, and he did that one Cowboy at a time," said Rick Davis, OSU/A&M Board of Regents chair. "His true legacy as a leader will be the way he changed how we perceive ourselves. He challenged us not to accept second best."
Hargis and his wife, Ann, have transformed the university during their 13 years at the helm. Taking office in 2008, Hargis has led massive fundraising campaigns and revitalized campus infrastructure.
Hargis was the second OSU graduate to become president behind Oliver Willham — the president when Hargis graduated back in 1967. As president, Hargis' passion for expanding the reach of America's Brightest Orange was clear.
He started by working to make OSU a healthier institution by banning tobacco use on the Stillwater campus in 2008. First Cowgirl Ann Hargis worked to ease students' stress by helping launch Pete's Pet Posse, the nation's most comprehensive universitywide pet therapy program.
Academically, OSU soared under Hargis, with five of the largest freshman classes in the school's history. His fundraising efforts helped ensure researchers would have their needs met. The OSU Honors College has been rated among the best in the nation, with students racking up accolades like Goldwater Scholarships and Truman Scholarships.
"You have changed our perspective and what it means to be a person and a worldwide citizen," said student body Vice President Luke Muller, a senior from Altus, Oklahoma. "... Not just looking at the numbers, whether that be funding or a new building, but looking at a person and making sure they are reaching the goals they want for the betterment of our state and our world."
Construction on new, state-of-the-art buildings was a constant during his time. Highlights include The McKnight Center for the Performing Arts, the Business Building, the Henry Bellmon Research Center and many more. Construction is currently under way on the new Michael and Anne Greenwood School of Music, the Ferguson College of Agriculture and the Ray and Linda Booker OSU Flight Center.
Athletics also thrived during Hargis' tenure, and Cowgirls and Cowboys teams enjoyed some of their best eras. Several athletic facilities were built over the past 13 years, including the Michael and Anne Greenwood Tennis Center, Neal Patterson Stadium, O'Brate Stadium and the Sherman E. Smith Training Facility.
"Boone Pickens would always say that athletics was the front porch to a university," Stitt said. "President Hargis has not just renovated the front porch but the entire house. I believe it is one of the best houses in the country. … I am so proud of what you have done for my alma mater, but also what you have done for the entire state of Oklahoma. Oklahoma State will always be in your debt."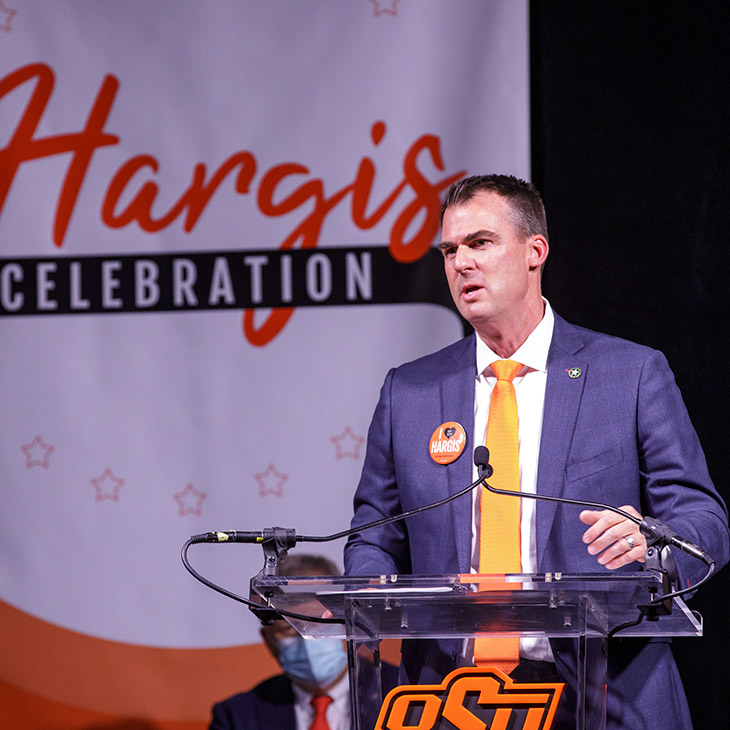 Hargis' impact extended to the entire OSU system. Under his leadership, OSU-CHS opened the A.R. and Marylouise Tandy Medical Academic Building in Tulsa, as well as the College of Osteopathic Medicine at the Cherokee Nation in Tahlequah.
Much of this would not have been possible without Hargis' fundraising prowess. The Branding Success campaign was a massive success. Late OSU benefactor T. Boone Pickens kicked off the effort with a large donation, and the campaign reached its $1 billion fundraising goal nearly two years early. Overall, more than $2.2 billion was raised.
"Of all the things that you have accomplished in your tenure here, the institution that you leave in a dramatically better state than you found it, all the lives that you have changed, all of those things, I am proud of what you have done," Lucas said.
Hargis also worked to make OSU more diverse in tandem with Dr. Jason F. Kirksey, the vice president of institutional diversity since 2009. OSU's minority freshmen enrollment grew nearly 140 percent, and two buildings on campus were renamed to honor late civil rights pioneer Nancy Randolph Davis, OSU's first Black student.
Hargis' presidency will end July 1, with OSU Center for Health Sciences President Dr. Kayse Shrum succeeding him. Hargis said the university is in good hands, and he's excited for the future.
"There is not a greater place on the face of the Earth than being at a university," Hargis said. "... I just want to say to the students that you are the reason we are here. We wouldn't have any professors or researchers if there weren't students before that. I think it is important that every president always keeps the students in the front of their mind."
PHOTOS: https://flic.kr/s/aHsmVsVf6z