Honors College awards students at annual ceremony
Monday, October 11, 2021
Media Contact: Jordan Bishop | Communications Specialist | 405-744-9782 | jordan.bishop@okstate.edu
The Fall 2021 Honors College Award Presentation took place on Friday, Oct. 8 in the Student Union Little Theatre.
The ceremony recognized students who received an honors award or experiential learning (xL) essay award from Spring 2020 through Spring 2021. This was for students who received the General Honors award, Departmental or College Honors award, or best essay for xL learning.
The students are listed by their home state.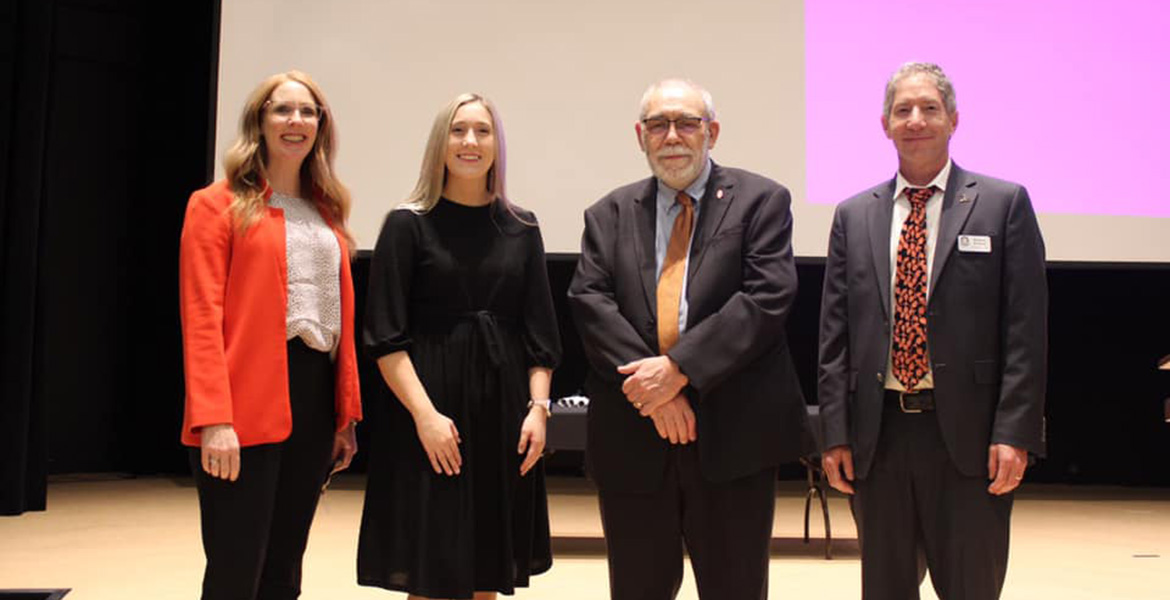 Arkansas
Collette Lavoi — Biology/Allied Health — College of Arts and Sciences — Harrison, Arkansas
California
Rachel Davidson — Animal Science — Ferguson College of Agriculture — Pleasanton, California
Florida
Alexandra Pledger — ANSI Biotechnology — Ferguson College of Agriculture — Jupiter, Florida
Illinois
Liesl Melnick — Communication Sciences and Disorders — College of Arts and Sciences — Mudelein, Illinois
Kansas
Alexis Vance — Chemical Engineering — College of Engineering, Architecture and Technology — Overland Park, Kansas
Lauren Beugelsdyk — Biology, Psychology — College of Arts and Sciences — Wichita, Kansas
Makenna Beesley — Recreational Therapy — College of Education and Human Sciences — Conway Springs, Kansas
Jacob Lewellen — Chemical Engineering — College of Engineering, Architecture and Technology — Augusta, Kansas
Missouri
Jordan Brown — Zoology — College of Arts and Sciences — O'Fallon, Missouri
Nebraska
Meredith Wichman — Aerospace and Mechanical Engineering — College of Engineering, Architecture and Technology — Omaha, Nebraska
New Mexico
Lucia Kezele — Psychology and Applied Sociology — College of Arts and Sciences — Gallup, New Mexico
Ohio
Kelsi Ballew — Psychology — College of Arts and Sciences — Kings Mills, Ohio
Oklahoma
Carly Clark — Zoology, Pre-Vet — College of Arts and Sciences — Edmond, Oklahoma
Alanna Brehm — Architecture — College of Engineering, Architecture and Technology — Enid, Oklahoma
Reagan Anderson — Physics, Philosophy — College of Arts and Sciences — Jenks, Oklahoma
Gabby Barber — Biochemistry and Molecular Biology — Ferguson College of Agriculture — Lawton, Oklahoma
Christina Baxter — Physiology and Biology — College of Arts and Sciences — Oklahoma City
Chloe Blue — Secondary Education Foreing Language — College of Education and Human Sciences — Edmond, Oklahoma
Katherine Bose — Actuarial and Financial Mathematics — College of Arts and Sciences — Corn, Oklahoma
Hanna Boyd — Political Sciences — College of Arts and Sciences — Perkins, Oklahoma
Blair Brantley — Nutritional Sciences/Allied Health — College of Education and Human Sciences — Marlow, Oklahoma
Presley Burch — Mathematics — College of Arts and Sciences — Bartlesville, Oklahoma
Hannah Dummer — Psychology and Spanish — College of Arts and Sciences — Jenks, Oklahoma
Tiernan Dutton — Accounting — Spears School of Business — Bartlesville, Oklahoma
Natali Edwards — Biochemistry and Microbiology — College of Arts and Sciences — Edmond, Oklahoma
Abigail Ferrell — Psychology, Philosophy, Political Science — College of Arts and Sciences — Edmond, Oklahoma
Ashley Gin — Biochemistry and Molecular Biology — Ferguson College of Agriculture — Oklahoma City
Morgan Hammond — Psychology — College of Arts and Sciences — Wynnewood, Oklahoma
Katrina Hammonds — Mechanical and Aerospace Engineering — College of Engineering, Architecture and Technology — Oklahoma City
Victoria Kargl — Elementary Education — College of Education and Human Sciences — Edmond, Oklahoma
Elizabeth Nieman — Nutritional Sciences — College of Education and Human Sciences — Stillwater
Isela Ortiz — Mechanical and Aerospace Engineering — College of Engineering, Architecture and Technology — Tulsa
Ryan Pruitt — Microbiology/Cell and Molecular Biology — College of Arts and Sciences — Lawton, Oklahoma
Scott Schwager — Computer Science — College of Arts and Sciences — Oklahoma City
Areli Villalobos — Biochemistry and Molecular Biology — Ferguson College of Agriculture — Ponca City
Patrick Williams — Mechanical and Aerospace Engineering — College of Engineering, Architecture and Technology — Thomas, Oklahoma
Haley Wilson — Mechanical and Aerospace Engineering — College of Engineering, Architecture and Technology — Jenks, Oklahoma
Phoebe Austerman — Public Horticulture — Ferguson College of Agriculture — Oklahoma City
Braxton Beuke — Mechanical and Aerospace Engineering — College of Engineering, Architecture and Technology — Oklahoma City
Maggie Goodin — Industrial Engineering — College of Engineering, Architecture and Technology — Norman, Oklahoma
Jillian Gore — Zoology, Pre-Vet — College of Arts and Sciences — Pryor, Oklahoma
Killian Kane — Mechanical and Aerospace Engineering — College of Engineering, Architecture and Technology — Tulsa
Nick Loeffelholz — Electrical Engineering — College of Engineering, Architecture and Technology — Oklahoma City
Kristen Martin — Sociology — College of Arts and Sciences — Tulsa
Cassie Mason — Accounting — Spears School of Business — Stillwater
Alyssa Noel — Biochemistry and Microbiology/Cell and Molecular Biology — College of Engineering, Architecture and Technology — Oklahoma City
Kaden Rackley — Mechanical Engineering Technology — College of Engineering, Architecture and Technology — Mounds, Oklahoma
Molly Spencer — Fire Protection and Safety Engineering Technology — College of Engineering, Architecture and Technology — Oklahoma City
Slayter Teal — Computer Engineering — College of Engineering, Architecture and Technology — Verdigris, Oklahoma
Addison Themer — Strategic Communications — College of Arts and Sciences — Kingfisher, Oklahoma
Vanessa Moore — Microbiology and Cell Molecular Biology, Pre-Med — College of Arts and Sciences — Duncan, Oklahoma
Jonathan Winegarten — Physics and Philosophy — College of Arts and Sciences — Bixby, Oklahoma
Myriam Achour — Biochemistry and Molecular Biology — Ferguson College of Agriculture — Bartlesville, Oklahoma
Carson Ball — Chemical Engineering — College of Engineering, Architecture and Technology — Yukon, Oklahoma
Bryan Bean — Mechanical and Aerospace Engineering — College of Engineering, Architecture and Technology — Wagoner, Oklahoma
Rio Bonham — Biosystems Engineering — College of Engineering, Architecture and Technology — Madill, Oklahoma
Samuel Cain — Finance — Spears School of Business — Oklahoma City
Riley Conner — Biochemistry and Molecular Biology — Ferguson College of Agriculture — Tulsa
Addie Coody — Biochemistry and Molecular Biology — Ferguson College of Agriculture — Grandfield
Alicia Cornelius — Accounting — Spears School of Business — Oklahoma City
Addie Deffenbaugh — Accounting — Spears School of Business — Bartlesville, Oklahoma
Savanna Dockins — Animal Science — Ferguson College of Agriculture — Enid, Oklahoma
Emily Ea — Biosystems and Agricultural Engineering — College of Engineering, Architecture and Technology — Jenks, Oklahoma
Carrson French — Physiology, Pre-Med — College of Arts and Sciences — Pauls Valley, Oklahoma
Breck Gillespie — Strategic Communications — College of Arts and Sciences — South Coffeyville, Oklahoma
Kenley Hayes — Nutritional Sciences/Allied Health — College of Education and Human Sciences — Broken Arrow, Oklahoma
Mattie Haynes — Animal Science and Agribusiness — Ferguson College of Agriculture — Jay, Oklahoma
Ryan Jeffries — Accounting and Finance — Spears School of Business — Tulsa
Nathan Johnson — Mechanical Engineering — College of Engineering, Architecture and Technology — Claremore, Oklahoma
Mallory King — Hospitality and Tourism Management — Spears School of Business — Tulsa
Keeley Kirkland — Biology — College of Arts and Sciences — Tulsa
Sloane Loges — Political Science/Sociology — College of Arts and Sciences — Vinita, Oklahoma
Katie Long — English/Professional Writing — College of Arts and Sciences — Ardmore, Oklahoma
Brannon Maravich — Biology and Physiology — College of Arts and Sciences — Vinita, Oklahoma
Rachel McKisick — Marketing, Hospitality and Tourism Management — Spears School of Business — Tulsa
Kayli Nail — Biology — College of Arts and Sciences — Norman, Oklahoma
Kelcey Nees — Physiology, Pre-Med — College of Arts and Sciences — Claremore, Oklahoma
Katelynn Parker — Animal Science — Ferguson College of Agriculture — Adair, Oklahoma
Isabelle Posey — Nutritional Sciences — College of Education and Human Sciences — Coweta, Oklahoma
Tiffany Quiring — Zoology, Pre-Med — College of Arts and Sciences — Collinsville, Oklahoma
Austin Reedy — Agribusiness — Ferguson College of Agriculture — Agra, Oklahoma
Merideth Sneed — Philosophy — College of Arts and Sciences — Owasso, Oklahoma
Emilie Tindle — History — College of Arts and Sciences — Tulsa
Anna Turner — Recreational Therapy — College of Education and Human Sciences — Inola, Oklahoma
William West — Civil Engineering — College of Engineering, Architecture and Technology — Stuart, Oklahoma
Campbell Woxell — Computer Engineering — College of Engineering, Architecture and Technology — Tulsa
Serah Reyes — Global Studies — College of Arts and Sciences — Grove, Oklahoma
Texas
Emily Bouyea — Physiology, Biology — College of Arts and Sciences — Celina, Texas
Ashley Evans — Mechanical and Aerospace Engineering — College of Engineering, Architecture and Technology — Amarillo, Texas
Heather Heon — Computer Science, Mathematics — College of Arts and Sciences — Denton, Texas
Samantha Holguin — Art History — College of Arts and Sciences — Flower Mound, Texas
Mason Jernigan — Mechanical and Aerospace Engineering — College of Engineering, Architecture and Technology — Plano, Texas
Brian Kirshey — Biochemistry and Molecular Biology — Ferguson College of Agriculture — Flower Mound, Texas
Molly Lammes — Mechanical and Aerospace Engineering — College of Engineering, Architecture and Technology — Frisco, Texas
Ashley Bauer — Chemical Engineering — College of Engineering, Architecture and Technology — Plano, Texas
Max Braht — Marketing and Management — Spears School of Business — Richardson, Texas
Emily Forster — Chemistry, Pre-Health — College of Arts and Sciences — Leander, Texas
Zachary Hall — Fire Protection and Safety Engineering Technology — College of Engineering, Architecture and Technology — Arlington, Texas
Nicholas Kiger — Microbiology and Molecular Genetics — College of Arts and Sciences — McKinney, Texas
Jessie Walters — Nutritional Sciences/Allied Health – College of Education and Human Sciences — Frisco, Texas