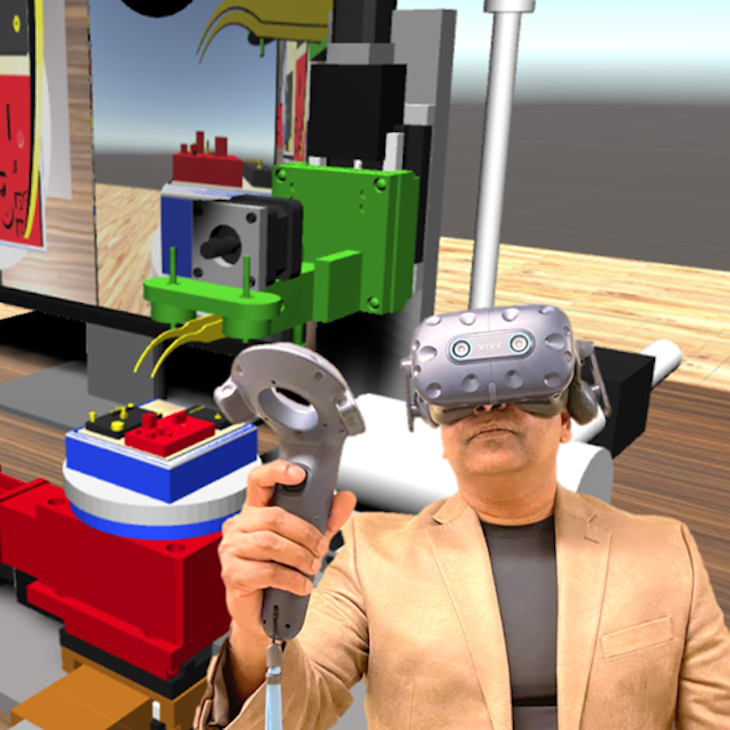 Cecil recognized by SME as one of the most influential academics in smart manufacturing
Thursday, June 3, 2021
Oklahoma State University computer science professor Joe Cecil has been recognized as one of the most influential academics in the country.
SME, the professional association committed to advancing manufacturing and developing a skilled workforce, released its list of top 20 academics in the field of smart manufacturing. The list highlights researchers and educators influencing the next generation of engineering practices. Cecil, co-director of OSU's Center for Cyber Physical Systems, was among those selected by SME Media's Smart Manufacturing magazine, along with the help of industry peers and manufacturing experts.
"One of the best ways to develop the up-and-coming generation of manufacturing professionals is by exposing them to — as one of our honorees puts it — the pioneers and dreamers who are improving existing technologies and creating new ones," said Robert Willig, executive director and CEO of SME. "Almost all of the 20 achievement-focused honorees number among their top accomplishments educating and shaping the next wave of pioneers and dreamers."
In 2016, Cecil made the leap from industrial engineering to computer science and credits much of his recent success to the move.
"An extraordinary group of students and collaborators from both computer science and other departments has been at the heart of our group's success," he said.
With the support of professor and computer science department head K.M. George, Cecil was able to focus more on groundbreaking research while continuing to emphasize curriculum innovation through new course offerings and cyber learning approaches. Cecil also credits support from College of Arts and Sciences Dean Glen Krutz and Associate Dean of Research Kristen Baum as crucial to his group's success. Recently, Cecil received the prestigious Presidential Award for Excellence in Science, Mathematics and Engineering Mentoring (PAESMEM).
Cecil is a passionate and dedicated educator who counts practical advancements in smart manufacturing among his most notable accomplishments, including the first comprehensive internet-of-things-based cyber-physical framework to support distributed collaborative manufacturing, which his team designed and built.
"At the heart of this framework was an immersive 3D virtual reality (VR) environment that served as the link between distributed cyber and physical manufacturing activities," Cecil said. "This framework was created to support the agile assembly of micro devices and adopted a Software Defined Networking (SDN) approach to support the collaborative interactions between software, equipment and users. A high point of this effort was when a user in France was able to interact with cyber-physical components and other users in Oklahoma and Wisconsin through this framework. Our framework supported cyber tasks (including genetic algorithm-based assembly planning, VR simulation based plan comparison and validation and manufacturing instruction generation) and physical tasks (including assembly, monitoring and feedback of target micro assembly tasks using robots, work cells, cameras and other sensors)."

Cecil said he is confident that his interdisciplinary team can achieve even more ambitious objectives in cyber-physical manufacturing collaborations.
"My specific interest is in designing next generation cyber-physical approaches, which will enable astronauts to interact immersively (using Mixed Reality and other interfaces) with robots, work cells and other manufacturing resources and achieve self-sufficiency on a future lunar base. NASA's moon mission, which will land the first female astronaut on the moon in a few years, will usher in a new age of discovery, science and engineering."
More broadly, Cecil believes there is major potential for advances in smart manufacturing, particularly when universities partner with industry to pursue common goals.
"I see the potential of manufacturing engineers and computer scientists working closely to support the realization of next generation information centric practices; this in turn will enable small and large enterprises to harness the power of globally distributed, network accessible cyber and physical resources at a reasonable cost," Cecil said. "Such cyber-intensive smart manufacturing practices will be a boon to mom-and-pop enterprises as it will enable them to team with other partners on different continents and satisfy changing customer demands.
"Academic research (rooted in interdisciplinary collaboration across engineering disciplines) has the potential to revolutionize manufacturing approaches by exploring high-risk information centric cyber-physical approaches that are capable of helping businesses form virtual enterprise type of partnerships which will enable them to serve a larger global market. However, the key to realizing such a vision is for academia to collaborate closely with industry partners to maximize overall impact."
For more information on the full list of honorees, visit okla.st/sme.