Joyce sees hard work at OSU rewarded
Tuesday, May 4, 2021
Media Contact: Jordan Bishop | Communications Specialist | 405-744-9782 | jordan.bishop@okstate.edu
Tom Joyce thought he was in trouble.
Joyce, an academic advisor in the Oklahoma State University College of Education and Human Sciences, had just been told that his boss wanted to see him in the morning.
He couldn't sleep, wondering what Kristi Thrift Seuhs needed that she couldn't have already told him. As Joyce hopped on the Zoom call in late March, he saw Seuhs, the director of academic advising, as well as some surprise guests.
Dr. Adrienne Sanogo, the associate dean of academic programs and student services, was there. Ed Kirtley, the assistant dean of the College of Engineering, Architecture and Technology, was there. And even Joyce's wife, Jill, an assistant professor of nutritional science at OSU, was there.
Saving his appearance for last was OSU President Burns Hargis, who began to tell the astonished Joyce that he had just been awarded the University Service Award for his work throughout 2020. Joyce was given the staff member award with Chris Barlow and Dr. Amy Brown garnering the administrator awards.
"This is one of the real pleasures of being president, especially over the last year because there hasn't been a lot of them," Hargis said. "Tom has done a wonderful job throughout all this craziness, and the award is greatly deserved."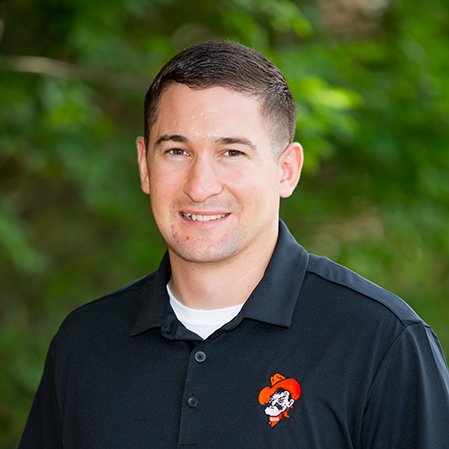 The University Service Award is given to individuals who quietly go about their duties giving so much above and beyond their assigned responsibilities and making a notable difference in their units and to OSU as a whole.
"I forget even what he said, but he said something about getting me a plaque and I said, 'Honestly, I'm just happy I am not in trouble,'" Joyce said. "I was excited about that. It was a great experience and great surprise. It was absolutely unexpected."
Joyce, who along with everyone on campus, had his world thrown into chaos last March as the COVID-19 virus spread amok. An Army veteran who served for nine years, Joyce answered the call to help with OSU's COVID response.
On April 3, 2020, Kirtley asked Joyce to help set up an incident management team that would coordinate a system for collection and transportation of samples to COVID testing labs throughout the area.
"So they brought me in on a Friday during the afternoon and during the course of the meeting, we figured out that it was a pretty immediate response that was needed. So that night we started working and worked all weekend," Joyce said. "We kind of kicked off the sample collection process."
Kirtley said Joyce made OSU's effort to ensure timely results for COVID tests possible.
Along with his work as collections branch director, Joyce still excelled in his full-time job as an advisor for students in the aerospace administration and operations major.
Joyce, who arrived at OSU in May 2019, said his experience in the military helps in the aviation department.
"So I don't have a pilot background but I am extremely fortunate to end up where I did," Joyce said.
"The tie I had, I have some experience in Iraq where we were on an international airfield with some security operations and things like that. So I can talk a little bit about that with some of the students. A lot of our students are interested in the military, whether it be the Army or Air Force, so I can help them identify some potential areas where they might be interested. Really, even in terms of aviation lingo, our vocabulary fits into the military background, anyway."
One of the main reasons Joyce came to OSU was because how he saw the university takes care of its veteran students and employees who have served in the military.
Jill had already been working at OSU when she sent Tom a photo of library lawn the week of Veteran's Day as it was covered in hundreds of American flags.
"That hit me as an impact that OSU values veterans and service," Joyce said. "I even have that picture in my office. They do an outstanding job supporting veterans. Dr. [Jason F.] Kirksey in his office of institutional diversity, any time we have a concern or need some advice on something, they are there to help us. We feel fully supported and they do an outstanding job for all veterans."
Joyce was in Missouri on active duty when Jill sent him the photo, but he came to Stillwater as soon as he could. A Pennsylvania native who attended the University of Pittsburgh before joining the armed forces, Joyce said his camaraderie with fellow veterans is one of the highlights of his job.
The third Tuesday of every month, he holds a meeting for veterans, which is currently on Zoom.
"Really, it is just to create an atmosphere where we get to know each other and put out some veteran information. We support the student veteran organization however we can," Joyce said."
Joyce said he loves seeing how OSU works to ensure veterans are treated fairly and helps with taking every opportunity to make sure their credits transfer correctly and they are put on a path to academic success.
Although he has already earned such a high honor so early in his career at OSU, Joyce said he is going to keep working the same as he always has.
"It was an outstanding honor," Joyce said. "I have only been working here for a few years, so I am still relatively new but immediately when I first showed up, I felt like I was part of OSU and my wife works here, as well so we are fully invested in OSU and appreciate everything OSU does, and it is just another example of how OSU takes care of people.
"I didn't do any of that expecting anything in return, but it was really nice to know that people noticed and appreciate it."