Members of the state Veterans Affairs office visit OSU
Tuesday, September 28, 2021
Media Contact: Mack Burke | Editorial Coordinator | 405-744-5540 | mack.burke_iv@okstate.edu
On the battlefield, members of the armed forces rely on each other to get them through the fight.
After their tour of duty is over and they return to normal life, they still rely on each other — their fellow veterans. It is true in every part of their lives, including getting a college education. Places like Oklahoma State University's Office of Student Veteran Success provide the means for student veterans to succeed in their next phase of life.
Monday morning, representatives of the Oklahoma Department of Veterans Affairs (ODVA) visited the OSU department. The special occasion was an informal event, giving students and faculty the chance to talk with the state officers about their concerns, their experiences or their ideas for the future.
Joel Kintsel, director of the ODVA, said he always enjoys coming back to his alma mater to connect with veterans.
"I enjoy getting to interact with the staff and the students who are fellow veterans," Kintsel said. "It is interesting to interact with people who have had that fellow experience. You just look at the world in a similar way because you have been through such an experience as them in some respects."
Kintsel — who graduated from OSU in 2000 with a journalism degree before enlisting in the Oklahoma Army National Guard — said he loved listening to almost two dozen students and faculty members Monday.
"I got a good report today about the vocational rehab program that the federal VA has, and one of the students is using that program and has been very successful with it," Kintsel said. "It is good to get that kind of feedback. It is also interesting to hear what students are studying and what their majors and life goals are."
Dr. Norb Delatte, the head of OSU's School of Civil and Environmental Engineering who served in the U.S. Army Corps of Engineers, and Tom Joyce, an academic advisor for the College of Education and Human Sciences who served in the Army for nine years, were among the faculty members at the event.
"Honestly, the big thing about these visits is it shows they take time out of their day to see us," Joyce said. "Obviously, they have a lot going on, so coming up here and making relationships and communicating with the students and faculty — it means a lot for them to take that time to drive all the way up from Oklahoma City."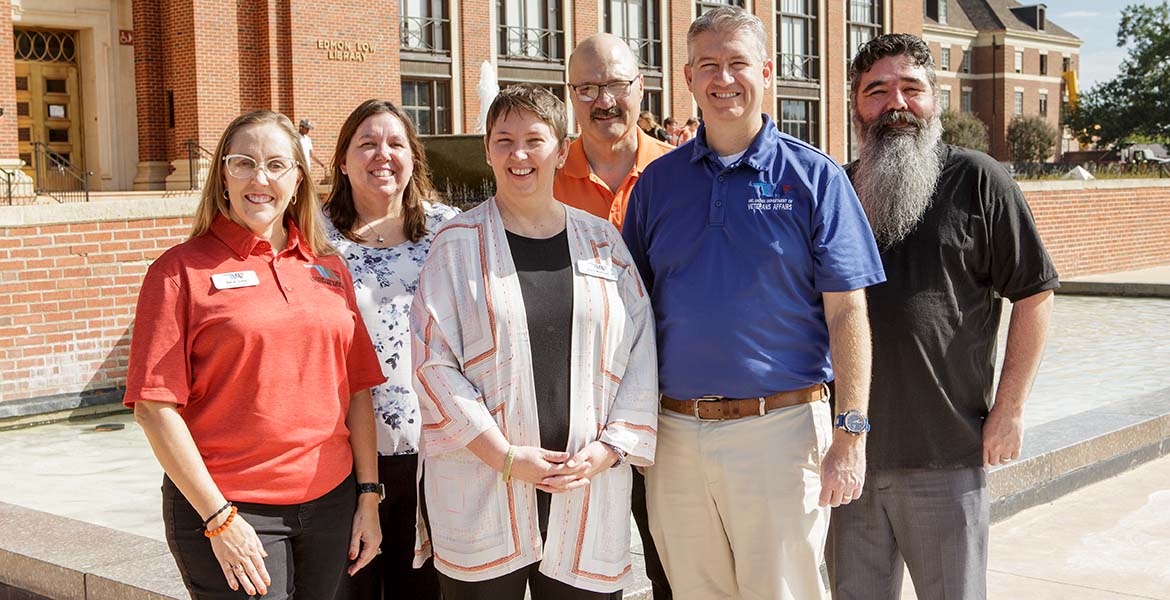 Dr. Doug Hallenbeck, vice president of student affairs, thanked the ODVA for the visit.
"I greatly appreciate the state VA leadership taking the time to come and visit campus and our students," Hallenbeck said. "Student veterans are an important part of our campus, and we are committed to their success. We look forward to ways that we can partner with the state to improve the lives of veterans and their families."
Others from the ODVA included Deputy Director Sarah Lane and Program Coordinators Lisa Mussett and Randall Coon.
Lane, who spent 11 years in the National Guard as a JAG officer, said she loves to help veterans make that transition from active duty to college and eventually their careers.
"I love to hear their stories. I am always listening with an ear of what we could do to help and connect veterans with each other, with resources, how we can continue to adjust our programs to guide our students toward excellence. That way we can serve those who have served," she said.
"Just hearing where they are in their educational journey and trying to match that with educational opportunities — not just within the educational structure but … toward entrepreneurship or employment as well. We want to be able to support them as they continue to their next transition."
Coon spoke about the Oklahoma Veteran Specific Transition and Education Program (OKSTEP). An Air Force veteran of 20 years, Coon said he wants student veterans to know what programs are available to them.
"My goal is that I want to be at every university, college and higher-learning institution to make sure they have the knowledge of transference," Coon said. "What I mean by that is that you got a lot of individuals right now who are going to school and are either in the reserves or guard or whatever and are getting out of the service and don't know what is out there for them.
"That is the type of information that I want to be able to put in a veterans' hands. I feel obligated that they need to know their options. … These young men and women who are getting out are not prepared and don't have the knowledge of what is out there. So I want to make sure I can put that in their hands."
Mussett works closely with Cheryl Kleeman, director of the Department of Transfer and Student Veteran Success, and Vincent Rivera, coordinator of the Office of Student Veteran Success.
Mussett, who served in the Air Force, is the coordinator for women veterans and said OSU has hosted events that have helped her work.
One of those events is the annual Women Veterans Symposium, which will be entering its seventh year and has continued to grow. Also during the week of Veterans Day in November, the ODVA will be putting on two projects: the Oklahoma Herstory Project and Walk a Mile in Her Boots.
"We have 30,000 women veterans in the state of Oklahoma," Mussett said. "Historically, a lot of women veterans have served in times where perhaps their service wasn't recognized by the military or the government they served. So, part of my program is to do events such as the symposium, informational and outreach events. It is to educate not only the women themselves, but the public also about how women veterans have served."
The two projects will be held in the basement of the Student Union, near the Department of Transfer and Student Veteran Success.
Kleeman said the ODVA is a huge help to her department's efforts and is crucial to student veterans' success at OSU.
"The partnership that the OSU Office of Student Veteran Success and Oklahoma Department of Veterans Affairs share is important to the successful transition of our veterans into the civilian world," Kleeman said. "The simple fact that the leadership of the ODVA takes the time to visit with our students and hear their stories is indicative of the care that they have for our student veterans. The ODVA has been integral in helping to build the program at OSU and sponsors many of our events including Veterans Appreciation Week in November, the annual Women Veterans Symposium, which will be held in March, and many other efforts.
"Their support of OSU, the trust they place in us to serve our veterans, and their commitment to working with us is important as we continue to move forward and expand the services that we offer on our campus."