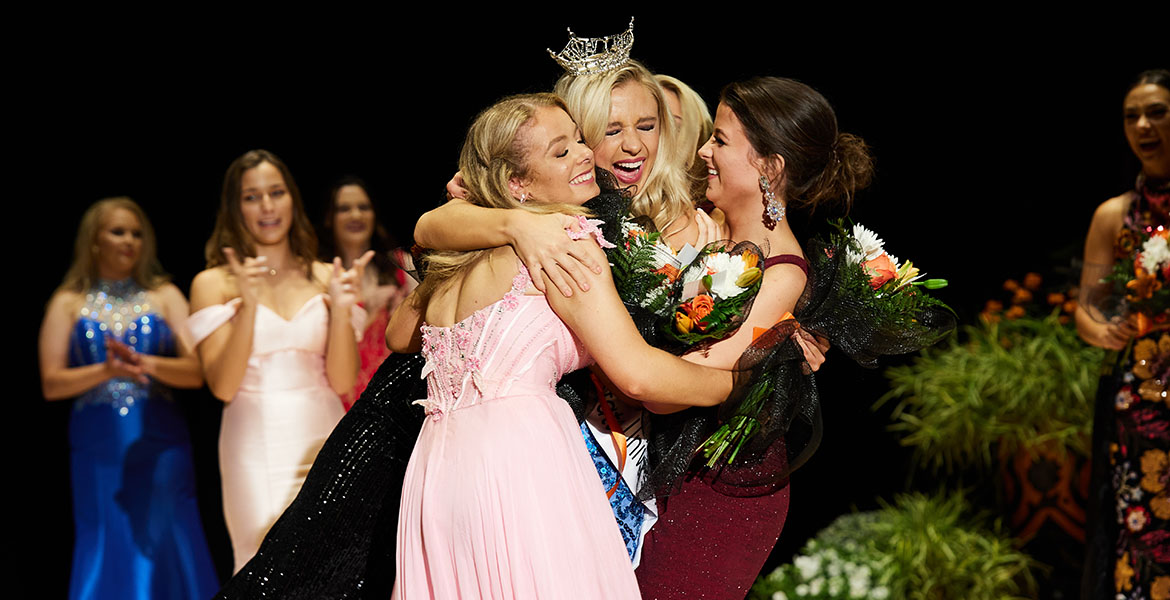 New Miss OSU crowned
Monday, October 4, 2021
Media Contact: Mack Burke | Editorial Coordinator | 405-744-5540 | mack.burke_iv@okstate.edu
Amidst the deafening howl of the crowd, the thumping bass of a pop anthem and the warm embrace of her fellow competitors, Millie Bryant couldn't stop smiling as her new title slowly sank in: Miss Oklahoma State University.
On Sept. 30, Bryant, OSU's feature twirler and a senior in strategic communications, competed against 14 other candidates in four categories: private interview, on-stage interview combined with social impact statement, talent and red carpet. The Miss OSU crown is accompanied by a $1,200 scholarship and the opportunity to represent OSU at the Miss Oklahoma pageant in June.
Bryant said she didn't expect to win. Even though her twirling coaches had encouraged her to enter pageants for years, Thursday night was her pageant debut.
"I never in my wildest dreams expected to win Miss OSU," she said. "This year, I set a goal to step out of my comfort zone and entered the pageant with the mindset that I was going to do my best and be myself. It is so rewarding and such an amazing opportunity to be able to represent my university on not only one stage — being the feature twirler — but now two."
Oklahoma Rep. Trish Ranson, one of the five pageant judges, called all of the contestants impressive but said Bryant's talent set her apart.
"The candidates for the Miss OSU competition were all very solid young ladies with fantastic personalities and performances," Ranson said. "Millie was just so poised and confident throughout the whole process, and her talent was just wonderful."
For her social impact platform, Bryant chose the Make-A-Wish Foundation.
"I volunteered with Make-A-Wish, and I saw the look in the parents' eyes when they saw the joy that a wish brought their child," Bryant said. "For one second, the stress and anxiety from dealing with a critical illness was alleviated, and seeing what that wish could grant a family really drove me to pick it as my platform."
Julianne Thomison, the 2020-2021 Miss OSU, said farewell to the role on Thursday night. Being Miss OSU is a privilege, and she's excited to pass the baton to Bryant, she said.
"Being Miss OSU was the best two years [due to the pandemic] of my life," Thomison said. "It is a beautiful, bright orange journey, and I cannot wait to watch Millie now experience such a special sisterhood and title. There is nothing else like it."
First runner-up Natalie Yadon, second-runner Katelyn Woods, third runner-up Tatum Shelton and fourth runner-up Seyton Thomas all received scholarships ranging from $600 to $150.
Story By: Kylee Sutherland | kysuthe@okstate.edu