OSU Alumni Association to Honor Seven Distinguished Alumni Award Recipients
Thursday, September 2, 2021
Media Contact: Sarah Bildstein Wanzer | OSU Alumni Association | 405-744-2881 | sarah.bildstein@okstate.edu
The OSU Alumni Association is recognizing seven Oklahoma State University alumni with the Distinguished Alumni Award at a reception on Friday, Sept. 10.
The award recognizes members of the Cowboy Family who have distinguished themselves through their particular field or profession and the betterment of their community.
A cocktail reception will be held inside the ConocoPhillips OSU Alumni Center at 5 p.m. with the program beginning at 5:30 p.m. All are welcome to attend.
The 2021 honorees are:
Ann Bradshaw
Ann Bradshaw grew up in Stillwater and is one of five generations of Bradshaws who have attended OSU. She graduated with a degree in accounting in 1983 and went on to earn her master's degree in accounting from OSU in 1984.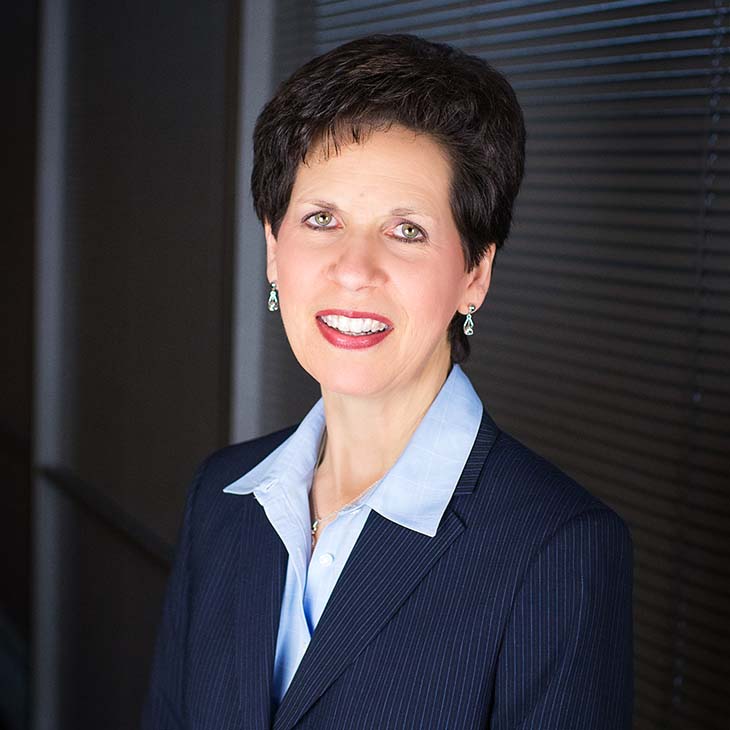 During her time on campus, Bradshaw served as president of the Chi Omega Fraternity and as Mortar Board Treasurer. She was a member of Beta Alpha Psi, Panhellenic President's Council, President's Leadership Council, Graduate Student Council and the American Legion Girl's State Committee. She was named Chi Omega Outstanding Senior as well as the OSU Outstanding Greek Woman in 1983.
Bradshaw recently retired from Ernst & Young LLP, where she served as a tax partner for more than 35 years in federal, state and indirect taxation in both the public and private sectors. As a member of the Americas Indirect Tax Leadership team, her contributions played a significant role for multiple years of double-digit growth, and she has been equally instrumental in providing strategic oversight for funding and expansion projects throughout her community.
She was recently inducted into the OSU Spears School of Business Hall of Fame and has been recognized as a Distinguished Alumnus for OSU School of Accounting. She has also been named one of the Spears School Tributes: 100 for 100.
In addition to her professional success, Bradshaw volunteers her time through many different organizations, including having served on the Board of Directors for the Baptist Medical Center in Kansas City and the Kansas City Club. She currently serves as a Trustee and national campaign chair for the Chi Omega Foundation, a member of the OSU School of Accounting Advisory Board and serves on the Audit Committee and in teaching roles for Tallowood Baptist Church in Houston. She is a graduate of Leadership Kansas City and has been involved with the United Way for over 30 years. She has recently become a mentor to OSU business students through the Spears School of Business Mentoring Program.
Bradshaw currently resides in Houston, Texas. She is a life member of the OSU Alumni Association.
Gary Bridwell
Gary Bridwell graduated from OSU in 1974 with a degree in physiology. He went on to receive his MBA in marketing and finance from OSU in 1976.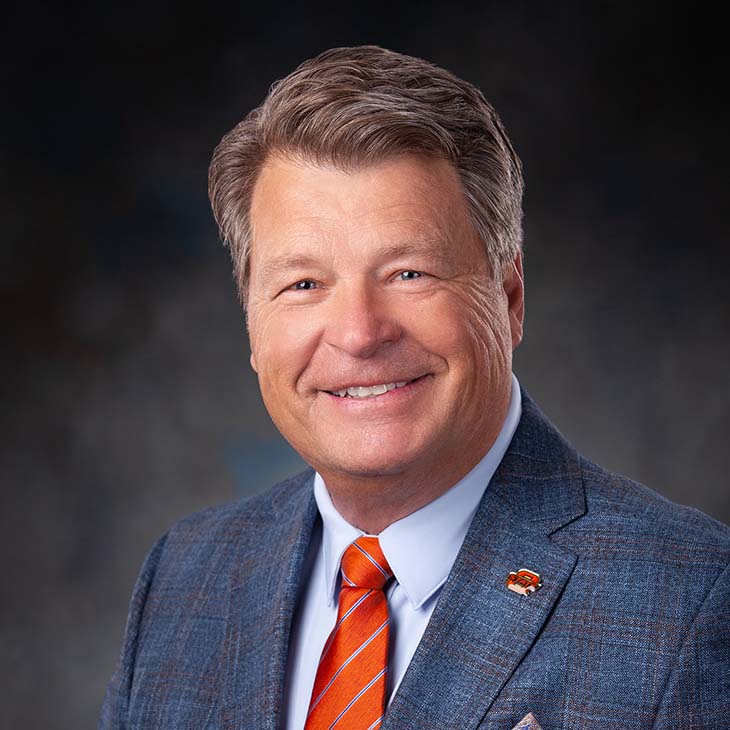 During his time at OSU, Bridwell served as Pistol Pete No. 19 from 1972-73. He was also a member of the Sigma Phi Epsilon Fraternity and the Blue Key Society, and he served on the Interfraternity Council.
Bridwell's career spans more than 40 years in construction dealership sales, management and ownership for Ditch Witch, the leading brand worldwide in the underground construction industry in nine states throughout the Midwest and Rockies, and he is consistently recognized as a Top Ten Dealer worldwide. In addition to equipment dealership operations, he leads Silver Edge Dealer 20, a think-tank organization composed of a select group of Ditch Witch dealership owners across the western half of the U.S. Bridwell is also active in a widely diverse group of small businesses that provide consulting and ownership in home construction, auto services and banking. He has more than 20 years of ownership in the Northeast Oklahoma's Keller Williams Real Estate.
Along with his professional success, Bridwell has been heavily involved with several nonprofits throughout Oklahoma and North Carolina, serving as a former Foundation Board Member for Associated Equipment Dealers and past chairman of the Edmond Economic Development Authority. He was a 15-year board member of the OKC All-Sports Association and served as a board member of the OSU Alumni Association Leadership Council and the OSU Athletic Council. He is currently serving on the Mercy Hospital Community Board in OKC.
Bridwell and his wife, Mary Ellen, currently reside in Edmond, Oklahoma. They enjoy spending time with their two sons and their families, Dru and Daryn of Denver, and Cody and Piper of Oklahoma City. Bridwell is a life member of the OSU Alumni Association.
Helen Wood Craig and Cleo L. Craig
The Craigs are both graduates of OSU. Cleo earned his bachelor's degree in business in 1966, and Helen received her bachelor's in human development and family sciences in 1967.
Immediately upon graduation, Cleo attended Officer Training School, and the Craigs moved to Biloxi, Mississippi, where Cleo served at Keesler Air Force Base for four years. The couple then moved to Shawnee, Oklahoma, where Cleo's family owned and operated the Pepsi-Cola Bottling and Distribution company. He later sold the business to enter the banking world before becoming self-employed in investment and personal financial management, and he went on to receive the Chamber of Commerce Small Business Award. Helen taught school for a short time before becoming a full-time mother and active member of her community. The Craigs both serve in leadership roles for the Cleo L. Craig Foundation, and Cleo also serves as the director of the BancFirst Corporation.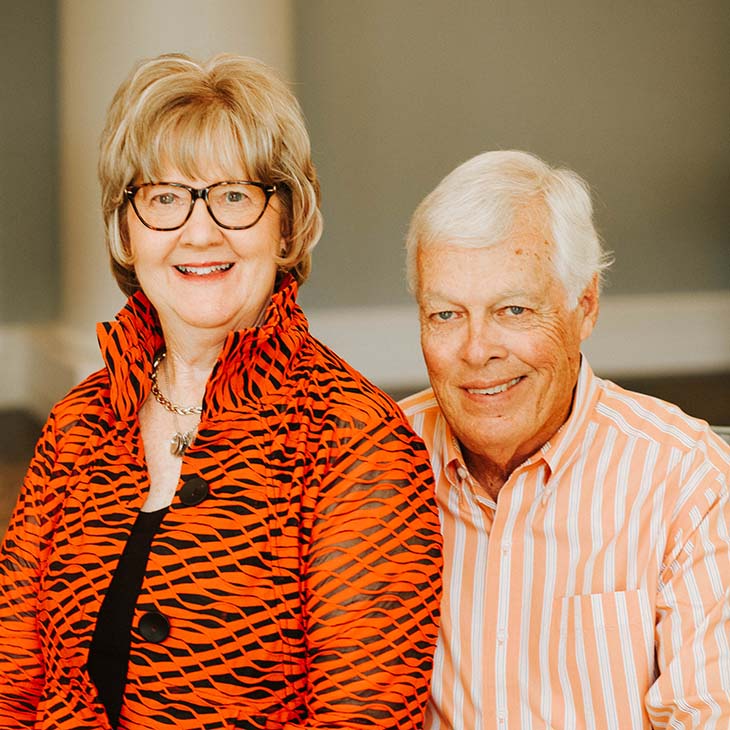 In addition, the Craigs are active within their community, making an impact through their time and resources. Cleo served as the Past President of the Rotary as well as held leadership positions for the Shawnee YMCA and the Boy Scouts. He also serves on the board of the Mabee-Gerrer Museum of Art. Helen has been on the advisory board of the Shawnee Salvation Army for more than 10 years and has spent more than three years as the President of the Friends of the Mabee-Gerrer Museum of Art. She also serves as the Past President of the Shawnee PEO, and she works with the Jr. Service League and Shakespeare Club. She has been recognized by the Kiwanis Club as the Annual Citizen of the Year. Both Cleo and Helen have been honored as an Annual Friend of Youth Award by the Salvation Army as well as named Distinguished Alumni by the OSU College of Education and Human Sciences.
The Craigs are strong advocates of the College of Education and Human Sciences and its early childhood education program. Through their foundation, the couple provided the lead gift for the 2006 renovation of the Child Development Laboratory, which was renamed the Cleo L. Craig Child Development Laboratory. They were also instrumental in the creation of the Return to Nature Outdoor Learning Environment, an outdoor classroom space within the child development laboratory.
The Craigs served as members of the Human Sciences Campaign Committee during the Branding Success Campaign. Helen is a former member of the OSU Alumni Association's Board of Directors.
The Craigs still reside in Shawnee. They have two kids, April and Bryant, who both graduated from OSU, and five grandchildren. Both Cleo and Helen are life members of the OSU Alumni Association.
Rick E. Muncrief
Richard (Rick) E. Muncrief graduated from OSU in 1980 with a degree in petroleum engineering technology. During his time at OSU, Muncrief was a member of the Society of Petroleum Engineers and the Phi Delta Theta Fraternity.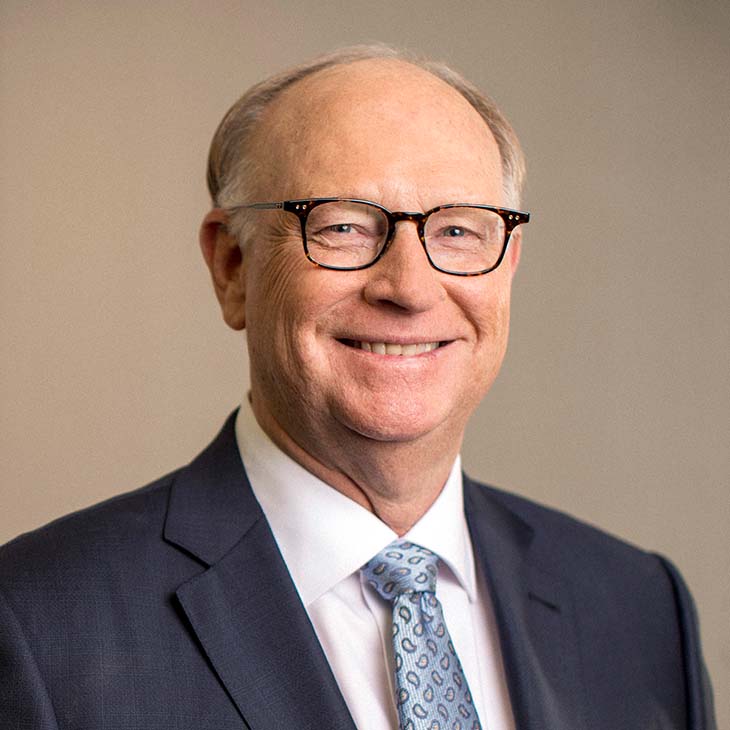 Muncrief is the chairman and CEO of WPX Energy. He has guided nearly $11 billion in mergers and acquisition activity to significantly strengthen WPX's oil profile. The company closed 2019 up 21 percent and increased its net value by 70 percent with increased cash flow from operations. Prior to WPX, Muncrief served in leadership & technical roles at Continental Resources, ConocoPhillips, Burlington Resources and their predecessors.
He has received numerous honors, including being inducted into the OSU College of Engineering, Architecture and Technology Hall of Fame in 2019 and named the 2017 Permian Basin Leader of the Year by The Houston Association of Petroleum Landmen. He also received recognition as Hart Publishing's 2017 Executive of the Year.
In addition to his professional success, Muncrief volunteers his time through several different organizations. He served as past chairman of the American Exploration & Production Council, and he is currently serving on the board for the American Petroleum Institute, the Tulsa Chamber of Commerce and the Gilcrease Museum. He is also a supporter of Columbia University's Center on Global Energy Policy. In 2015, Muncrief was vocal in the fight to lift the crude oil export ban, testifying before the Senate Banking Committee.
Muncrief currently resides in Edmond, Oklahoma, with his wife, Gail. He enjoys hunting, fishing, and golfing. He is a life member of the OSU Alumni Association.
Dr. Bill A. Sutton
A native of Pittsburgh, Pennsylvania, Dr. William (Bill) A. Sutton arrived on OSU's campus for the first time for orientation in 1968. He graduated with a Bachelor of Arts in political science in 1972 and entered the professional world. With a great support system in Stillwater, he and his family returned in 1978 for him to attend graduate school. He graduated with his master's in 1980 and his doctorate in 1983.
During his time at OSU, Dr. Sutton was a member of the Phi Kappa Theta Fraternity, and he met his wife, Sharon, when his fraternity was paired with Alpha Xi Delta for Homecoming in 1971. He was also a member of the Xi Mu Pre-Law Fraternity and active in Oklahoma Intercollegiate Government.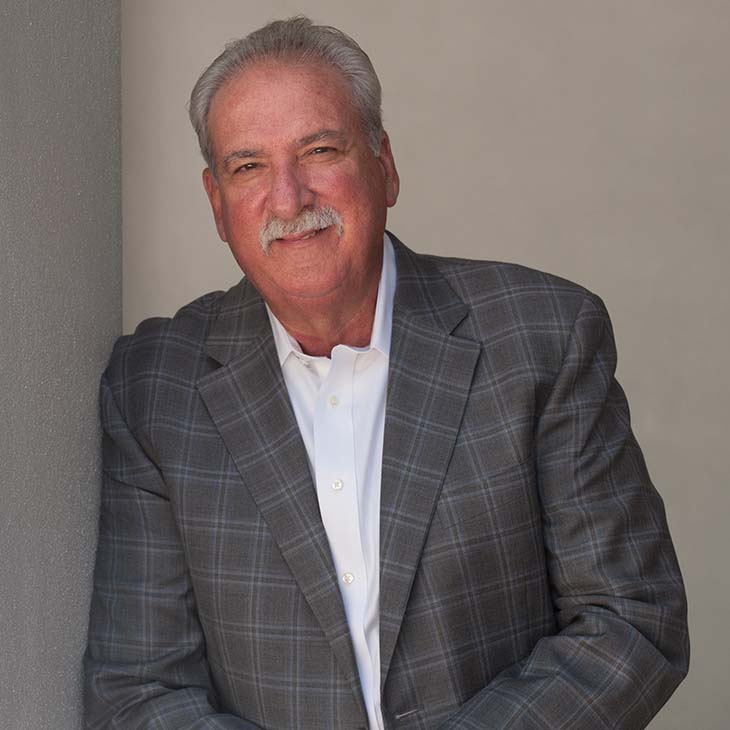 Dr. Sutton holds an appointment as Director Emeritus and Professor Emeritus of Marketing at the Vinik Sport and Entertainment Business Management Graduate Program in the Marketing Department at the University of South Florida. Prior to his retirement, Dr. Sutton taught courses in sport marketing, sales and promotional management in sport, and he served as the Placement Coordinator for the program. His consulting clients included several professional sports leagues and teams, and he previously served as Vice President of Team Marketing and Business Operations for the NBA for several years.
Dr. Sutton is also the founder and principal of Bill Sutton & Associates, a consulting firm specializing in strategic marketing, revenue enhancement and organizational chemistry. He also held previous academic appointments at several universities across the U.S., and he is a co-author of two texts: Sport Marketing (4th Ed. 2014) and Sport Promotion and Sales Management (2nd Ed. 2008).
Additionally, Dr. Sutton is a founder and former president of the Sports Marketing Association and former president of the North American Society for Sports Management. He also founded and was as an editor for Sports Marketing Quarterly and a columnist for Street & Smith's Sport Business Journal. Dr. Sutton also served on the board for both the YMCA of Tampa and the Folds of Honor Foundation.
In 2003, Dr. Sutton was inducted into OSU's College of Education and Human Sciences Hall of Fame. He is also a member of several other Halls of Fame, including the Robert Morris University Sport Management Hall of Fame and the Centenary University Sport Management Hall of Fame. The Sport Marketing Association created the Sutton Award to honor his accomplishments in linking academia to the sport industry.
The Suttons currently reside in Tampa, Florida, and they have two sons, Jason and Daniel. Dr. Sutton is a life member of the OSU Alumni Association.
Sonya Terpening
Sonya Terpening graduated from OSU in 1976 with a degree in art education. Though known as a realist painter, her education focused primarily on abstract expressionism. While this was outside her area of interest, it taught her how to have good composition, balance and design in her realistic paintings. She was also recognized on the Dean's Honor Roll.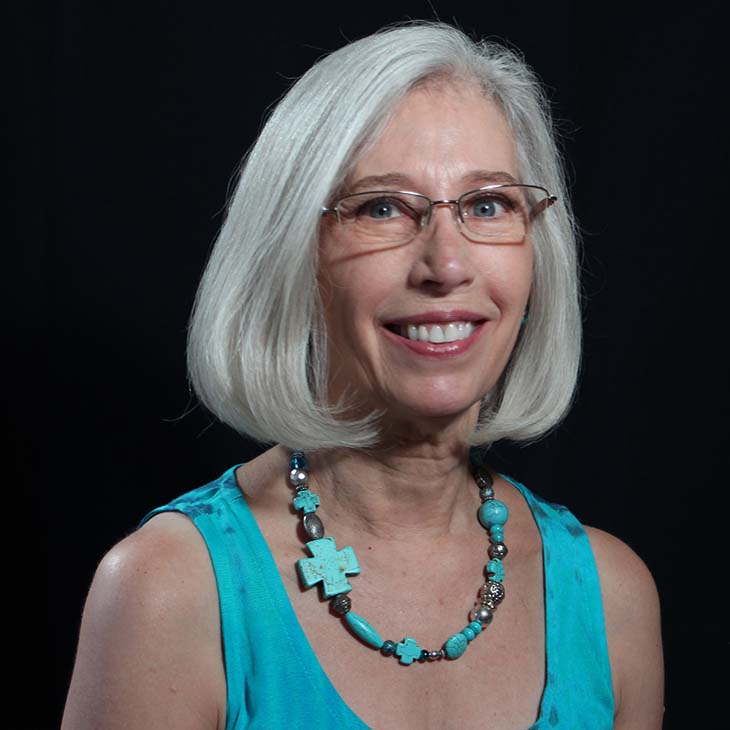 Terpening is now a self-employed fine artist with artwork in several permanent collections across the U.S., including in the National Cowboy and Western Heritage Museum in Oklahoma City, the State of Oklahoma Capitol Building, the Gilcrease Museum in Tulsa, the Edmon Low Library on OSU's campus, the National Cowgirl Museum and Hall of Fame in Fort Worth, Texas, the Forbes Collection in New York City and in NBC Oklahoma in Altus, Oklahoma.
Throughout her professional career, Terpening has received several honors, including being an invited artist for the "Prix de West Invitational" at the National Cowboy and Western Heritage Museum for 26 years and participating in the "Masters of the American West" at the Autry Museum for 12 years, which are considered the top two invitational contemporary western art shows in the country. In 2008, she received the Autry Museum's Gold Medal for Watercolor, making her the first woman to receive this award. She was also the inaugural recipient of the Smelser-Vallion Visiting Artist award in 2010 from the OSU Doel Reed Center for the Arts in Taos, New Mexico, and she is the only two-time recipient, receiving the honor again in 2013. Terpening was also selected as NBC Oklahoma's "Oklahoma Artist" in 2017.
Terpening has served on the Art Advisory Council for the OSU Museum of Art since its inception. She also volunteers for the Grapevine Convention and Visitors Bureau in Grapevine, Texas, where she promotes the arts and tourism in the area.
Terpening and her husband, Mark, currently reside in Grapevine. She is a life member of the OSU Alumni Association.
For more information or to register for this year's reception, visit ORANGECONNECTION.org/daa.
---
The Oklahoma State University Alumni Association serves more than 230,000 alumni, students and friends with programs for Cowboys of all ages. Through the Alumni Association, Cowboys get involved with the OSU family, stay informed of alumni and campus news, give back to support university initiatives and show their pride in America's brightest orange.