OSU flag display honors those who served for Veterans Day
Monday, November 8, 2021
Media Contact: Mack Burke | Editorial Coordinator | 405-744-5540 | mack.burke_iv@okstate.edu
Throughout the thousands of American flags posted on library lawn at Oklahoma State University, there are stories of those who didn't make it home.
Dog tags wrap around each of the 7,068 flags, reminding people who walk by that they are more than just a number on a list. They had names, hometowns, ranks, and most importantly, stories.
The more than 7,000 names represent every service member who has died in the Global War on Terrorism, which began in 2001. The names are taken from the Department of Defense website.
Every year, during the week of Veterans Day, OSU's Office of Student Veteran Success has volunteers place the flags and dog tags on the lawn in front of Edmon Low Library.
This year, OSU President Kayse Shrum and First Cowboy Darren Shrum were present to take part in this respectful event. Dr. Shrum has a personal connection to the military with her father, Dennis Donnelly, having served in Vietnam
"As a proud daughter of a Vietnam veteran, honoring or nation's heroes is personal for me, especially since the flags represent veterans who paid the ultimate price in the service of our country," Shrum said. "Darren and I were honored to take part in remembering these service members. I encourage everyone to take time to visit the display."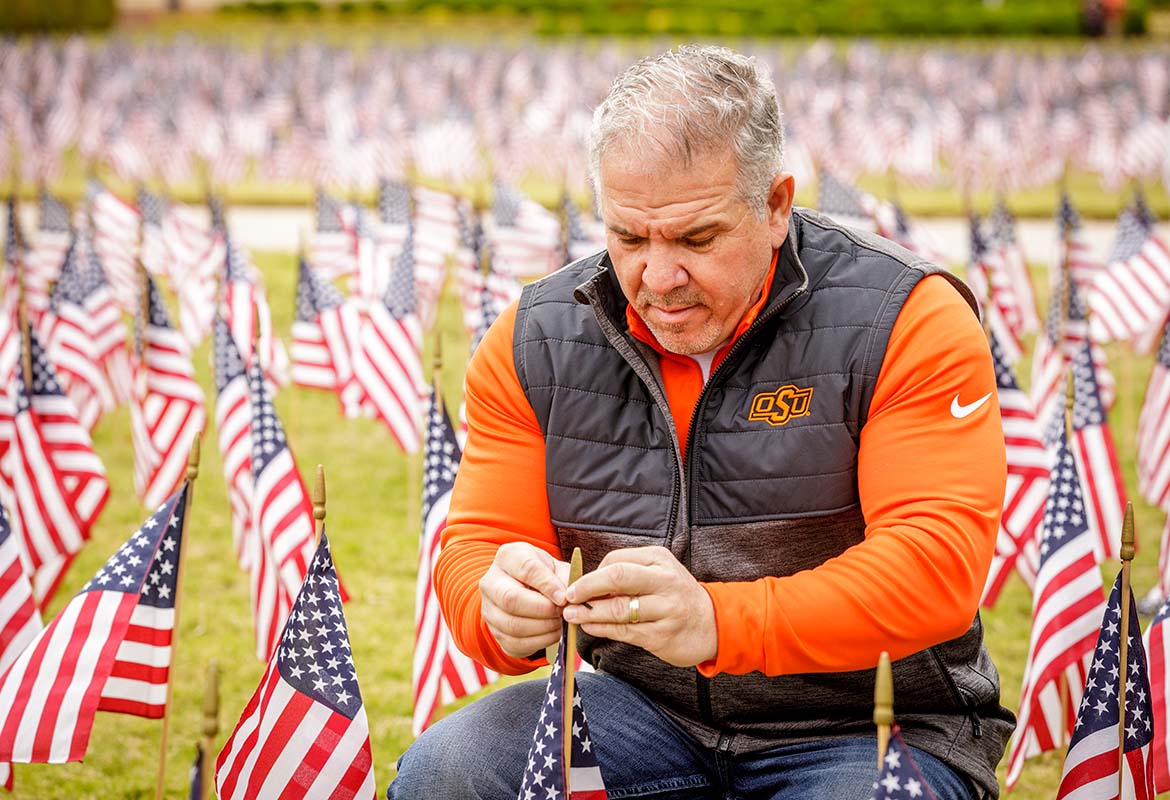 Vincent Rivera, coordinator of Student Veteran Success, said there are students every year who are able to connect with someone they knew by finding their dog tag. He has a binder set up with all of the names and where their flags are to help anyone who is looking for one in particular.
Rivera mentioned one volunteer, who wished to remain anonymous, was impaced by it.
When she was in the service, she had been processing bodies of the fallen at Joint Base Andrews in Maryland a few years ago. One name had been on her mind all those years later and she asked Rivera if their dog tag was there.
"I am getting goosebumps thinking about it," Rivera said. "She asked if we would be able to find him. We asked her what the name was and used our little book and told her where to find the dog tag and there it is. And we gave her that tag. She had an emotional reaction."
The flag placing has become a tradition since it started in 2015. More volunteers have come out each year.
Floyd White, a wildlife ecology senior, heard about the event through the Office of Student Veteran Success. He has been helping with the flags for a few years.
"It is a good way to honor fallen service members. It gives their families a symbolic gesture that their fallen family members are being honored by the people here at this school," said White, who served four years in the Navy.
Dr. Norb Delatte, head of OSU's School of Civil and Environmental Engineering, was putting flags in for the first time this year. In years past, he has volunteered but never placed the flags before this year.
Delatte, who served for more than a decade in the Army Corps of Engineers, said the flags are always an emotional sight. He feels that they offer an impact for students and veterans alike and appreciates seeing volunteers take place in it.
"It is a good cross section of the community and an opportunity to engage and get in touch with the service and it is nice to see a lot of different people coming out and participating," Delatte said.
The flags will be up through the end of the week. Veterans Day is Thursday. Other events during the week include the reopening of the Veteran Success Center, which has been relocated to the Student Union. That event takes place on Friday.
The Office Student Veteran Success provides academic Support services to veterans and military affiliated students; a dedicated space for veterans to relax, study and build community in the Veteran Success Center; events and programming specifically geared toward the unique challenges and needs of veterans and military affiliated students; and advocacy on behalf of veterans at OSU, regionally, and at the state level.