OSU Museum of Art features Regents Professor Moh'd Bilbeisi's work
Thursday, July 29, 2021
Media Contact: Victoria Berry | Director and Chief Curator | 405-744-2780 | victoria.berry@okstate.edu
The Oklahoma State University Museum of Art's newest exhibition, Vision and Visionary: The Paintings and Drawings of Moh'd Bilbeisi, features over 70 works of art including paintings of architectural landscapes from across the globe, imaginative drawings and original sketchbooks. The exhibition runs Aug. 10-Oct. 2.
A professor of architecture for the last 25 years, Moh'd Bilbeisi has achieved OSU's highest honors — the Eminent Professor award in 2017 and the title of Regents Professor in 2020.
Bilbeisi's mastery of watercolor is inherent in his vibrant use of color, gestural lines and expressive brushstrokes, said Victoria Berry, OSU Museum of Art director and chief curator.
"His attention to detail in watercolor painting and drawing is incredible," Berry said. "This exhibition explores the vision of cityscapes from his travels and the visionary of whimsical structures and forms, leaving the viewer feeling like one has stepped into a new world."
Bilbeisi is the first of three OSU faculty artists to be featured in a series at the museum. Professors Mark Sisson will be featured later this fall and Liz Roth will be featured in 2022.
A reception will be held from 5-7 p.m. Aug. 27. Moh'd and architecture professor Suzanne Bilbeisi have produced a catalog that includes essays that elaborate on his vision and visionary approach. It will be available during the exhibition.
Vision and Visionary: The Paintings and Drawing of Moh'd Bilbeisi and its programs at the OSU Museum of Art is supported in part by Malinda and Dick Fischer and the OSU Museum of Art Advocates.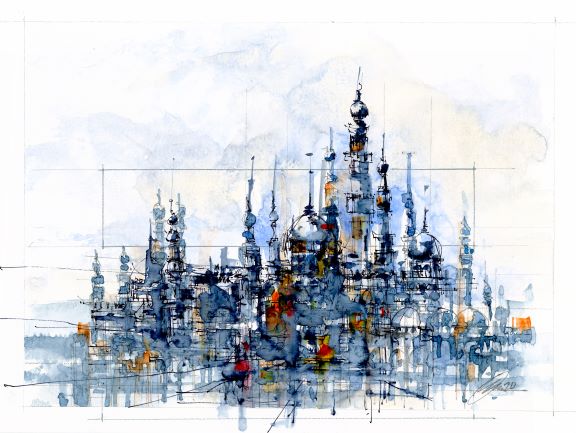 About the OSU Museum of Art
For more information about the OSU Museum of Art, visit museum.okstate.edu or call 405-744-2780. The museum is located at 720 S. Husband St. in downtown Stillwater. Hours are 11 a.m. to 4 p.m. Tuesdays-Saturdays and 11 a.m. to 7 p.m. Thursdays. Admission is free, thanks to generous support from the OSU Museum of Art Advocates.