OSU Museum of Art welcomes 'Native American Veteran Artists' show
Friday, November 5, 2021
Media Contact: Elizabeth Gosney | Museum Marketing and Communications | 405-744-2783 | egosney@okstate.edu
The Oklahoma State University Museum of Art unveiled a three-piece installation on Oct. 30 that features works by Native American veteran artists. The mini-vault show, which opened on the eve of Native American Heritage Month, was curated by OSU art history student and museum intern Sam Holguin.
"These artworks offer a window into the life and culture of the artists," Holguin said. "Each of the artists drew inspiration from their cultures and military experiences, which gives the viewer a chance to look into their lives."
Artists featured in the installation are Brummett Echohawk (Pawnee, 1922-2006), Jerome Richard Tiger (Muscogee Creek-Seminole, 1941-1967) and Harding Big Bow (Kiowa, 1921-1997). Themes such as Native American religious freedom, historical sights and daily life in Native culture are highlighted in the works. The three pieces were chosen from the Charles Little Collection of Native American Art, part of the OSU Museum of Art's permanent collection.
"Picking just three pieces from such an extensive collection wasn't easy, but Sam did an amazing job researching and curating this installation," said Christina Elliott, museum curator of education. "Sam's work demonstrates why students are an invaluable part of the OSU Museum of Art."
"Native American Veteran Artists" celebrates the artistry of Echohawk, Jerome Tiger and Big Bow, as well as their military service. Echohawk served during World War II in the National Guard 45th Infantry — also known as the Thunderbirds — and was known to document the war in his early sketches. Jerome Tiger briefly served in the Navy from 1958-1960, where he developed his drafting and painting skills. Big Bow also served during World War II as a sergeant in the Army. Following the war, he advocated for the religious rights of the Native American Church.
"I never expected to learn so much about these artists when I started work on this small show," Holguin said. "For only three works, there is a rich history being told that can only be seen in the art."
"Native American Veteran Artists" will be a special part of the museum's Veteran Family Fun Day on Nov. 9 from 3 to 6 p.m. The OSU Office for Student Veteran Success and the OSU Center for Sovereign Nations will host the event with the museum to honor veterans and military service members. In addition to art activities and museum tours, there will be a donation bin for hygiene items, which will go to Homeless Military Veterans of Oklahoma City.
The "Native American Veteran Artists" mini show is on exhibit until March 14. In a commitment to regularly display Native American artworks, the museum will have another selection from its permanent collection — curated by Holguin — on display at the Student Union Orange Wall from Jan. 28 to Feb. 28.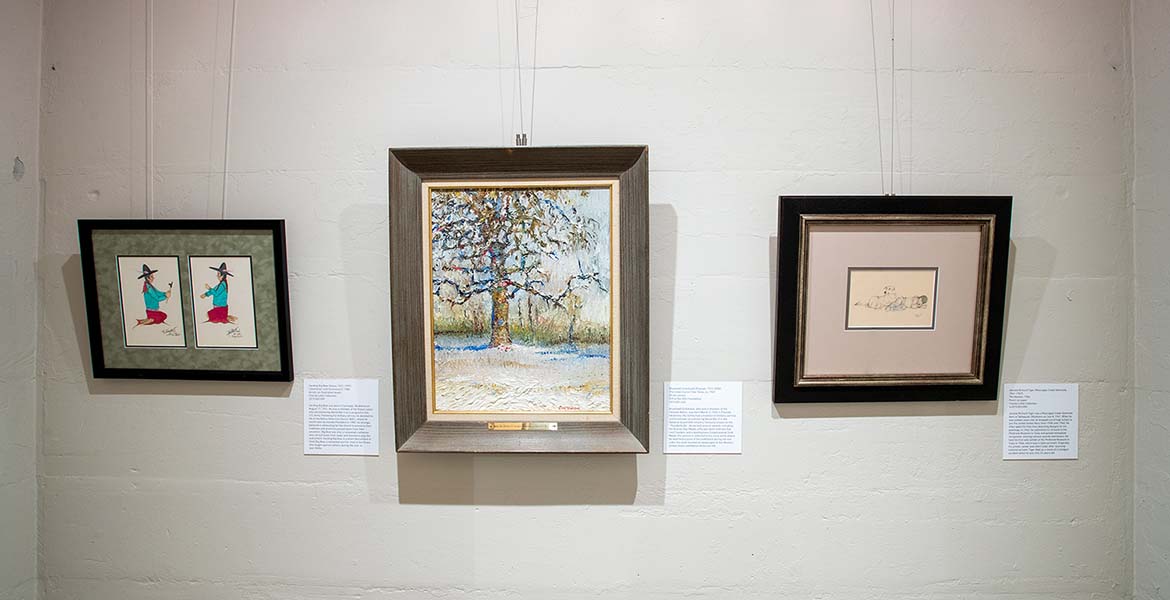 ---
The OSU Museum of Art is located at 720 S. Husband St. in downtown Stillwater. Hours are 11 a.m. to 4 p.m. Tuesday through Saturday and 11 a.m. to 7 p.m. on Thursday. Admission is free, thanks to generous support from the OSU Museum of Art Advocates. For more information about the museum, visit museum.okstate.edu or call 405-744-2780.