OSU RISE coordinator takes her shot at Miss U.S. Latina Pageant
Thursday, August 26, 2021
Media Contact: Jordan Bishop | Communications Specialist | 405-744-9782 | jordan.bishop@okstate.edu
When Maura Loyola walks down the hall to her fourth-floor Scott Hall office every day, no one ever thinks anything about her stride.
However, a few weeks ago, that was all anyone could talk about as she strolled down the runway at the Miss U.S. Latina Pageant in Miami, Florida.
Loyola, the reigning Miss Oklahoma Latina, competed against 18 other women in the annual pageant on Aug. 8. Like many pageants, it had categories in swimsuit, evening gown, traditional wear and an interview portion.
It was a whirlwind for Loyola, whose day job is the coordinator for the Retention Initiative for Student Excellence (RISE) program at Oklahoma State University.
"It was out of my comfort zone and that was one of the reasons where I thought, 'When else am I going to be able to do something like this. When is this opportunity going to come along?'" Loyola said. "Down in Miami, it was out of my comfort zone and not something that I am used to, not something that I grew up doing, but all of the other women were very nice and just having a bond formed between us because there were 19 of us. Working on my walk is completely different than when I am walking down Scott Hall, but it is a wonderful experience."
Loyola didn't place, but she congratulated the eventual winner, Roxette Solis of Washington.
A first-generation college student, Loyola became involved in pageants as an undergraduate, when she won the Miss Hispanic OSU pageant in 2014. Her mentor, Angela Vivar, was also a former Miss Oklahoma Latina, as well as the RISE coordinator when Loyola started school at OSU.
"She helped me prepare for this pageant with my walk and interview skills and just different things like that," Loyola said. "She was the biggest one to help me prepare for this. She was my mentor ever since I was a freshman, and I wouldn't be in this role where I am without her."
Loyola said Oklahoma has no board running a statewide Miss U.S. Latina competition. So as a former Miss Hispanic OSU, she instead applied to the national competition itself, which then crowned her Miss Oklahoma Latina.
Since there is no state organization, Oklahoma hasn't had an entrant every year, but Loyola hopes more women continue to represent the state because she knows how important it is to have that representation.
"I think it is important because it is a space for us," Loyola said. "One of the differences for Miss U.S. Latina compared to other pageants is that we have a cultural component. We each brought different cultural outfits that were representative of our heritage, our nationality and just being able to showcase that. Just being able to be proud of that and having a space to be proud of that."
Loyola grew up in California but moved to Oklahoma during high school and attended Edmond Santa Fe. Her parents are Mexican immigrants with her father, Tito, from Guanajuato, and her mother, Elvira, from Jalisco.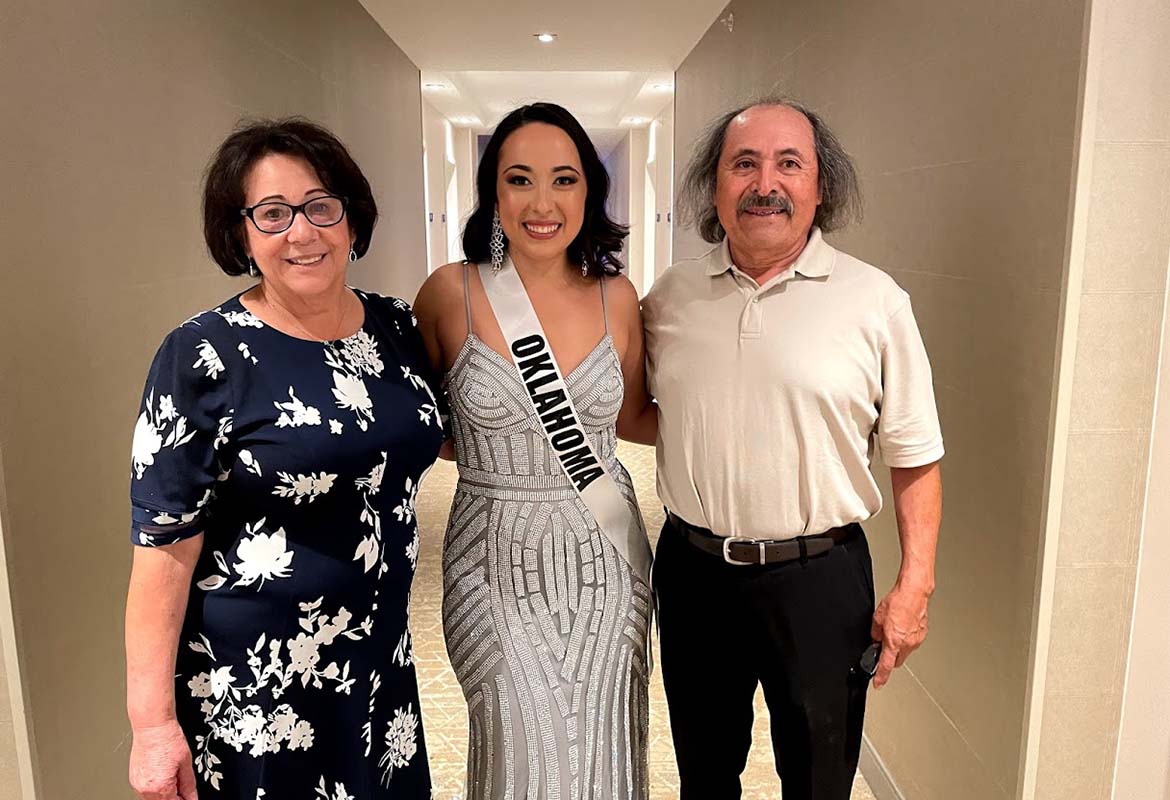 They were able to come to Miami, along with her sister Alejandra, to watch her compete in the pageant.
"They were so proud," Loyola said. "I am so proud of them because they got to Miami on their own, and Miami was awesome because everyone speaks Spanish and my parents were able to communicate with everybody, whereas here in Oklahoma, it is a little bit harder.
"They told me they were so proud because they never thought I would do something like this. We had family and friends watching the live stream on their Facebook. Just beautiful to have that support from my family in Mexico and in the United States."
For the competition, Loyola wore a traditional dress she purchased from a Mexican boutique in Los Angeles and an evening dress made by Oklahoma designer Sherri Hill. She purchased them through Poshmark.
Being Miss Oklahoma Latina was basically a second job for Loyola.
"It is a second job," Loyola said. "That role, that responsibility, just having that platform to be able to do what the Miss Latina wants to do. I want to do education. I am very passionate about higher education, so I want to continue to do events like that."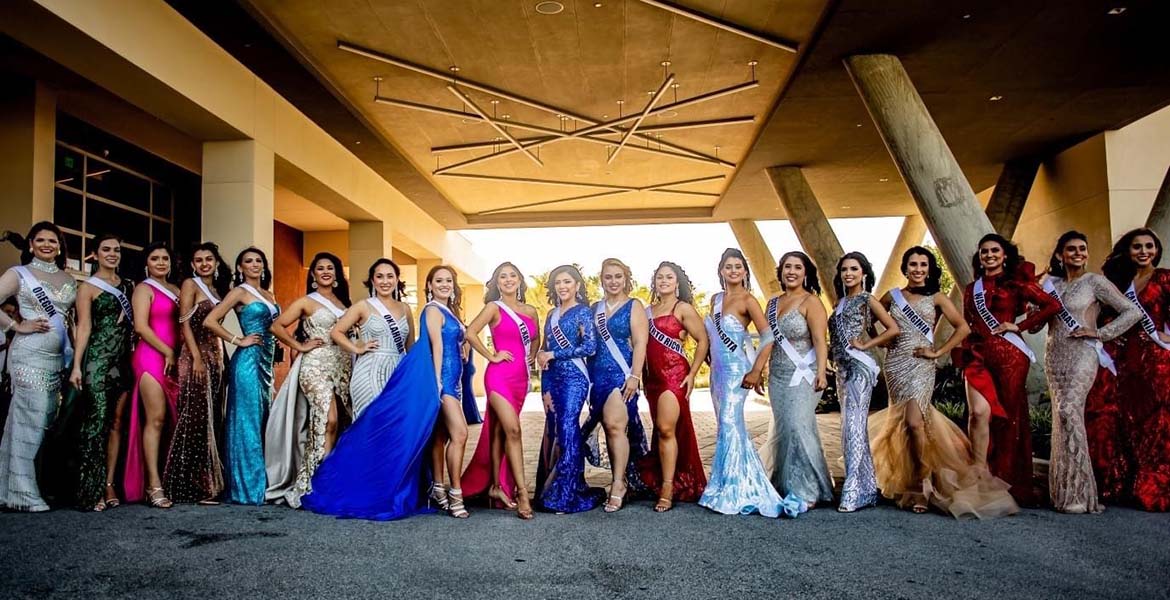 It is a lot to add to her day job, but she enjoys it all. As a RISE scholar and now the RISE coordinator, she interacts with a lot of students who are first generation, minorities or members of the LGBTQ community. She works with around 60-70 students and provides them support, checks in on them to see how classes are going and gives workshops over topics like time management and goal setting.
"I came here in February 2019, but this is my fifth year working with the university," Loyola said. "It has just been beautiful being on this side, and the students all have different goals and different passions, different majors that they want to accomplish. Anything that I can do to help them get to that next step and just being able to help them has been beautiful. My first class of students graduated in May, so I was able to go to their graduation and watch it come full circle, which was beautiful."
Loyola said it helped a lot to have OSU be flexible with her schedule so she could go compete. She credited Dr. Jason Kirksey, OSU's vice president for institutional diversity; Dr. Jovette Dew, OSU's director of multicultural affairs; and Chris Bingham, coordinator of the Inclusion Leadership Program, for helping her make time to participate in the pageant.
"We are always willing to support each other," Dew said. "She has given so much for our students. I was so happy to see her shine and pursue her dream. She is confident and courageous."
As for what's next, Loyola said she is willing to serve as a mentor to anyone who needs it, just like Vivar was to her. She is working toward getting her master's in social work from the University of Oklahoma and hopes that her success can inspire other girls.
"Just that representation that you are a female, first gen, daughter of immigrants," Loyola said. "I want girls to think, 'If she can go through college and get her bachelor's and reach her goals, then I can reach my goals, too.' It is beautiful."