OSU Senior Vice President Gary Clark announces his retirement
Friday, May 7, 2021
Media Contact: Shannon Rigsby | Public Information Officer | 405-744-9081 | shannon.rigsby@okstate.edu
Gary Clark, senior vice president and general counsel for Oklahoma State University, has announced his retirement, effective July 1.
Before accepting his current role to work alongside President Burns Hargis in the spring of 2008, Clark was vice president and general counsel at the OSU Foundation. He also served on the OSU/A&M Board of Regents from 1993 to 2001.
Clark earned his bachelor's and master's degrees from OSU in agricultural education before earning a law degree from the University of Texas. He has been a practicing attorney since 1975.
"No one is more loyal and true to OSU than Gary Clark," Hargis said. "There is no way we could have accomplished what we have the past 13 years without his wise counsel and behind-the-scenes work. I will forever appreciate his leadership, support and friendship. First Cowgirl Ann and I wish Gary and his wife, Jane, the happiest of retirements."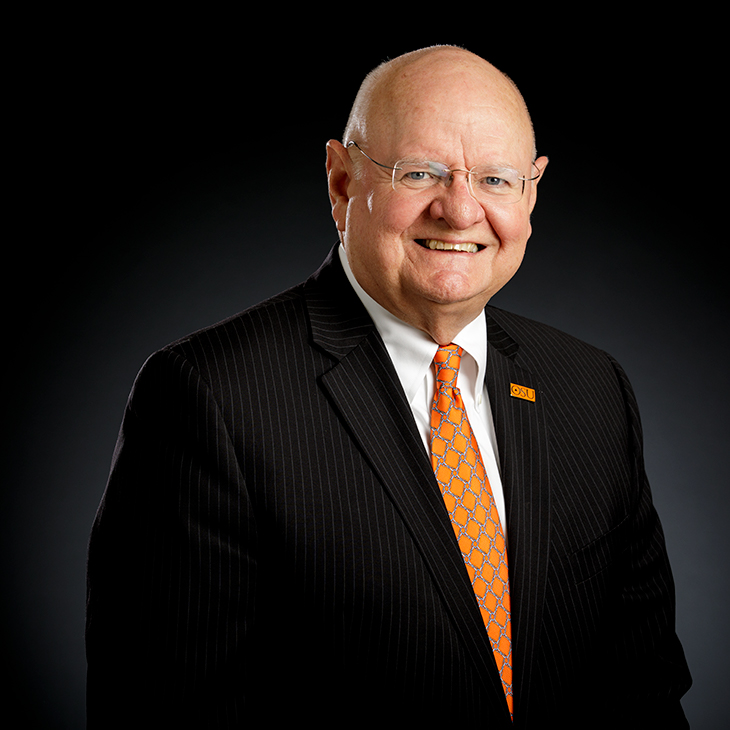 One of Clark's notable accomplishments for the university involved acquiring what is now known as the Athletic Village. Clark negotiated with 175 owner groups to buy 275 parcels of land, totaling around 80 acres.
"As a lawyer, I've always thought of myself as a problem solver. That's really what my job at OSU has been focused on — solving various problems, whether it's on the level of an individual student or more complicated — though not more important — matters such as solving issues related to the gift of the OSU Discovery building," Clark said. "It's been a joy to be involved with higher education and see firsthand young people's lives changed by the wonderful faculty and staff at OSU much like mine was changed as a student here so many years ago."
Clark plans to remain in Stillwater and stay involved in civic life. At home, he's been planning trips with Jane and putting together a woodworking shop that will hold a prominent place in his life after retirement.
"I want to make simple wooden toys to give to kids for Christmas," he said. "I want to have something I can do every day, but nothing I have to do today."
He will also be a fixture at OSU sporting events, cheering on the Cowboys and Cowgirls.
"All in all, it's been a privilege and a true joy to have been here working with President Hargis and First Cowgirl Ann. So much has been accomplished under their leadership. Hopefully, the stage is set for President [Kayse] Shrum to take OSU to greater heights," he said. "I think I can speak for President Hargis as well as myself — what a great opportunity it has been, to be at an institution you love and care about as deeply as we do and to be around young people who give you hope for tomorrow. It couldn't get any better than this."
The campus community is invited to a reception for Vice President Clark Tuesday, June 29, from 3:30 to 5 p.m. in the Student Union Council Room 412.