OSU students produce multimedia project, documentary over Greenwood District on 100th anniversary of Tulsa Race Massacre
Tuesday, May 18, 2021
Media Contact: Jordan Bishop | Communications Specialist | 405-744-9782 | jordan.bishop@okstate.edu
NBA stars, national media and filmmakers from all walks of life will be descending on the Greenwood District in Tulsa over the next few weeks.
They will be looking at the area — both its history and its future — as the 100th anniversary of the Tulsa Race Massacre comes to pass.
Basketball stars Russell Westbrook and LeBron James will be among many coming to Oklahoma to reflect on the event that occurred May 31-June 1, 1921.
With most of the country paying its respects in regard to the atrocities committed, a group of Oklahoma State University students looked at what Greenwood could be, instead of what it was.
It started when Kelly Kerr, coordinator of student media, offered an independent study course last fall.
The coursework for the course would be for students to build a multimedia project that included a series in the student newspaper The O'Colly along with corresponding podcasts and a full-length documentary film.
The result was the Greenwood: Here and Now project by the O'Colly Media Group, whose 10-part series has been running since March. The documentary is set to premiere on the OMG app May 26.
Kerr, an award-winning photojournalist, said the project is close to his heart as he lived most of his life in Tulsa, including a career with the Tulsa World.
"We wanted to see what Greenwood looks like today and how it can look 10 years from now," Kerr said. "It is a place that has a lot of growth but is also having some growing pains with people divided on what direction they want Greenwood to go."
It is painful to look back on these events, Kerr admitted, but it is crucial to learn from it.
"Think of 9/11. Part of you wants to not forget it but still push forward. It basically was the 9/11 of the Midwest," Kerr said.
Seven students participated in the project: Destinee Adams, Claire Boomer, Joshua Cleary, Summer DeWeese, Lauren Egleston, Ryan Novozinsky and Sudeep Tumma.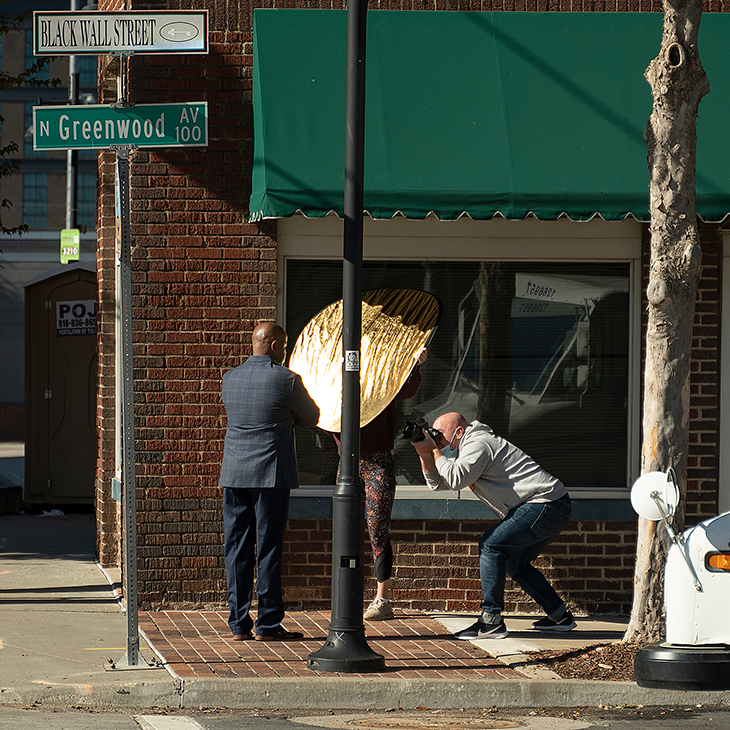 Many of the students were learning about the Tulsa Race Massacre for the first time. The event had been kept in the shadows for nearly a century before it started to be taught about in just the last couple of decades.
"I was shocked because I had no idea this even existed. It reminded me of Tiananmen Square in China," said Tumma, a sports media junior from South Brunswick, New Jersey. "You talk to anyone in Oklahoma, and no one seems to know about it. My dad was the only person that I talked to that had any sort of idea about it. It was kind of crazy because this happened on our own soil, and no one ever learned about it."
Tumma participated in the newspaper series, which covers people living in the Greenwood District now and how they see their community's future. From talking to a barbershop owner to a boxing gym proprietor, a local politician to a licensed counselor, the group covered all aspects.
"I think people will really get a perspective from the people there," Tumma said. "They will see some of the history of what people heard from their parents or how they have seen Greenwood transform. They will see a bunch of different perspectives. They will see people who have been there for a long time and how Greenwood has transformed or what really needs to be on Greenwood."
Ryan Novozinsky, a sports media junior who is the editor-in-chief of the O'Colly, handled the audio aspect of the multimedia project. His podcasts with the interview subjects — complete with a narration from OSU Police Chief Leon Jones — delved into people's thoughts on their community.
"I see they have so much optimism for their community," said Novozinsky, a native of Allentown, New Jersey. "They have gone through peaks and valleys — some of the most dramatic valleys I think in human history that any civilization and town can go through — but they really came through it."
Lauren Egleston, a Stillwater native, said getting to talk to people whose ancestors survived the massacre really opened her eyes.
"When you go to Greenwood, there are people there who wake up every day and are concerned by it and still affected by it," said Egleston, a recent multimedia and Spanish graduate who was a videographer on the documentary. "I didn't realize there were still issues from it and people who are still fighting for reparations from it. It is interesting because even in Tulsa, Greenwood is almost its own little world still trying to fight this and trying to make it more part of mainstream history and document it and all of these different things."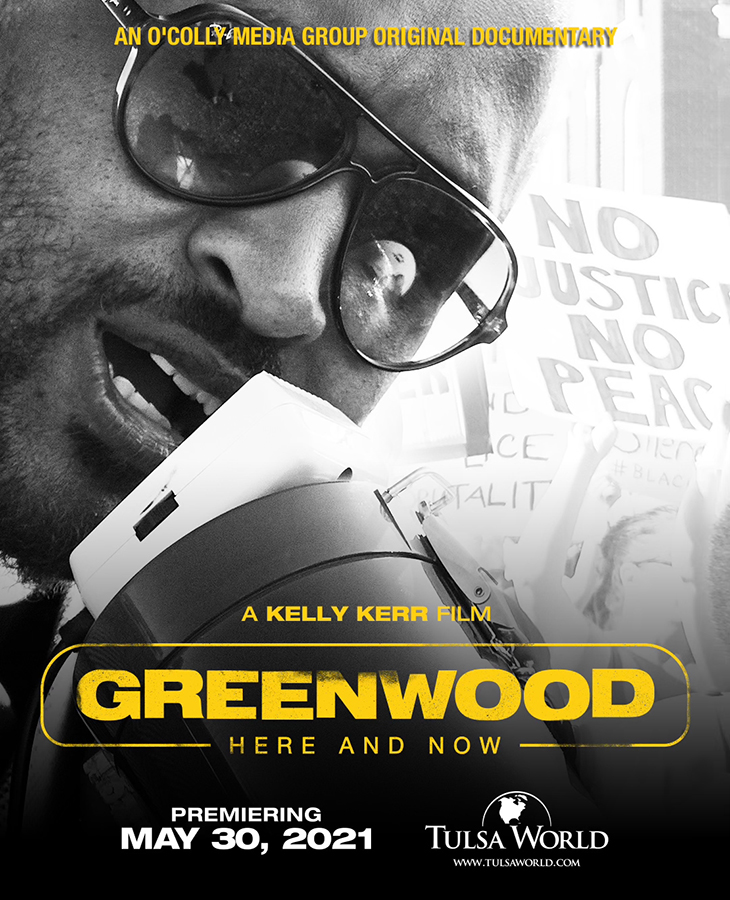 Claire Boomer, a strategic communications and marketing junior, was amazed by how much care the residents of Greenwood take to keep their district on the rise.
"The community leaders really just want to make sure that the heart of Greenwood is taken into account so that whatever the future of Greenwood is, it's something the community built," said Boomer, a native of Kansas City, Kansas. "It is not something you see with an old historical district like that usually. You will see bigger city leaders and elected officials come in and say they will make it better, but they never do.
"… I think it is that balance of making Greenwood better and keeping that soul alive with the community of Greenwood deciding how their future will look."
Boomer was a photographer on the project, and she couldn't believe that she didn't have much knowledge on the massacre and firmly believes it should be taught more in schools.
"We should be learning about this in every class, not just in an Oklahoma history class," Boomer said.
The Greenwood: Here and Now articles and podcasts can be found on https://www.ocolly.com/ and the documentary will premiere exclusively on the OMG app May 26, which is available on Roku, Apple TV and Amazon Firestick. It will also be streaming at tulsaworld.com on May 30.