OSU'S Amy Brown honored for work with Covid-19 response
Thursday, April 1, 2021
Dr. Amy Brown was recently awarded one of three University Service Awards in recognition of her work with Oklahoma State University.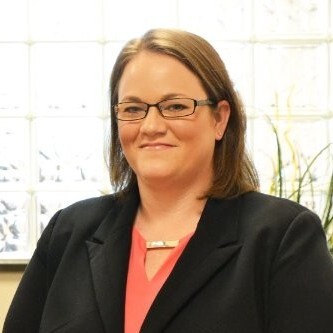 OSU honored faculty, staff and administrators for their achievements in 2020. These honorees are recognized for their dedication to OSU and for outstanding contributions to research, instruction and institutional service.
Brown served most of the past year as director of research operations in the Division of Research. She was recently appointed chief operations officer of the OSU/OSU-CHS team managing the Oklahoma Pandemic Center of Innovation and Excellence in partnership with the Oklahoma State Department of Health.
This award recognizes her work in day-to-day management of research programs and operations as well as her involvement in OSU's SARS-CoV-2 response.
"The SARS-CoV-2 pandemic resulted in the division of research adding a very large new program in collaboration with OSU-CHS, CVM and the state of Oklahoma," said Dr. Kenneth Sewell, Vice President for Research. "Building the capacity to provide coronavirus diagnostic testing was a key component of Oklahoma's pandemic response. … Dr. Amy Brown was the key person in OSU's ability to provide this diagnostic testing."
Brown coordinated the relationships and regulatory approvals to gain CLIA certification for human testing, served as the operations liaison to guide the Incident Management Team in scaling up the testing operation, managed HIPAA training and reagent supply chains as well as ordered additional testing equipment, arranged statewide specimen couriers, expanded the laboratory information management and managed staff, Sewell said.
Brown also managed finding lab space and setting up the new OSU Diagnostic Laboratory — a stand-alone human diagnostic laboratory for continued Covid testing and virus research."This long list is truly only a fraction of the tasks that Dr. Brown took on and executed brilliantly," he added.
"We should be proud of Cowboys like Amy who always go above and beyond the call of duty in service to our university and state," said Johnny R. Stephens, senior vice president and chief operating officer at the OSU Center for Health Sciences. "Through Amy's hard work and service, OSU lab processed more than 50 percent of all COVID tests in the state from March to August. This work allowed the state to move from the bottom five in testing nationally to the top 20. More importantly, her hard work translated into saved lives."
Brown's impact on OSU's contribution to the state's pandemic response cannot be overstated, Sewell said.
"I am adamant that OSU's response to the pandemic is thanks in large part to Dr. Amy Brown," Sewell said. "Her contributions to OSU's coronavirus testing effort surely merits honoring her with the University Service Award."
MEDIA CONTACT: Harrison Hill | Research Communication Specialist | 405-744-5827 | harrison.c.hill@okstate.edu