President Shrum presides over first commencement as ceremonies return indoors
Saturday, December 11, 2021
Media Contact: Mack Burke | Editorial Coordinator | 405-744-5540 | news@okstate.edu
Oklahoma State University's commencement ceremonies returned indoors Saturday for the first time in two years as Chancellor Allison Garrett of the State's Regents for Higher Education delivered the keynote address.
OSU President Kayse Shrum presided over her first graduation, making the 143rd commencement the first all-female-led ceremony in OSU's history.
Around 1,300 graduates were recognized as commencement returned to Gallagher-Iba Arena. It was held in Boone Pickens Stadium in the spring because of COVID-19 and no in-person ceremonies were held at all in 2020.
Garrett, who became the state's first female chancellor of higher education on Nov. 1, gave graduates three things to take from her speech and use in their careers.
"No. 1: Challenge yourselves to do hard things. That is how you grow as an individual. In your careers, whatever they may be, that will help you be a success," Garrett said. "No. 2: Keep your priorities straight. … Keep your priorities straight as family and faith should be important in your life. No. 3: Look to serve others. Kindness pays off."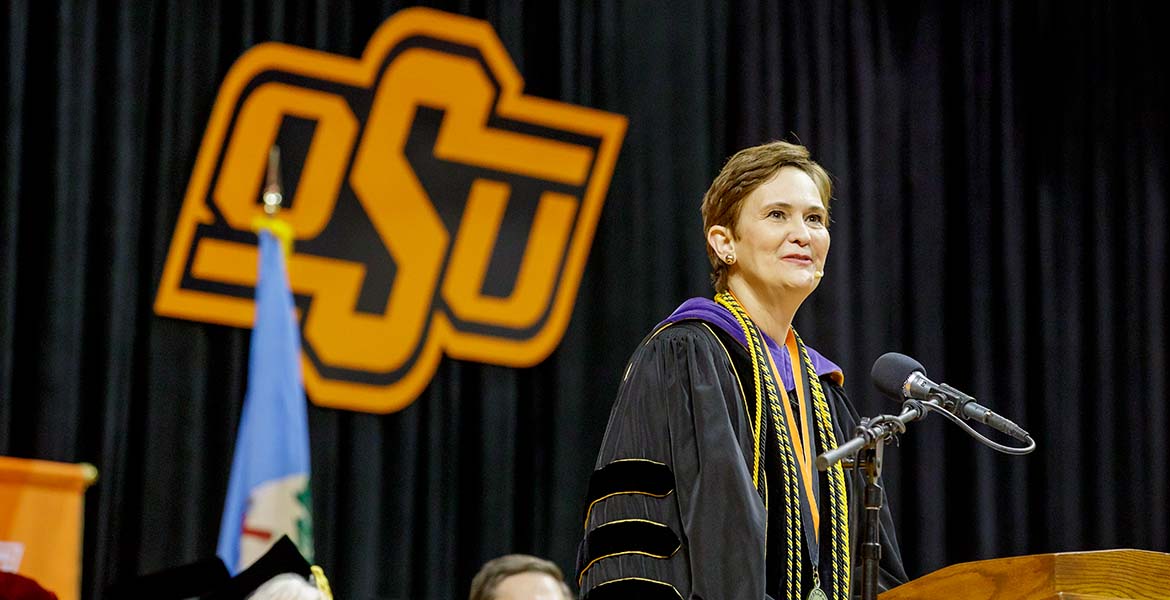 Garrett commended Dr. Shrum for her leadership at OSU and reminded graduates that after the ceremony, they will have started down a path of success.
"We are excited to welcome you to the academic fraternity," Garrett said. "... On average, those with a college degree will learn 75 percent more than those with a high school degree."
Also speaking were Dr. Trudy Milner, chair of the OSU/A&M Board of Regents, and Dr. Pamela Lovern, chair of OSU's Faculty Council.
Lovern congratulated the class of 2021 on completing their degrees despite the hardships of the pandemic.
"The world has certainly changed since you began your studies at OSU," Lovern said. "Graduates, you succeeded in completing your degrees under these many challenging conditions. You did it. As faculty, we recognize the perseverance and effort it took to achieve this goal. As the world was changing, you have been growing and changing, too. As you go forward into the future, we hope you will always seek new opportunities to learn, grow and make a difference in the world."
Shrum ended the ceremony thanking the faculty for their commitment to helping students to their graduation day.
"I thank each of you for your guidance and the wisdom that you have provided these students," Shrum said. "The degree candidates here today will exponentially increase on the scholarship you have extended to them."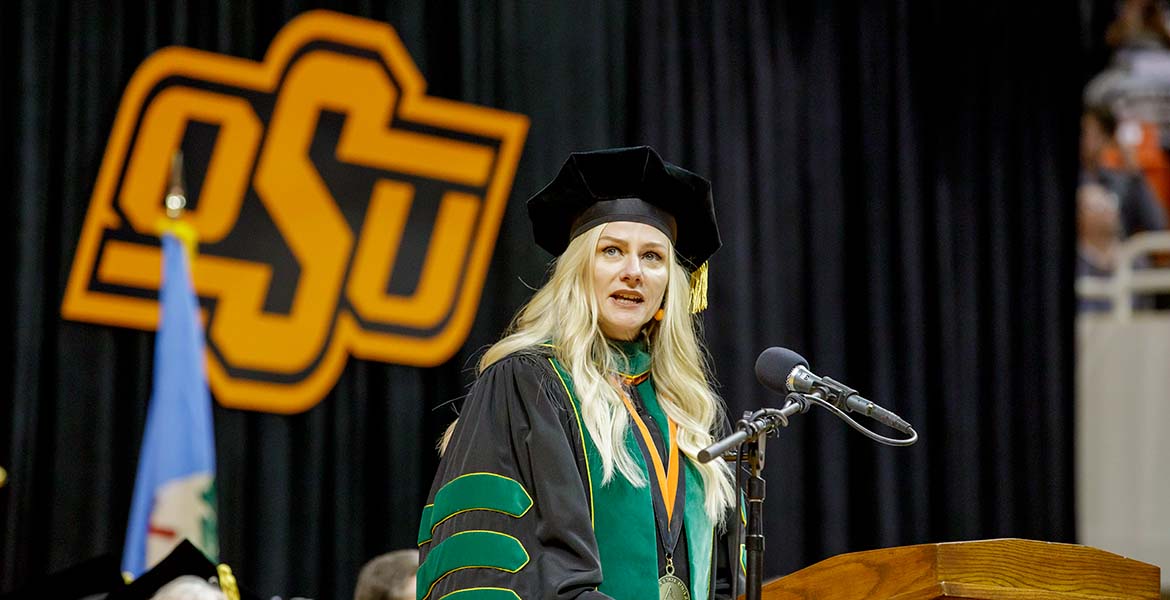 Mariah Smith, who earned her bachelor's degree in biology, said she was excited to see Shrum at the lectern.
"It was definitely beyond my expectations. It was awesome to see a female leading the ceremony," said Smith, an Enid, Oklahoma, native.
Nicholas Zickefoose said he was happy to be back in Stillwater. He earned his bachelor's degree in horticulture and spent his final year doing online classes. Zickefoose started his career at PGA Frisco in Texas following his junior year.
"College was phenomenal. It is one of those things that if you are Oklahoma born and raised, it is the only school to go to," said Zickefoose, a native of Claremore, Oklahoma. "It is a home here. It is not just a school, it is a home and a family."
Saturday morning's exercises recognized students from the Ferguson College of Agriculture, the College of Arts and Sciences, and the College of Engineering, Architecture and Technology. The afternoon consisted of ceremonies for the Spears School of Business and the College of Education and Human Sciences.
Graduate students had their ceremony Friday. OSU-IT will hold its fall commencement on Dec. 17 in Okmulgee.
More photos can be found at: https://flic.kr/s/aHsmXjzcXZ
Footage of the Saturday morning ceremony is below. Videos of other ceremonies can be found at insideosu.com.