Shrum has full slate in first day as OSU president
Thursday, July 1, 2021
Media Contact: Monica Roberts | Director of Media Relations | 405-744-4800 | monica.roberts@okstate.edu
President Kayse Shrum went from a full day of farewells Wednesday to a full day of introductions on Thursday.
Dr. Shrum began her first day as the 19th president of Oklahoma State University in front of a crowd of reporters in Gallagher-Iba Arena's O-Club where she introduced new Athletic Director Chad Weiberg.
Despite being appointed in April, she found her first day still felt surreal.
"It is really exciting," Shrum said. "Every time I hear '19th president, Dr. Kayse Shrum,' I start thinking about the magnitude of the role and the history of Oklahoma State University. The 19th person to serve in that capacity and being the first female is a big responsibility. It is a little bit surreal. I would not have ever imagined that. My first experience here was at a softball camp, and I think back to that 13-year old girl who never had this in mind. To be here today, I am really proud and humbled to be the 19th president and serving in this role, it is quite an honor."
Shrum, who previously served as president of the OSU Center for Health Sciences (CHS) called leaving there a bittersweet moment. A Coweta, Oklahoma, native, Shrum attended medical school at OSU-CHS, earning a degree from the College of Osteopathic Medicine. She worked as a pediatrician before returning to teach at OSU-CHS 20 years ago. Shrum said she will always rely on what she learned at OSU-CHS.
"I said yesterday that I felt like the Miranda Lambert country song, 'The House That Built Me.' I feel like the OSU Center for Health Sciences is the house that built me professionally," Shrum said. "The people there are my family, and I am not leaving them; I am relocating. But it is a bittersweet moment, walking out of the office, knowing you aren't coming back the next day.
"But there is an excitement about coming here, starting a new chapter, taking all of those things I have learned and my love for the land-grant mission and accomplishing new things and touching lives here is just as exciting."
Weiberg said he was honored to start the same day as Shrum — who embraces the role of collegiate athletics, citing her time as a college softball pitcher.
"It is humbling and an honor to be the first person you introduce as president," said Weiberg, who replaces Mike Holder as OSU's 13th athletic director. "I hope you are president for a long time, and I hope you never have to introduce another athletic director."
After meeting individually with reporters from around the state, Shrum hurried off to make another appointment in a day full of them. She went to the OSU Student Union for a short lunch before meeting with student leaders and campus life representatives.
After perusing the selection inside the Union Express convenience store, Shrum settled on butter crunch ice cream for an informal meeting with students. Intent on getting to know her students on a personal level, she and husband Darren asked them about the past year under COVID restrictions, their thoughts on the vaccine and what could be improved about life at OSU.
The students were representatives of the Student Union Activity Board, Student Arts Alliance, Multicultural Greek Council, Panhellenic Council, Camp Cowboy and Interfraternity Council.
As a mother of six, Shrum brought up the effects of students having to learn online last year and her hope that students returning in the fall can experience more of what campus has to offer.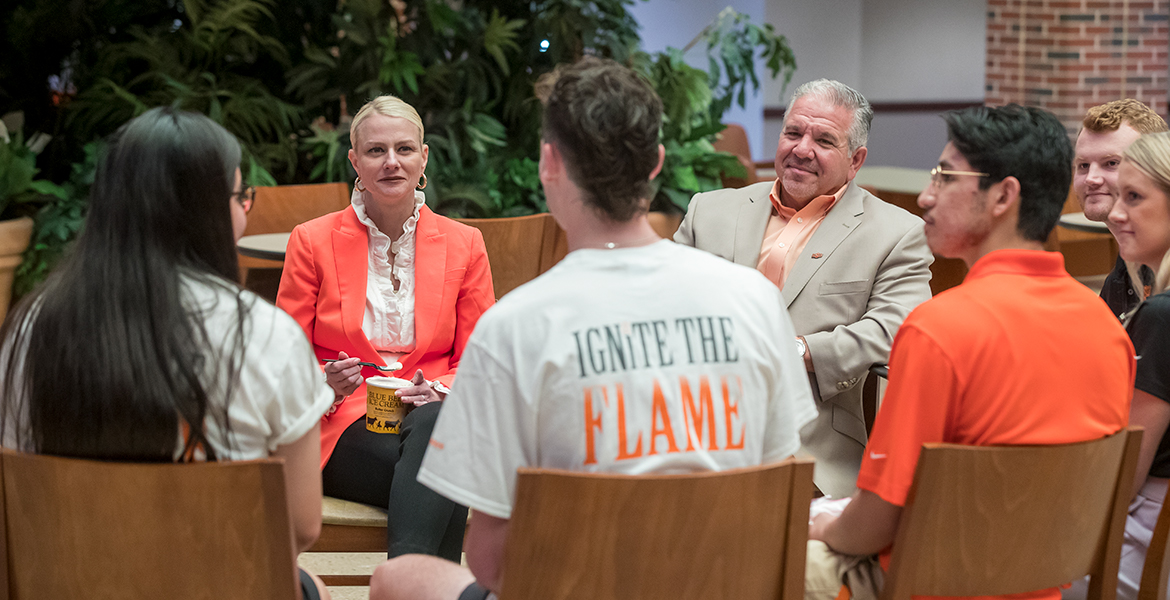 Meeting the students was the highlight of her day, she said.
"That is what makes this job fun, learning about each of them and where they are from and what they bring to Oklahoma State University," Shrum said. "Also, what they are looking to achieve during their time here and what are their hopes and goals for Oklahoma State in the future and what will help us form what our vision looks like in the future. In a way, it is a small celebration but also an opportunity to connect and learn from them."
Shrum left the student leaders to meet with OSU's academic leadership of deans and vice-presidents to discuss her plans as president.
Before even setting foot in Whitehurst Hall for her first day, Shrum had been laying groundwork for her presidency. She went on a listening tour for the past few months to explore how she and academic leadership could work together.
"I have met with all of the deans previously," Shrum said. "Today is just an opportunity to meet with them and let them know that I think they are important people within the university and are going to be important within my team and the success of this university. I'm letting them know what my plan is for the next year, which is really developing my executive leadership team and engaging with everyone to develop a strategy around that vision of what we look like as a modern land-grant university."
Although it was a busy time in what will most assuredly be a busy first 100 days with the fall semester set to start Aug. 16, Shrum is ready for the challenge. She is eager to get settled in, not just into her office, but also Stillwater. While the Shrums plan to keep their house in Coweta for family get-togethers, their home base will be in Stillwater.