Students offer thoughts on Constitution as part of library's holiday commemoration
Friday, September 17, 2021
Media Contact: Jordan Bishop | Communications Specialist | 405-744-9782 | jordan.bishop@okstate.edu
The United States Constitution means a lot of different things to many different people. Hundreds of thousands of words have been written about it, but this week, the Oklahoma State University Library wanted to hear a person's thoughts in only six words.
In celebration of Constitution Day — Sept. 17 — the library, in conjunction with OSU's Department of Political Science, asked students to contemplate the historic document and explain how they felt about it. Students who participated were put in a drawing for a chance to win one of five $200 scholarships.
Hundreds of students responded to the survey throughout the week with a variety of views, both critical and complimentary: "Glad that we've come this far," "The fundamental guide of Western philosophy," "It did too little, too late," and "Flawed because it excluded from inception."
All the responses can be found here.
OSU has had Constitution Day activities since 2004, when federal law established the holiday and mandated all publicly funded institutions provide educational programming on the Constitution.
This year, volunteers and library ambassadors set up tables in Edmon Low Library, complete with pocket Constitutions and other reading materials to gauge what passersby thought.
One such volunteer, architectural engineering sophomore Amelia Danker, said she thought it was a great activity.
"As an American citizen, I really encourage this project and think it is a great way to keep new generations thinking about what makes us American," said Danker, a native of Inola, Oklahoma. "I think it is a wonderful project, and it gets people talking, and that is what is important."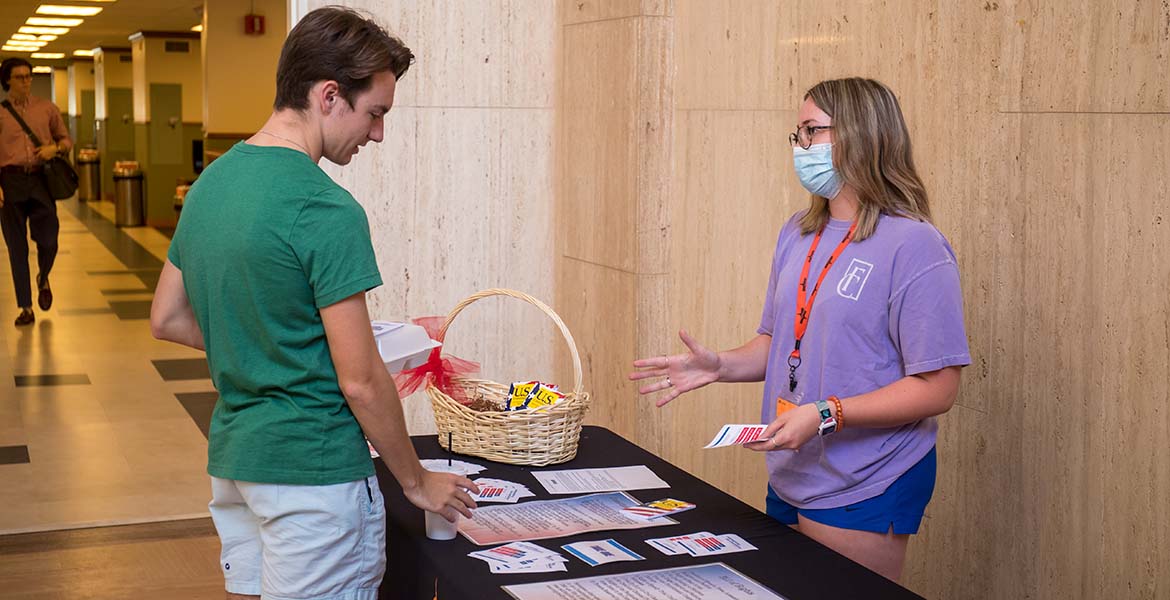 In addition to the library and the Department of Political Science, the weeklong event was co-sponsored by student clubs Pi Sigma Alpha and the Political Science Club.
Gemma Schmidt, a political science senior with a minor in Spanish who is the founder and president of the Political Science Club, praised the event.
She thought the way the event was organized, with students being able to anonymously express their thoughts, garnered the best and most honest results.
"Obviously, we are not really gearing it to a certain area of policy or a certain amendment," said Schmidt, who is from Coppell, Texas. "It is more of just allowing students to share their thoughts, as well as just allowing them to spread awareness about the Constitution in general.
"The Department of Political Science and the History Department — we are a little more well-versed when it comes to the history of the Constitution and what it means for public policy in America today, as well as what it means for our government for the foreseeable future. I think for college-age students being able to share their thoughts and boost awareness about stuff like this and being able to shed that light toward many areas of campus is I think our big mission for this."
Bonnie Cain-Wood, manager of library communications at OSU, said she likes the variety of topics students discussed and hopes that "Contemplating the Constitution" will continue in the future.
"That is really the goal of this project is to encourage people to reflect on the document and take some time to look at all the different perceptions and observations about the Constitution," Cain-Wood said. "We get a lot of different thoughts that have come in in just six words. It is pretty remarkable what people can pack in just six words. We will see how they interact and how everything goes this year.
"If it is successful, then we might continue doing this, which would give us some really interesting data over the course of many years. We could look at how things change — if there are different words in different years."