2022 Mr. and Miss Asian OSU winners crowned
Wednesday, April 6, 2022
Media Contact: Jordan Bishop | Editor, Department of Brand Management | 405-744-9782 | jordan.bishop@okstate.edu
Jordan Lin gave a small bow and Esther Niang waved regally, crowns glittering under the spotlight, as they were named 2022 Mr. and Miss Asian OSU on Sunday.
Presented in the Oklahoma State University Student Union Theater and broadcasted live on Inside OSU, the scholarship pageant highlighted the rich history and diversity of Asian cultures and heritage. Throughout the night, contestants and entertainers danced, played music and honored other traditions from Cambodia, China, Japan, Myanmar and many more countries across Asia.
The four contestants — two battling for the Mr. distinction and two contending for the Miss title — competed in six categories throughout the day: private interview, platform, cultural wear, talent, evening wear and extemporaneous question. Participants were also judged on professionalism and overall poise.
The competitors vied not only for the crown and yearlong reign, but also for a $1,500 scholarship and the chance to promote their platform on campus.
Lin, a freshman majoring in fire protection and safety engineering, chose promoting sustainable public transportation in Stillwater as his platform. Public transportation is a way to encourage sustainability and enable individuals to live independently when they don't have a car, he said.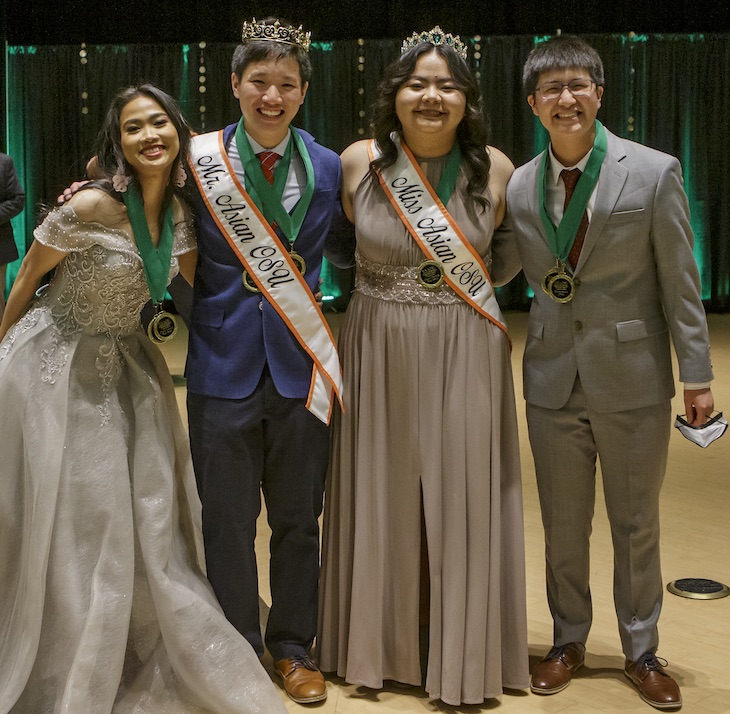 "All of us are growing up in a society that is really car-oriented," Lin said. "I felt like being able to get from place to place as independent members of society is something that is really important, and we don't place enough emphasis on forms of transportation that would benefit others who don't necessarily have a car."
Niang's platform originates from her childhood love for art. Niang, a junior studying multimedia journalism, said she was a creative child and saw the impact that art can make on society.
"With the abundance of media in our lives, I grew up seeing art as a great way for everyone to connect and talk about the issues they believe in," she said. "It's more accessible. As an artist at heart, it meant a lot to me to advocate for art and then turn it into an advocacy tool itself."
Although all the contestants were stellar participants and students, the winners' platforms ultimately won over the panel, judge Brenda Morales said.
"All four of the contestants were amazing," Morales said. "It was difficult to choose one, but the passion [Lin and Niang] had not only for their heritage, but also for their platform really set them apart."
The two runners-up won't be going home empty-handed though. First runners-up for both titles, James Lee and Sreyleak Nith, will receive a $500 scholarship.
Story By: Kylee Sutherland | kysuthe@okstate.edu