Ambassador from Azerbaijan visits Oklahoma State University
Monday, April 4, 2022
Media Contact: Jordan Bishop | Editor, Department of Brand Management | 405-744-9782 | jordan.bishop@okstate.edu
Not very often do students majoring in global studies get to hear from a foreign diplomat, but Thursday at Oklahoma State University was one of those rare days.
Khazar Ibrahim, ambassador to the United States from the Republic of Azerbaijan, visited OSU with his delegation and had a discussion with students at the Wes Watkins Center for International Trade Development.
Ibrahim first came to Oklahoma 20 years ago as a diplomat in Azerbaijan's foreign ministry to discuss Oklahoma's military agreement with the western Asian country of 10 million people. In 2003, the Oklahoma National Guard developed a training and support agreement with Azerbaijan that continues today.
However, Ibrahim's visit Thursday was more academic in nature. Last July, OSU signed a memorandum of agreement to create a dual agricultural degree program with Azerbaijan State Agricultural University. An Oklahoma delegation — including Gov. Kevin Stitt, Secretary of Agriculture Blayne Arthur and Dr. Randy Kluver of OSU — was there for the visit to Azerbaijan.
Kluver, associate provost and dean of the School of Global Studies and Partnerships, introduced Ibrahim and thanked the Azerbaijan delegation for coming to Stillwater. Also in the delegation were: Maj. Randy Dunning of the Oklahoma National Guard, an OSU graduate who is stationed in Baku, Azerbaijan; Natig Bakhishov, the executive director of the U.S.-Azerbaijan Chamber of Commerce in Washington, D.C.; Toghrul Aliyev, first secretary for the embassy of the Republic of Azerbaijan; Maksud Sultanov and Gokan Chai from ArtDeco Company, which is looking to invest in Oklahoma.
"OSU is proud to continue this long statewide partnership, and to contribute to the further development of educational and research ties between Oklahoma and Azerbaijan," Kluver said. "This partnership provides tremendous opportunities for our students and faculty to learn about, explore and contribute to a part of the world that is rich in history and culture, and that we don't ordinarily encounter. We are grateful to the ambassador and his team for the time to learn from them."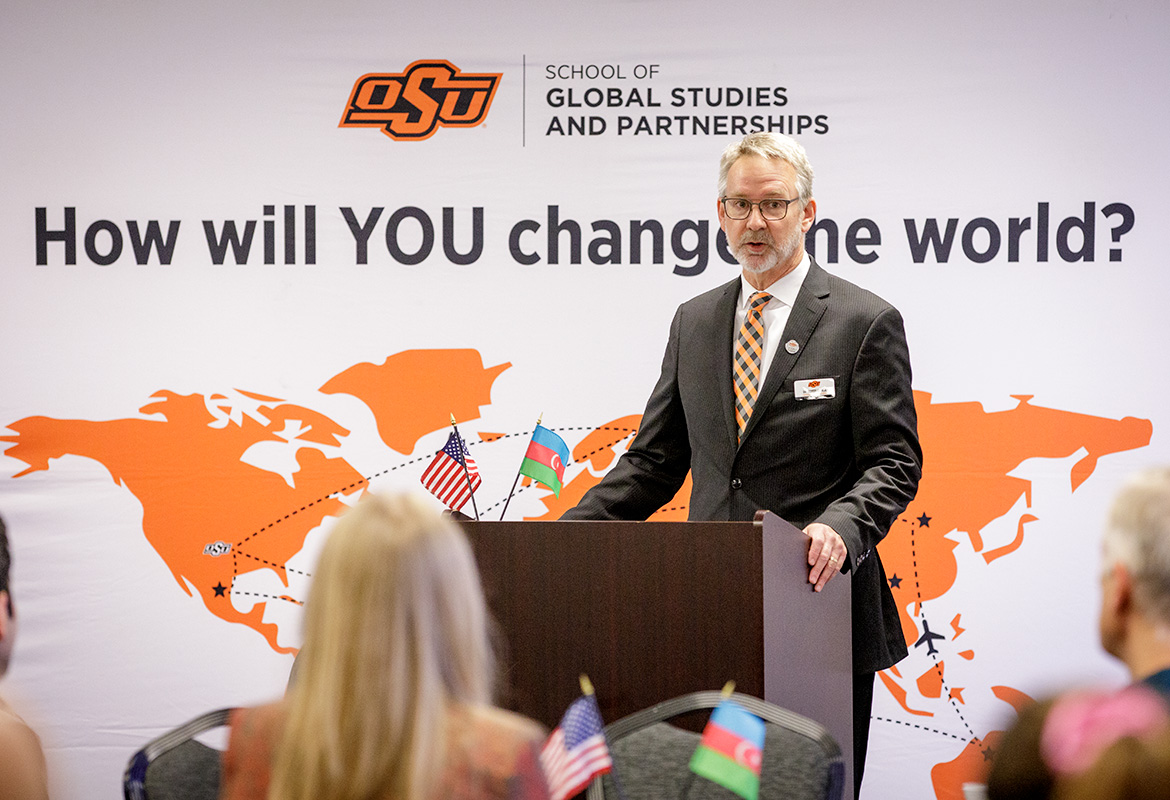 Ibrahim conducted a Q&A format as students and faculty members who attended asked him about a wide variety of topics.
He spoke of his diplomatic background. Prior to being named U.S. ambassador last summer, he was the ambassador to Turkey from 2017-2021 and the ambassador to NATO for six years before that in Brussels.
One student asked Ibrahim about how each posting has been different, and he said every place has been unique.
"Mostly, it depends on your choices and where you serve. If you want, even in the most difficult places from an engagement point of view, you can create opportunities. The United States is basically the second home to me. It's my third time here. I went to school here, so I love it," said Ibrahim, who earned his second master's degree from Georgetown University. "So I want to engage as much as I can. And I think I will say the world is not limited only to Washington, D.C., or New York City. There's so many beautiful places out there, including Oklahoma."
Ibrahim spoke about the difficulties of growing up in a country that was then part of the USSR and how seeing Azerbaijan fight to re-establish its independence in the 1990s shaped his career. As part of that, Ibrahim spoke to students about how the country alongside the Caspian Sea does business with other countries and how it differs from the U.S.
As the only nation that borders Russia and Iran, Ibrahim said Azerbaijan has to be smart in how it handles its trade.
Another student asked about current events with Ukraine. Ibrahim condemned Russia's actions and said Azerbaijan has taken in thousands of Ukrainian refugees.
"Politically, as far as I'm concerned, of course, we fully recognize the sovereignty of Ukraine," Ibrahim said.
Dr. Ramesh Sharda, vice dean for research in the Spears School of Business, asked Ibrahim about possibly starting up business degrees in the country like OSU did with the dual agricultural degree last year. That degree is only the fifth dual degree Azerbaijan has allowed so far.
"Absolutely." Ibrahim said. "I think these schools actually can thrive in cooperating with us. And for those of you who have been engaged with Azerbaijan, we are ancient traders. We know what business is all about."
Dr. Vivian Wang, director of global partnerships, mentioned that OSU will have two students traveling to Azerbaijan this year.
'We are excited that two OSU students plan to travel to Baku for their study abroad internships through those partnerships this summer," Wang said.
Elaheh Eshraghi — a global studies graduate assistant and native of Tehran, Iran — said she was excited to hear from Ibrahim, not only because of Azerbaijan being Iran's neighbor, but also because she is interested in international trade.
"My focus area is international trade," Eshraghi said. "Today, after this meeting, I was thinking, maybe I can add another focus area, because we have public diplomacy, too. And maybe for next semester, I will have some courses in public diplomacy, too. It's interesting for me to know more about diplomacy and politics and how to participate in an embassy."
Ibrahim ended his trip by touring the wrestling facility inside of Gallagher-Iba Arena, and the National Wrestling Hall of Fame and Museum with OSU wrestling coach John Smith.