Congressman Lucas to speak at OSU fall commencement
Monday, November 21, 2022
Media Contact: Mack Burke | Associate Director of Media Relations | 405-744-5540 | mack.burke_iv@okstate.edu
U.S. Rep. Frank Lucas has championed the rural Oklahoman throughout his entire career.
So, it's only fitting he is the first commencement speaker after Oklahoma State University announced its strategy to become the preeminent land-grant institution.
Lucas, a 1982 OSU agricultural economics graduate, will speak at the fall 2022 commencement exercises on Dec. 17 inside Gallagher-Iba Arena.
"As an alumnus of Oklahoma State University, it's a privilege to have the opportunity to address the graduating class of 2022," Lucas said. "For generations, OSU's mission as a land-grant institution has served Oklahoma and our country for the better. Through the teaching, research and stewardship instilled in each and every graduate, the class of 2022 will soon join the ranks of previous Cowboy graduating classes ensuring OSU's orange continues to shine across every corner of the globe. The class of 2022 has a bright future ahead of itself."
In 1988, Lucas, who hails from Cheyenne, Oklahoma, began his career in politics when he was elected to the Oklahoma House of Representatives, serving three terms from 1989 to 1994. During his service to Blaine, Dewey, Ellis, Harper, Roger Mills and Woodward counties in the Oklahoma State House, Lucas also served as the House Republican Caucus secretary and later as the caucus chairman.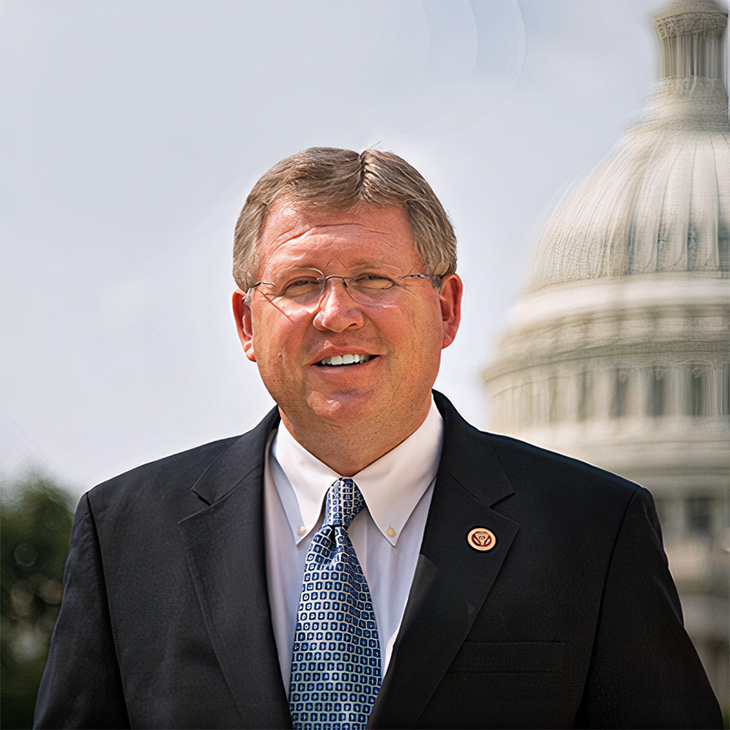 He ran for the U.S. House of Representatives in a special election in 1994. Lucas has been in that role for nearly 30 years, recently winning reelection through 2024.
Lucas represents Oklahoma's Third Congressional District, which includes all or portions of 32 counties in northern and western Oklahoma, stretching from the Oklahoma Panhandle to parts of Tulsa, and from Yukon to Altus in the southwest. It takes up almost half the state's land mass and is one of the largest agricultural regions in the nation.
In his role, Lucas has been an advocate for increasing learning in the fields of science, technology, engineering and mathematics, commonly known as STEM. He has also been present at several of OSU's major announcements in the past year, including the launch of the new Counter-UAS Center of Excellence.
He currently serves as the ranking member on the House Committee on Science, Space and Technology, where he advocates for Oklahoma's energy, technology and aerospace industries. He is also a senior member on the House Committee on Financial Services. In 2011, he made history as the first Oklahoman to be elected as chairman of the House Committee on Agriculture.
OSU President Kayse Shrum said it is an honor to have Lucas come back to his alma mater for the ceremonies. Lucas was also present for Dr. Shrum's inauguration ceremony in August.
"We are delighted to have Congressman Frank Lucas, an alumni, speak to our graduating classes at the fall commencement ceremonies," Shrum said. "Congressman Lucas has been a champion for rural Oklahoma and a tireless advocate for Oklahoma's energy, technology and aerospace industries. We are honored he made the time in his schedule to share some thoughts with our degree candidates."
Undergraduate ceremonies, which Lucas will be speaking at, will be Dec. 17, starting with the 10:30 a.m. slot, which includes the Ferguson College of Agriculture, the College of Engineering, Architecture and Technology and the College of Arts and Sciences.
The ceremonies will wrap up following the Spears School of Business and the College of Education and Human Sciences ceremonies, which begin at 1:30 p.m.
Graduates should arrive 30 minutes prior to ceremony start time and enter through Boone Pickens Stadium's Gate 1 South. Doors on the east side of Gallagher-Iba Arena will open for guests one hour prior to the ceremony start time.
Commencement can also be livestreamed on your TV through Roku, Amazon Fire and Apple TV via the Inside OSU app, and at insideosu.com/.
For more information on OSU's 145th graduation ceremonies, visit registrar.okstate.edu/commencement/.