Fifteen scholarships awarded at Women for OSU Symposium
Monday, May 2, 2022
Media Contact: Jennifer Kinnard | OSU Foundation | 405-334-1022 | jkinnard@OSUgiving.com
Fifteen student scholarships were presented at the annual Women for OSU Symposium at Gallagher-Iba Arena on Thursday.
The recipients are from a diverse set of backgrounds, with each demonstrating a strong passion for philanthropy and service. This year's Women for OSU student scholars include:
Jaci Deitrick | Newcastle, Oklahoma

Agribusiness and Psychology - Honors

Paul Delgado | Edmond, Oklahoma

Doctor of Osteopathic Medicine

Morgan Garrett | Oklahoma City

Doctor of Osteopathic Medicine

Tess Haddock | Stillwater

Agricultural Economics with a Minor in Social Justice

Mackenzee Hester | Washington, Oklahoma

Doctor of Osteopathic Medicine

Brooke Hightower | Cushing, Oklahoma

Doctor of Osteopathic Medicine

Haley Howard | Oklahoma City

Doctor of Osteopathic Medicine

Makinley Kennedy | Lawton, Oklahoma
Tina Newton | Perry, Oklahoma

Higher Education Leadership and Administration, Ph.D.

Chloe Scheitzach | Edmond, Oklahoma
Alma Rios Wilson | Buffalo, Oklahoma

Doctor of Osteopathic Medicine

Mary Erdmann | Tulsa
Sandra K. Trennepohl Women for OSU Endowed Scholarship
Microbiology and Molecular Genetics: Pre-Med
Kayla Morrison | Ponca City, Oklahoma
Wirt June Newman Memorial Scholarship
Denise Neal | Belize City, Belize
Ike and Marybeth Glass Women for OSU Endowed Scholarship
Language Literacy and Culture, Ph.D
Savanna Smith | Trophy Club, Texas
Sheryl Benbrook Women for OSU Endowed Student Scholarship
Doctor of Veterinary Medicine
The symposium also recognized this year's Partnering to Impact grant recipients.
Partnering to Impact is a donor-funded program that supports the university by strengthening Women for OSU partner engagement. It awards grants to areas at OSU that focus on four initiatives: Health and Wellness, Education, Campus Beautification, or Arts and Culture.
Six grants were awarded to the following OSU staff and faculty-submitted projects:
Fridays are for Careers
Opportunity Orange Scholars
Break the Chain: Stopping Sex Trafficking with Big Data
Partnering to Impact the Academic Success of Students with Disabilities
Supporting Local School Participation in NAISEF on the OSU Campus
LeadHERship Spears
At the event, former OSU First Lady Ann Hargis was honored as the 2022 Women for OSU Philanthropist of the Year.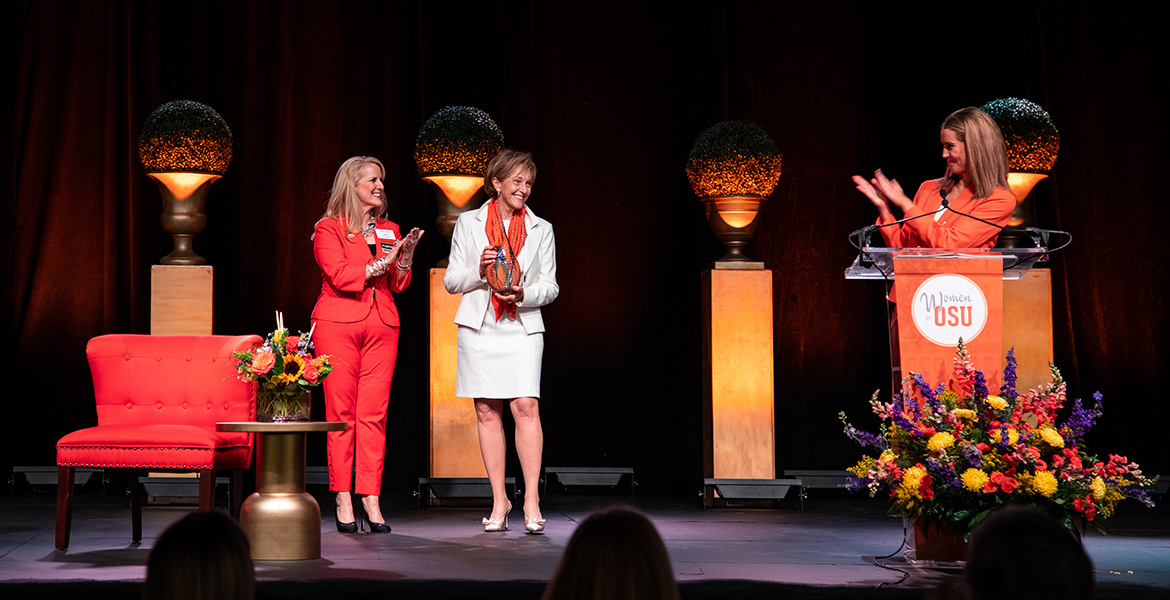 Ann served OSU alongside President Burns Hargis, from 2008-2021, pursuing her passions of helping students and improving health and wellness on campus. One of her biggest accomplishments was the creation of Pete's Pet Posse, which has grown to become the largest university pet therapy program in the country.
She also made considerable contributions to the arts at OSU and continues to be an active and engaged member of the Stillwater and state-wide communities.
The symposium also included an address from keynote speaker Lauren Bush Lauren, philanthropist, founder and CEO of FEED, a social business and impact-driven lifestyle brand. She is also the granddaughter of former President George H.W. Bush.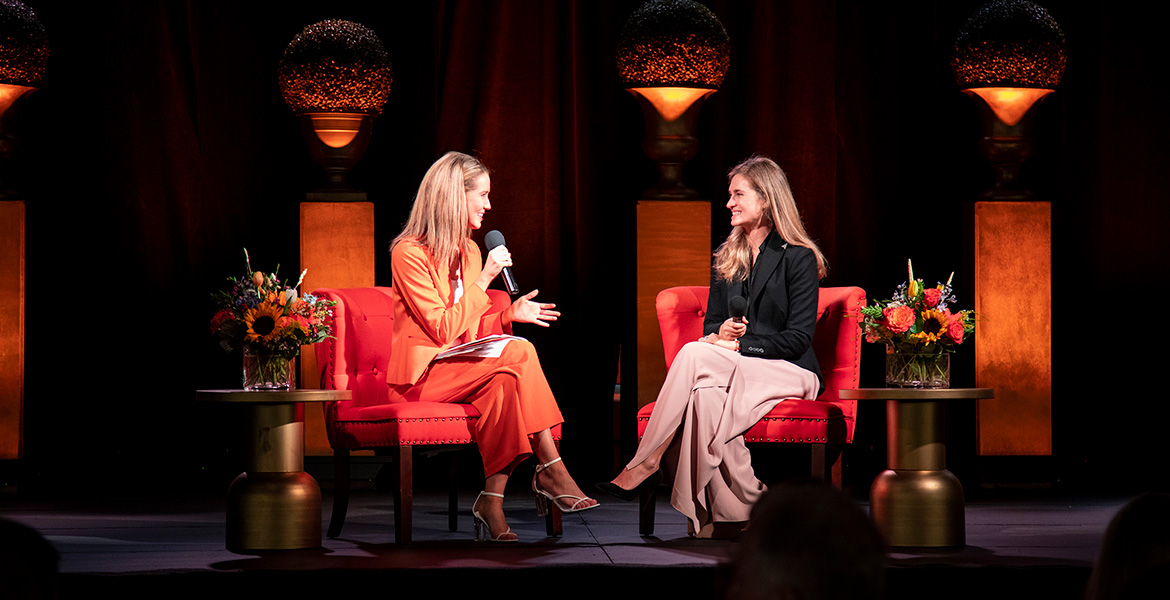 The event concluded with the announcement of next year's speaker, Elizabeth Smart.
In 2002, a 14-year-old Smart was infamously kidnapped from her home by a couple in Salt Lake City, Utah. Her captivity lasted approximately nine months before being discovered 18 miles from her home.
Since her abduction, Smart has become an activist for missing persons and sexual assault.
For more information on this year's Women for OSU Symposium, visit OSUgiving.com/women.
About the OSU Foundation
The Oklahoma State University Foundation serves as the private fundraising organization for OSU, as designated by the OSU Regents. Its mission is to unite donor and university passions and priorities to achieve excellence.
About Oklahoma State University
Oklahoma State University is a modern land-grant university that prepares students for success. OSU has more than 34,000 students across its five-campus system and more than 24,000 on its combined Stillwater and Tulsa campuses, with students from all 50 states and around 100 nations. Established in 1890, OSU has graduated more than 275,000 students to serve the state of Oklahoma, the nation and the world.